Contents
We're just coming out of the pandemic which has been extremely challenging for everyone. What many people quickly realised was that working from home was possible and there was no need to travel to and from their place of work every day. How much would you like to continue in this way? How tempting would it be to continue avoiding the rush hour, have flexible working hours and be able to work from anywhere in the world? 🌍
Well, tutors at GoStudent benefit from these things and more. It's quick and easy to register. And you might be surprised at the percentage of children who say they feel the benefit of private tutoring!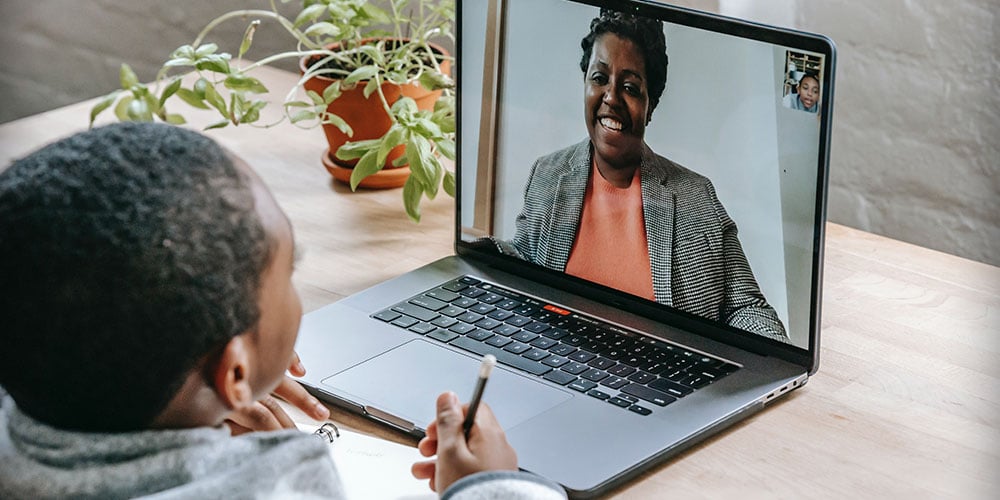 Why do people become tutors for GoStudent?
There are many reasons people become tutors for GoStudent. Here are just a few:
On top of this, there's never been more demand for tutoring: the UK government has launched their National tutoring programme (NTP) with the aim to:
Provide additional, targeted support for those children and young people in schools who have been most affected by disruption to their education as a result of the coronavirus (COVID-19) pandemic.
If you're still unsure, look at the pros and cons of tutoring and read on! You could be working for us as soon as a week after your registration!
What does the process look like?
When you've familiarised yourself with which subjects children need help with in primary and secondary school - yes it might have changed a bit since you were at school - look at the table below which outlines the steps we take when we select tutors.
If you have any particular area of interest or knowledge, let us know: it might be helping a child with GCSE resits, giving a child exam techniques to tackle verbal reasoning for the 11 plus exam or improving confidence when learning Italian, Whatever it is, mention it to us and we'll match you with the most suitable student. 👏
| | |
| --- | --- |
| | Go to gostudent.org. Remember to select the language in your country at the top on the right! |
| | Click on Become a Tutor tab at the top of the page. |
| | Click on the REGISTER NOW button. |
| Step 1 | Complete the registration form. |
| Step 2 | If applicable, we will ask you to take a subject quiz/subject quizzes for all of the subjects you have told us you are able to teach. If you are successful, you will be able to move onto the next step. Please be aware that not all subjects have a subject quiz. |
| | Upon passing the subject quiz, if there is one, we will send you an email to sign up for a group interview. |
| Step 3 | Group interview: don't worry, this isn't a competition. It's just a way for our GoStudent team to be able to evaluate each candidate efficiently. 😀 |
| | If you do well in the group interview, you will be welcomed to GoStudent as a new teacher and guided through our onboarding/kick-off process. |
Can you explain the steps tutors need to take in more detail?
Step 1 - The Registration form
The registration form is needed because it helps us here at GoStudent receive potential tutors' basic information. It allows us to find a bit more about you, what you're interested in tutoring and to what level you're able to teach.
You will also need to get an advanced DBS Certificate. We can help you with this and give you more information at a later stage. A completed registration form is also needed to prompt the next steps.
Step 2 - The subject quiz/subject quizzes
For all the subjects you have selected to teach, you will be asked to take a subject quiz. In order to move to the last round of the hiring process, you will need to pass the quiz for the subjects you wish to teach.
Not successful in the subject quiz/subject quizzes? Don't give up just yet. Please get in touch if you'd like to follow up on retaking the test (UK only: tutors@gostudent.org).
Step 3 - Group interview
The group interview might sound a bit scary 😨 but it's also a chance for potential tutors to:
introduce yourself to us and some of your future tutoring colleagues
hear a brief overview of GoStudent and what it is like to be a tutor with us
have a chance to show off your communication skills and subject knowledge
get any questions you have answered from our Tutor Recruiter.
Step 4 - Onboarding/kick-off process
If successful following the group interview, you'll have the opportunity to pass the subject(s) test (if required for the subject(s) you want to tutor in), create an account via the app or online, tell us about your availability and receive further orientation. We'll set up a trial session with a student(s) and start to secure regular students in your schedule. 📅
Throughout your tutoring journey with us, we'll be on hand to offer you guidance and support whenever you need it. You'll soon understand why online tutoring is the best!
How long does it take before I can start teaching?
From the moment you submit the registration form until you can begin teaching could take as little as one week, depending on the response rate of the candidate and the needs of GoStudent.
It's important to state that the exact timeline can vary based on the market, response rate, and other factors. Please keep in mind that it is crucial for you to pay attention to your email and respond to any action items in a timely manner to ensure that we can get things moving as quickly as possible.
For any more info, check out our interview with one of our current GoStudent tutors, Chloe. You'll also find personal testimonials from tutors here when you scroll to the bottom of the page.
When do tutors get paid?
As a tutor with GoStudent, you will get paid between 12-17 of the next month.
Are there any useful resources?
There are lots of resources out there for online tutoring if you need a bit of help. Here are just a few to get you started: 💪
And, in case you're wondering, children in Britain do actually feel the benefit of private tutoring – 96 per cent said they found value in tutoring outside of class hours according to our GoStudent Educational Report.
But don't take our word for it, Bramble conducted an online survey which stated that online tutoring was more effective than in-person teaching, according to students.
If you're passionate about teaching and want to make a difference to a young person's life, all that's left for you to do is to start the application process. Get in touch with us today and you could be enjoying tutoring from the comfort of your own home before you know it! Whatsapp, check! Wifi, check! Microphone, check! Camera, check! And…action! 🎥