Schools are reopening and some students are struggling to keep up. Should you hire a private tutor online or in person? Here's one teacher's take on why online is the best option for private tutoring.
Is your child having a hard time now that schools have reopened? It can be difficult to adjust to the new requirements in person after so long at home! Many students have fallen behind in some of their subjects. Don't worry though, a private tutor can help your student catch up.
You're probably wondering if you should go for in person tutoring since things are open now? This teacher says no. 🙅‍♀️ Online tutoring is actually still the best option and can help your child the most academically.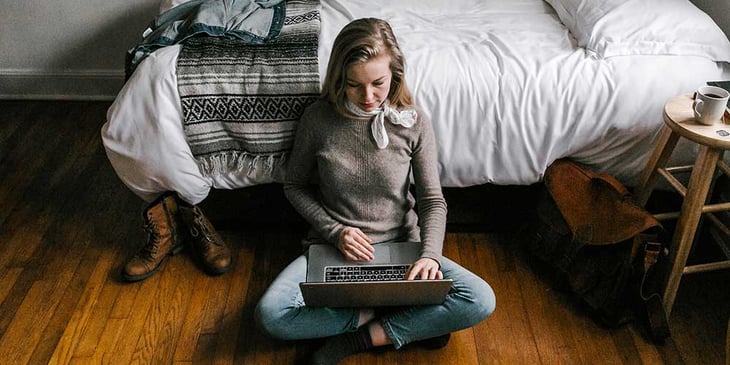 Here's why:
Flexibility 📅
✨ With online tutoring, the schedule is super flexible! You choose the day and time that will work for your family.
✨ You only need to account for the time of the session, rather than the commute as well. While your child works one-on-one with their online tutor, you can continue your own tasks in the home - no need to waste time travelling to and from the tutoring center. You can cook dinner or care for your other children while your child works on those tricky maths skills. 👍🏽
✨ Students also benefit from the flexibility of being in the comfort of their home. For many, there is less pressure when they are working on the computer and they are able to achieve more.
Affordability 💶
✨ Tutors can be expensive, especially maths and physics tutors, who are often in high demand. But online tutoring lessons are a much lower price! GoStudent's private tutoring sessions are affordable and budget-friendly.
✨ All of the learning materials are digital, which means there's no need to buy a bunch of expensive books or other supplies. Tutors have access to teaching tools online, so they can screen share and show your child the exact materials they need for the skill they are working on.
Academic benefits of virtual learning 👩‍🎓
✨ When students learn online, they can retain information better! This is because they can re-watch videos and work at their own pace. Plus there are no distractions from other students (it's up to you to keep those siblings quiet though 🙃).
✨ I'm sure it's no surprise that students learn best when they have the focused attention of the teacher. But in a classroom, that isn't often the case. An online tutor is focused on your child alone. They provide the one-on-one lessons kids need to grasp a challenging concept.
✨ Online tutoring provides specialised support. Does your student need help with reading skills? Or maybe physics is extremely difficult for them this year? It's much easier to find a tutor with the skills you need online.
✨ The virtual classroom gives students the opportunity to view the tutor's digital whiteboard or other learning tools through screensharing. It has all the benefits of in person, plus the added bonus that comes from access to the internet and all the various learning tools available.
✨ Digital communication is not going away with Covid. Kids need to be computer literate these days. 💻 By engaging in online tutoring sessions, they are given another opportunity to practice interacting with people on screen.
Online tutoring with GoStudent 🚀
There are plenty of online activities that are educational, but nothing beats a dedicated tutor who can work with your child individually. GoStudent tutors will work with your child on your schedule. Book a trial lesson today to see the difference we can make with your student!

PS - Are you looking to become a tutor? Wondering how to tutor online? GoStudent is a fantastic place to put your teaching skills to work in a meaningful way. Learn more now!