What's so great about being a GoStudent tutor? It's a flexible, fun and an exciting, flexible opportunity to make money. But don't just take our word for it! Keep on reading to hear from one of our wonderful tutors and discover what's so special about being part of the GoStudent community.
Chloe currently studies English Literature at the University of Warwick. She's always had a passion for academics and is always excited to share her knowledge with her students.
Chloe was previously named GoStudent tutor of the month and her customers are super happy with her tutoring.
What made you decide to become a tutor with GoStudent?
I was looking for a part time job as a student. I tried working as a barista but I found it so tiring and it was also hard to work my uni timetable around it.
I decided to try tutoring as I've always enjoyed academics so I thought that it would be fun to share my passion with other students.
I immediately fell in love with tutoring as it's so fun to connect with students and watching them grow their knowledge and become more confident in themselves is such a beautiful thing.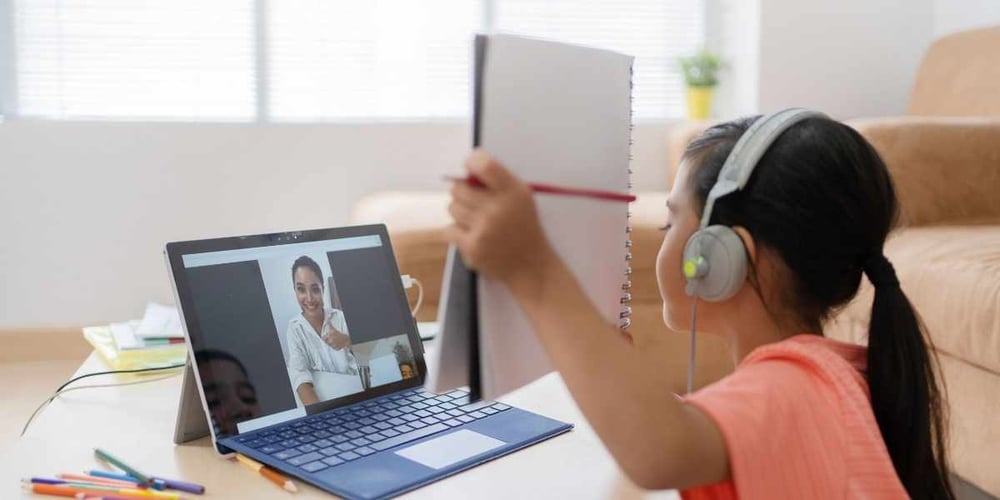 What's your favourite subject to tutor?
I honestly love teaching a variety of things! I teach so many subjects like maths, science, English, geography and more. My favourite thing is to have one student I teach multiple subjects to because then we can build a connection and the lessons never get boring.
If I had to pick I would maybe go for maths or science. I study English at uni, and I obviously love teaching it, but I still really enjoyed STEM subjects in school. Tutoring these subjects is fun for me as it's something different that I don't get to study anymore.
What's so great about online tutoring from the students perspective?
I think it's just easy for them. They don't have to waste time in transportation and they can have a lesson anytime from anywhere. Especially with the uncertainty of face to face learning over the past few years, online tutoring is able to offer more stability to the students.
It also reduces waste as we can have the material on the screen together instead of printing it each time.
What's so great about online tutoring from your perspective? What do you enjoy about it?
I think similar things. I like the flexibility of being able to create my own schedule. I'm quite busy so GoStudent allows me to pick the hours that work best for me which maximises my productivity.
I also love being able to tutor from anywhere. I'm from Cyprus so I'm not always based in the UK and it's great to be able to continue tutoring no matter where I am in the world.
What are some of your favourite tools to use during your tutoring sessions? Do you use any digital tools to help you tutor?
I love projecting my iPad screen because then I'm able to write, highlight and draw graphs so easily. It's just like a whiteboard except much easier because you can write on any PDF document and you're able to change colours and pens at the click of a button! It's also great for maths because I can choose to work with gridded paper and the iPad straightens my lines for me meaning that graphs and geometric shapes are much easier to draw.
For writing lessons I like to share my screen and allow access. This lets students type onto my document and I'm able to watch them write letter by letter and correct mistakes as they happen. This is great for breaking patterns and supporting them when they get stuck and don't know how to continue. Once they build confidence, I let them write a paragraph at a time and correct it as we go along. This makes essays much more manageable and helps them understand how to structure their writing.
Why should someone choose to sign up as a GoStudent tutor specifically?
I've had experience with other tutoring sites as well and I think what makes GoStudent stand out is how organised it is. It has separate teams for customer support and sales meaning that all tutors have to worry about is the actual teaching.
Also, most communication is done through WhatsApp which is quick and easy, meaning that you're able to stay in touch with students and their parents no matter where you are.
The way it works is that the sales rep makes a group chat with the tutor and customer support manager, who is there for safeguarding purposes and to oversee communication and make sure that things are running smoothly, and of course, they also add the parent and the student (if they are old enough and have a WhatsApp account).
Another great thing about GoStudent is how much support we receive. New tutors have their own designated mentors who are there to support them throughout the whole process and answer any questions they may have. My mentor was brilliant and he answered my questions pretty much instantly whenever I messaged.
It's also a growing company and there's so many opportunities to be involved in other projects, which is something I love. I've written for the Gostudent blog, produced vlog content and have been involved with social media content as well! So overall, it's just a great team with brilliant communication and organisation.
GoStudent makes tutoring so easy and enjoyable whilst giving you the opportunity to branch out into other things as well.
What are the three best things about being a GoStudent tutor?
If I had to describe it in 3 words I would definitely say flexibility, opportunity and communication!
Would you fit into the GoStudent community? Then register now and start earning!