Contents
Maybe anxiety got the better of you; maybe you felt underprepared; maybe it just wasn't your day. No matter the reason, failing exams can be a very mentally taxing experience. In some cases, if you feel you didn't do so well on your GCSE exams you may be required to take GCSE resits.
Over the past year especially, it's been difficult to adjust to Covid-era academics. Lots of students have found that this new mode of examination put them on the spot and under extra pressure which has led to an increase in unsatisfactory GCSE results. So, if this sounds like you, can you resit a GCSE exam?
While GCSE examinations are certainly a cornerstone moment in anyone's academic life, not doing well on them is not the end of the road for you. Those who fail their GCSE examinations during the first attempt can retake the exam using the resit provision.
Even if you passed the examinations but feel dissatisfied with your performance, you can also apply for resits. If that sounds like you, then just make sure to talk to your parents and teachers before deciding to take resits.
So what exactly are GCSE resits? How many times can you resit a GCSE? In this article, we'll answer these questions and other important FAQs. Keep on reading to learn more!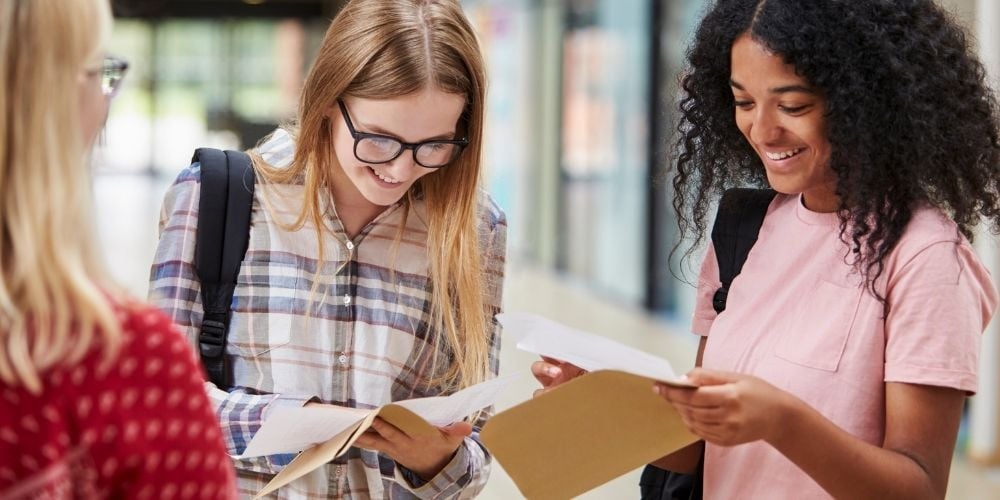 What are GCSE resits?
You can take GCSE resits if you've failed the original GCSE attempt or are unsatisfied with the results. These exams are usually held in November after you have taken your original GCSE exams.
To make the process more convenient, the GCSE resits are conducted in the same exam centre as your original GCSE attempt in two rounds: starting at 9 am and 1:30 pm, respectively. These winter slots, however, are not the only ones available. Students who are willing to wait for the next school term can resit GCSEs along with the next batch of students.
Can you resit GCSE exams?
You might be required to take a GCSE resit if you score below a 4 (previously a C) in Maths and English. Here's a detailed list of criteria for GCSE resit applicants:
Below-par score (according to government standards) in GCSE exams
According to UK government legislation, if you score anything below a C in Maths and/or English, you will have to take the GCSE resit to apply for further formal education. So the answer to can you retake GCSEs at any age is a resounding yes!
Can you retake science GCSEs? While you can apply for resits in other subjects, it is worth checking if you actually need to do so. Many colleges take applications with incomplete scorecards and encourage students to take resits for other subjects while studying for A-levels (or equivalent).
For A-levels or specific college courses
If you wish to continue to study for your A-levels or equivalent college courses, you can take a GCSE resit, although it isn't mandatory. Specific courses in a reputed college might require you to maintain a certain level of GCSE grades. If your heart is set on a certain grade, you can take a GCSE resit to improve your grade average.
Important Note :
You are only allowed to resit an individual subject once. The

better of the two exam results

are then selected as your final GCSE score.
Every subject (excluding Maths and English) can be swapped for another subject during a resit. Think Biology was a wrong choice? You can resit for

History

and make that test count!
Is resitting your GCSEs bad?
Not at all. Resitting GCSEs should not be seen as a failure. Rather, it is an opportunity for you to improve your grades and increase your chances of studying at university. It can even help you to learn things that you may have missed the first time around. Targeted practice and revision can help you to strengthen your fundamentals which will be helpful during your A-level and college courses too!
Resitting GCSE exams can help you in the following aspects:
Meeting the requirements for higher education
Improving applications for jobs and apprenticeships
Adding value to their CV
Diversifying your career choices
Trying out new subjects
Can you retake GCSEs at any age?
Luckily, you can retake GCSEs at any age. GCSE exams are typically meant for 14 to 16-year-old students; however, given the intensity of the exam, you do have the option to delay them if you believe you need more time.
Every single subject on your GCSE course allows two attempts (one general and one resit) before you have to retake the entire course again. You can, however, retake the course as many times, with as many subject combinations as you want.
How to resit a GCSE? 🤔
If you have decided to retake a GCSE, you have a number of options to choose from. Authorities allow students to resit GCSEs as both school candidates and private candidates. You and your parents are free to decide which option suits you best.
Resitting at a local school
You can retake the GCSEs through school. You will have a standard timetable, attend the classes, and take the GCSE exams alongside other current GCSE students.
Your school management is free to decide on the plan on conducting classes for candidates who are retaking GCSEs. While some run special classes that offer quicker and more in-depth revision for repeaters, others might require you to retake the entire year.
It should be noted that if you opt to resit through your current school, you are allowed to do so in the winter term but your school might not offer extra classes to help as the general term will have already ended by then. While some schools offer classes for Maths and English resits in the winter, it is a good idea to double-check this with your school.
If you don't feel the need to study the entire GCSE course again, you can consider studying online or hiring a tutor before retaking the relevant GCSEs as a private candidate. GoStudent tutors are the perfect fit if you decide to hire an online tutor. They are experts in their field and have extensive teaching experience, especially when it comes to revision for GCSEs.
Online classes come with many benefits. The schedules are more flexible and you aren't tied to a timetable. This means you can retake your GCSEs at a pace that works for you. This is especially helpful if you do not want to wait for the next term and opt for the winter resits instead. The extra classes offered by schools for these batches might not be enough to prepare sufficiently. School classes also tend to be large and hence, fail to provide targeted practice.
Hiring an online tutor and working with them 1:1 is a great strategy, especially when it comes to GCSE revision. Individualised learning with GoStudent can help you focus on the specifics and study as per your needs. Book a free trial with one of our wonderful GoStudent tutors now.
How much do GCSE resits cost?
There are two types of fees associated with GCSE resits: A course fee - which is charged by the school that you choose to retake your courses with, and an exam fee - which is charged by the examination centre.
Schools and colleges charge approximately £1,000 per subject for this. However, if you aren't required to take classes but just need help with a few challenging topics, you can also use tutoring services like GoStudent, which offers curated one-on-one tutoring services for a wide range of subjects. This gives you the option of only paying for the lessons you need help with.
If you choose to skip the school term and take the resit as a private applicant, your course fees depend purely on the tutoring/academic mentoring you use.
Note:
Check with your schools for Maths and English course fees as students below a C in these subjects are usually not required to pay any fees for a GCSE resit.
Students above the age of 16 can study for the resit at local learning centres for free! We recommend doing some research in your local area and checking if you are eligible.
Exam fees
All students have to pay to resit science GCSEs privately, while all other exams depend on whether you are a registered school applicant. The exact cost of each exam is set by the exam centres themselves, so this can vary a lot in price, but you can expect to pay upwards of £100 per exam for GCSEs and IGCSEs. It is best to contact multiple exam centres close to your house and check for prices before choosing one.
Tips for GCSE resits
Resitting GCSEs can be a tedious process. You have to go through the same classes as last year and also manage your current schedules. Here's a list of tips that will help you to streamline your revision and maintain motivation while studying:
Mistakes help us grow. They help us understand our shortcomings so that we can work on them.
You should spend a significant amount of time analysing where you fell short last year, both in class and in the exam papers.
If you performed poorly because of time management during exams, you could focus on strategies to finish all the questions in time. A great way to learn from mistakes is by highlighting the areas where marks were the lowest. These subject areas can then become the focal point of your revision strategy.
You sat through many classes last year. Although you probably fully understood some concepts, you may have had problems with others. The key is that you use this time to work on your weaknesses and solidify your strengths.
Our memories aren't one hundred per cent reliable. You might feel that you don't need to focus on chapters that you already understood the first time around. However, you may very well have forgotten what you learned last year. It is, therefore, essential that you revise everything to make sure that you don't forget important concepts during exams.
It can be very tough to manage your time, particularly when it comes to revising for exams. Extra coursework and classes could easily get draining and overwhelming. Therefore, it is crucial to set a routine and stick to it.
During exam season, it's more important than ever to stick to a regular bedtime, eat well, and make time for self-care. This can help you to maintain a healthy balance so you can juggle your work and not become overwhelmed.
While GCSE resits might seem daunting, it is important to remember that it is not the end of the world. You can still get into excellent colleges if you have the grades and confidence to back their applications by resitting your GCSEs.
Preparing for a GCSE resit is all about strategy. With the right plan of action, you can utilise your time well and get through your resits with as little stress as possible.
At GoStudent, we offer best-in-class tutoring in all GCSE subjects. Complete with targeted practice and flexible one-on-one tutoring, our courses are designed to give you the extra help you need. Private tutoring can help you to identify your pain points and work on them to improve your GCSE scores. This makes it an extremely successful study strategy when it comes to preparing for resits.
With GoStudent, you can ace your resits and eventually apply to the universities you've been dreaming of attending. If you are interested, book a free trial now.