Contents
Taken by year-6 primary school students, the 11 Plus is a selective entrance exam used by UK grammar schools and many private schools to identify academically-able children before they enter said schools. The exam comprises four parts: verbal reasoning, non-verbal reasoning, English and maths.
Because the verbal reasoning and English papers rely on a good knowledge of vocabulary, it's imperative that your child is well prepared before exam day arrives. So, if you're looking for ways to help your child revise, you've come to just the right place.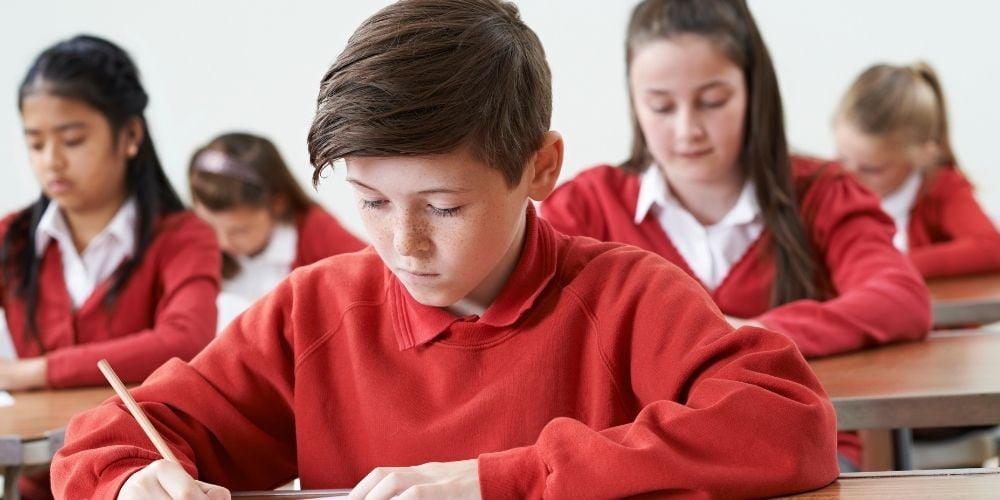 How can my child improve their 11 Plus vocabulary?
As with all exams, starting preparation and revision as early as possible is an excellent way to get your child ready for their 11 Plus.
Because we know this can be a stressful time for parents and children, we've compiled a short but useful guide that will offer some assistance in the lead-up to the big day.
"What are the best ways to prepare my child for all those daunting 11 Plus words?" We hear you ask? Read on.
Not only will reading get your child's skills in tip-top shape for the comprehension part of the 11 Plus, but reading in general is one of the best ways to expand vocabulary knowledge.
If your child is already a bookworm, simply encourage them to build reading into their daily routine in the run-up to their exam and try to provide different and challenging reading materials/topics for them to explore.
Also, find out which writers/authors your child has been studying at school and locate other books from the same people. This will get your child accustomed to that author's writing style and use of language.
English exam practice papers will also help your child know what to expect from the 11 Plus.
If your child is not a big reading fan, make reading time seem more appealing. For example, let them read newspaper/magazine articles on your iPad (we all know kids love any excuse to use tech😉).
Adopt this approach to start with, and then when they're used to reading more than usual, start to introduce some books – but don't choose very long books because a zillion pages can seem scary to non-readers. 😂 Instead, try some of the latest Young Adult fiction; from this, move into some more academic texts. And if you need to, suggest that 30 minutes of reading time comes with a reward after!
Why not make learning fun? Flashcards are a simple yet effective way to instil new vocabulary into your child's mind. Not sure what words to include? Try searching for '11 plus vocabulary worksheets pdf' or '11 plus vocabulary free' on Google and you are sure to find a handy 11 Plus vocabulary list or two!
To get you started, we've listed 80 important words below. For revision, write each of these words onto a flashcard and ask your child to tell you the meaning of each word. For bonus points, get them to make a sentence with the word too!
Abode – absence – absurd – abundance – believe – belligerent – betray – bicycle – burden – coax – college – compel – covet – coy – devote – din – dose – dumb – dwelling – emerge – endure – equip – errand - exaggerate – fertile – flora – forbid - frequent – gratitude – grotesque – hasty – helix – heroic – idle – ignorant – innocuous – jargon – jocular - keel – kindle –- latter – linger – meagre – meticulous – mysterious – nauseous – nuisance – obstinate – odour – oppress – parallel – peril – prosperous – quaint - quarantine - repent – rigid – rogue – sacrifice – seldom – subtropical – tempestuous – trifle – twilight – union – unsurpassed – vacant – vapour – virtuous – weird – worthy – yield – zealot – zestful
Get digital for 11 Plus exam preparation with entertaining word games. Freerice uses a super-fun-guess-the-word-meaning game that donates grains of rice to people in need for every correct answer you give. Created by The United Nations World Food Programme, not only can your child polish their vocabulary skills, but they can also make a difference.
Go old school with a classic game of Hangman. This can be played with just you and your child, or you can involve the family to help make revision a team activity. Keep the words attainable without making them too easy; if you need some inspiration, look to our word list above. Keep your child on their toes by asking them to give you synonyms and antonyms of the words once they've guessed them.
Are there any books to help prepare for 11 Plus vocabulary words?
Take the hard work out of helping your child revise vocabulary and grammar with these nifty 11 Plus books.
11 Plus Vocabulary 500 Essential Words written by J Johnathan
This super-helpful text offers word roots, prefixes/suffixes, word usage, synonyms/antonyms, related words and more – everything your child needs to enhance their vocabulary knowledge.
11 Plus Vocabulary written by Rose McGowan
Featuring 100 exercises that should be completed one per day, this book will help your child find success in their 11 Plus exam.
The Big 11+ Vocabulary Playbook by The Armadillo's Pillow Ltd
Games, quizzes, cartoons, rhymes, tongue twisters, activities and over 1000 specifically-selected words – this fun-filled book is your go-to for engaging exam preparation.
While we know you want to do all you can to help your child succeed in their 11 Plus, try not to take the full load on alone – let us help! Book your free trial session on the GoStudent website today. 😊