Contents
The 11 plus can be a bit of an enigma. There are different variations of the 11+ with some schools having their own version as the entrance exam for competitive secondary schools. However, despite the variation in tests, the key skills remain roughly the same and one of the most problematic and trying is comprehension.
If you want your child to win a place at your preferred secondary school, acing the 11+ comprehension exercises will boost their chances. The 11+ comprehension test is highly regarded by private and independent schools as it proves your child has an advanced level of English.
These tests aren't as simple as you might think though so we have some super helpful tips on studying, including where to find practice papers. Read our guide on how to get full marks on the 11+ reading comprehension.
What is the 11+ comprehension test?
The 11+ comprehension test is a part of the 11+ exam taken by children in England and Wales.
The 11+ exam is a test that children take at the end of primary school which is used for entry for academically selective schools. This means that you need to sit an entrance exam to prove that you are at the academic ability of that secondary school. Most secondary schools are not academically selective; however, a number of independent and state-funded grammar schools are academically selective and require all applicants to sit an 11 plus exam.
It is important to note that the 11+ is not just a pass or fail exam – it is a competitive exam and the score that a child gets can determine whether they get a spot in a competitive school.
What topics are in the 11+?
Apart from reading comprehension 11+ exams test children on:
The topics for the 11+ will vary depending on where your child is taking the exam and which organisation they're doing it with. The aim of the 11+ is to assess a child's potential to see whether they will be successful at the school for which they are applying and as such different schools might offer different variations of the 11+.
How do you do comprehension?
The comprehension element of the 11+ is unquestionably the part that gets people worried the most. After all, comprehension is one of the hardest things to prepare for.
Comprehension is when you are given a short text to read and then answer questions that assess how well you understood what happened in that text. Comprehension questions are also an important part of GCSE English.
11 plus reading comprehension is a language arts skill. The 11+ reading comprehension exam is designed to test your child's understanding of a piece of text in a short period of time and have them respond appropriately to the questions.
Depending on the region your school is in, the text can be from a fiction or non-fiction book or even written specifically for the exam.
Download your very own GoStudent 11+ reading comprehension practice paper right here: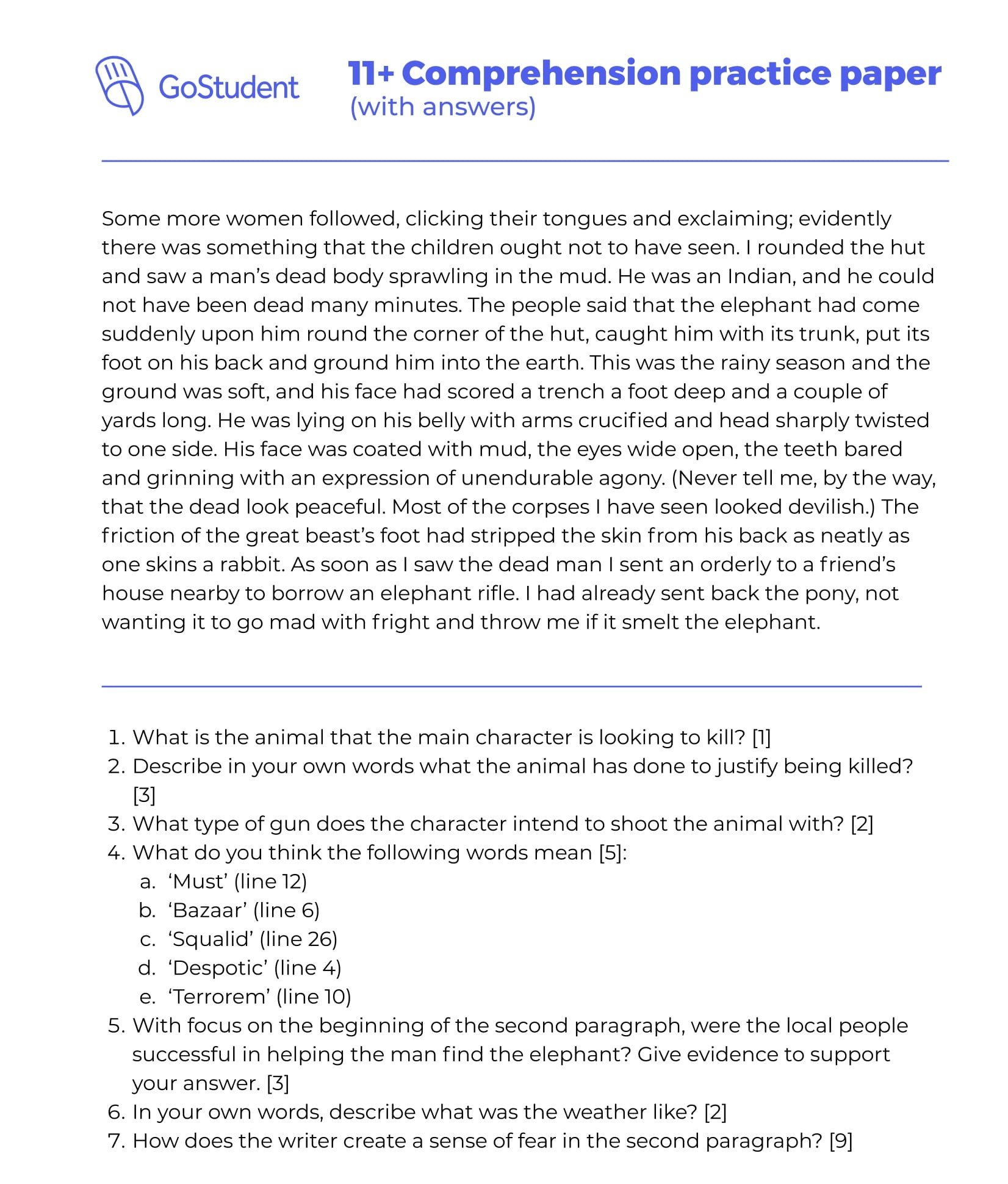 What is the fastest way to answer reading comprehension questions?
Read through the text quickly but carefully.

Write a few words in the margin of the text about the main points in the paragraph.

Return to the text while answering the questions, do not rely on memory.

Pay attention to subheadings which can be helpful.
How can I get full marks in 11+ comprehension?
Sadly, there is no magic answer for developing comprehension skills that will magically allow you to pass the 11+ reading comprehension papers (or any other for that matter). However, there are techniques for developing skills that will give you a better chance of getting a higher score in the 11 plus.
How can I improve my 11+ comprehension/ help my child with English comprehension?
Promote reading from a young age to develop comprehension
Comprehension is an important part of reading and the more your child enjoys and practices reading the better they'll get at comprehension. As with most skills, there is no magic solution; however, increasing your child's reading load will help develop their comprehension skills. There are some great reading apps for kids that can help with this. 📚
If you have plans for your child to take the 11+ exam there is no reason why you can't start preparing them from a young and early age. Reading with young children has lots of benefits, one of which is the development of comprehension skills. Reading widely will ultimately give your child better chances when taking the 11 plus exam in later life.
👉 Get some 1:1 tutoring
The most valuable way of developing comprehension skills is with a dedicated 1:1 tutor who will be able to give your child guided activities to track and develop their skills. A tutor can help target activities to your child's level and skill set in a way which will allow them to develop and grow their comprehension skills in an effective and meaningful way. At GoStudent, we have many tutors that specialise in preparing children for their 11+ exam. There is no substitute for an expert!
👉 Guess what will happen next
Try and get your child to guess what will happen next in a text – once they've familiarised themselves with patterns in literature, they'll be more likely to spot those patterns and therefore understand and comprehend what they're reading.
Focusing on context can also help your child understand or guess where a text is going which will help with overall comprehension.
👉 Grow and develop vocabulary
Learning new words on a regular basis means that we are more likely to understand texts when we encounter them. If your child is reading a text, ask them which words they are unsure about and spend some time looking them up together. Teaching children to research words (either in a dictionary or online) is a great way to help them develop their vocabulary and set them on track to become lifelong learners.
👉 Get a book to help
There are books out there which can help your child develop the skills needed for the 11 plus. But sometimes it is hard to tell which is the best and researching the 11 plus can be a minefield and a headache. Read our guide on which books are the most effective. You can also get practice 11+ reading comprehension with answers online.
Some other top exam tips include:
Read the questions before the text/s in the exam so you know what to look out for

Write answers in full sentences, even if it is a simple question and the correct response could be just two words

Study up on grammatical terms (e.g. onomatopoeia) so that your child can understand questions instantly and not waste time deciphering what they're being asked

Practise past papers as much as possible to a time limit

Always study the past 11+ reading comprehension papers from the school/s you are going to apply for

Get a specialised 11+ tutor who knows the ropes and will provide the right study material and guidance
Where to find past 11 plus comprehension papers
There are a number of places to find 11+ reading comprehension papers online. Many of these are paid but you can find free versions too. You can usually find past 11+ reading comprehension papers on the school's website that you wish to apply for.
To find a collection of past papers in one location, you usually have to pay or subscribe to a dedicated website. You can ask your teacher if they have extra practice papers they can share. If you have an 11+ reading comprehension tutor then they will be able to give your child even more past papers and from a variety of sources.
We've created a package of GoStudent 11+ English practice papers for you to download for free! Download this super useful resource by hitting the button below: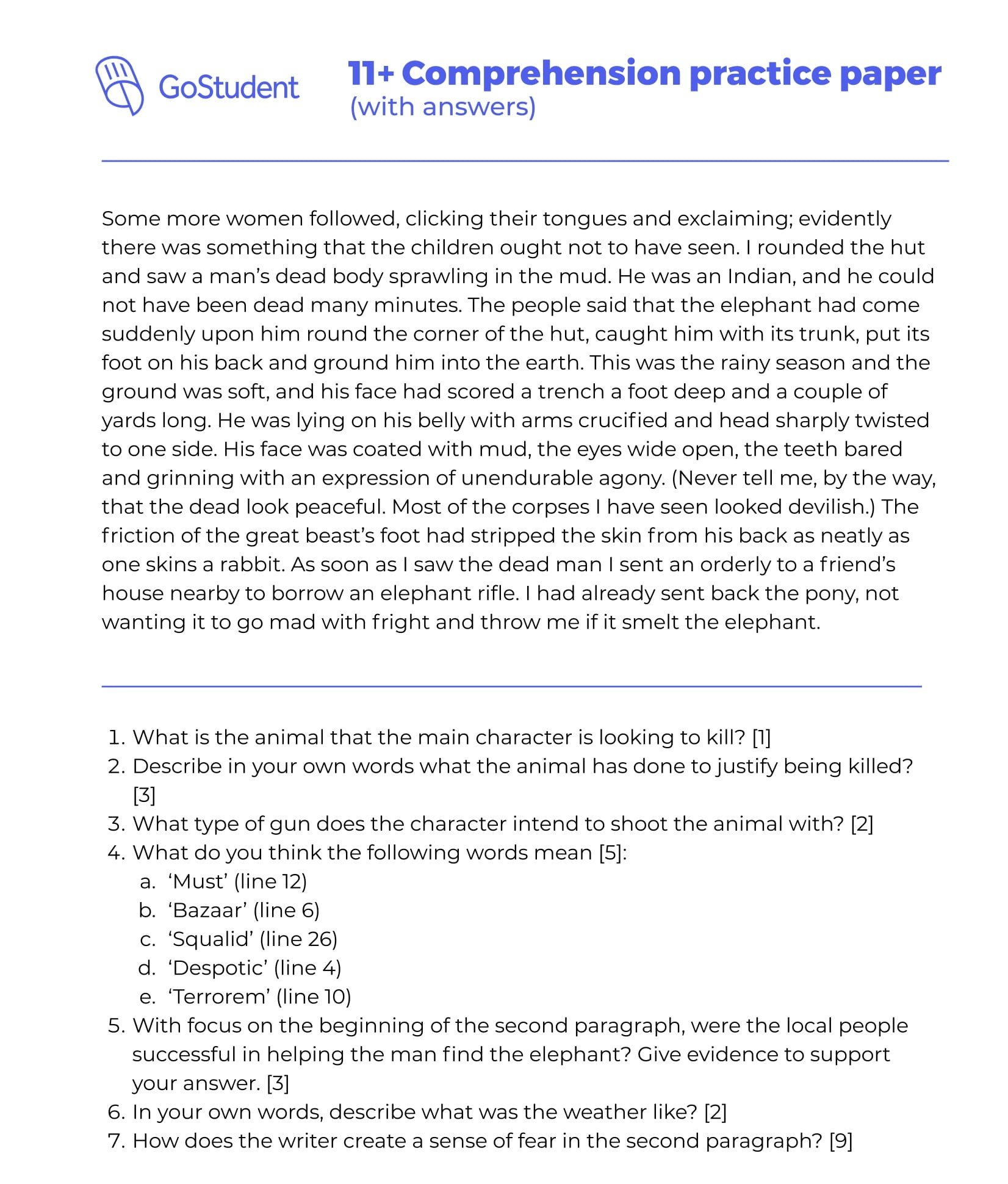 11 plus comprehension with answers
You may notice it's tricky to find answers to test papers. That's because some schools state that due to the answers being in students' own words each response is marked based on its own merit. Doing 11+ reading comprehension practice papers without the answers is still beneficial and essential if this applies to the school/s you are applying for. 🏫
However, you still need to find some past 11+ comprehension exam papers with answers so you and your child know that they are on the right track. The answers are also excellent at showcasing what a school is expecting.
11+ English comprehension example
You'll find an excellent past paper for 11+ reading comprehension complete with answers from Dulwich College. The paper is in the "Specimen Papers" tab halfway down the page. The comprehension exercise is the first section of the paper and clearly marked. The practise paper and answers you need to click on are:
English Paper - this is the exam paper your child can practise

English Paper Mark Scheme - this is the answer sheet to the exam paper
Whatever stage your child is at with the 11+ process – from planning years in advance or cramming some last minute revision – rest assured that our tutors are here to help. Book your free trial session on the GoStudent website.
Hire a dedicated 11+ reading comprehension tutor
An easy way to motivate your child and a fast way to practice content is through a reading comprehension tutor. By hiring a specialist tutor, your kid will have access to more practice material and have some very enjoyable classes along the way too.
At GoStudent, we have dedicated 11+ reading comprehension tutors who can explain the questions in an entertaining and interesting manner so your child will walk into the exam feeling confident. Why not see for yourself and book a free trial class to get your kid excited and prepared?