Contents
First released in August 2014 with a shortlist of fairly basic features, Google Classroom has evolved beyond recognition, boasting hundreds of updates and improvements since its inception.
Over the last two years, the education community had to quickly adapt to challenges, and Google Classroom really took off. In 2021, Google Classroom helped more than 150 million students, educators and school leaders around the world teach and learn online – up from 40 million the year before. 😮
Whether you are a seasoned Google Classroom professional or you are contemplating setting up your online teaching space with this hugely popular platform, we are here to help. Check out our introduction to Google Classroom for teachers – filled with top tips and tricks to ensure you and your students get the most out of it. 👇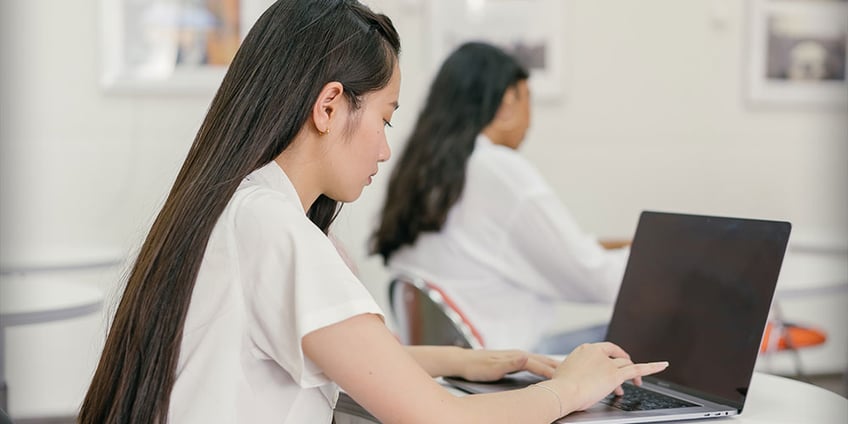 What is Google Classroom?
Google Classroom is a free web-based platform designed for teachers. In an increasingly digital world, Google Classroom helps facilitate students learning online. It integrates all your normal G Suite services – like Google Docs, Gmail and Google Calendar – with a G Suite for Education account. 🧑‍🏫
So, is Google Classroom an LMS? Yes! Google Classroom is Google's offering to the online Learning Management System world. Specifically designed for teachers and tutors, this application provides a central location to create classes, communicate with students, distribute assignments and stay organised.
And, who can use Google Classroom? That's the best bit – anyone! Google Classroom is a free service for anyone with a personal Google account. So that means schools, independent educators, home-schoolers, administrators and families can all use Google Classroom. 👍
How do teachers use Google Classroom?
Thanks to the flexibility of this Learning Management System, teachers can use Google Classroom in a variety of different ways. For example, they can:
Host live,

online classes

with their students
Create and manage assignments and grades online without paper
Add materials to assignments, such as videos,

quizzes

and surveys
Give direct, real-time feedback
Use the class stream to post class announcements
Engage students in

question-driven

discussions
Invite parents to sign up for email summaries and updates
Top functions in Google Classroom for teachers
Let's take a look at some of the bullet points above in a little more detail and discuss how some of the most popular Google Classroom functions can help you to streamline your own online teaching practice.
Easy class management
Google Classroom integrates with Google's other tools – like Docs, Drive, Forms and Calendar – so, for example, if you post an assignment with a due date, it's automatically added to your students' class calendars. 📅
Get organised
If you have different chapters, units or subjects within your class, you can categorise your assignments by topic to keep everything organised. Under 'Classwork' click the 'Create' button and add a topic. Then, whenever you create a new assignment or announcement, you'll be able to add that topic to it. 🗂️
Save time and paper
You can create, distribute and collect assignments and course materials entirely online. With Google Classroom you can effortlessly share videos, websites, PDFs, and more. You can also post an assignment to multiple classes or modify and reuse assignments from year to year. 📝
Flexible communication
You can use the platform to post announcements and reminders about assignments that will go to the whole class at once. You can also check in with individual students privately, answer their questions and offer support. 🤝
Mark as you go
By using Google Forms to create and share quizzes, you can automatically grade students as they submit their answers – giving students instant feedback on their work. From there, you can also use Forms or Sheets to view individual and class data. ✍️
How do I set up Google Classroom?
Good news – Google Classroom is relatively simple to set up, even for first-time users. You can get set up in no time by following the following five simple steps. If you need more information, the Google for Education Teacher Center offers several useful tutorials for getting started too. 🙌
#1 Navigate to Google Classroom
Google Classroom can be accessed through its website and is available for download at the iOS App Store and the Google Play Store. Remember, anyone with a Google account can use Google Classroom. ✅
#2 Create your first class
Click on the '+' button in the top right – it's next to the checkerboard icon you use to access all of your apps – then click 'Create class.' ✅
#3 Add class information
Next, add a name for your class so that your students can identify it when they open Google Classroom. You can also use the 'section' field to differentiate between different classes of the same type and the 'subject' field lets you insert your subject. Both of these steps are optional but we recommend completing these fields. ✅
#4 Customise your classroom
Put your stamp on the online space and make it stand out from other Google Classrooms. Click 'Select theme' to open a gallery of header images or upload a custom photo or graphic to display at the top of your Classroom – this could include important information, dates or a class portrait. ✅
#5 Invite your students
Now that you've created your class, you can invite your students to join. There are three ways you can do this:
Send a link – just click on the class code and click 'copy invite link'. Then share it via your classroom chat box or email it directly to your students
Share the 'join code' – students can then log in to Google Classroom, click the '+' button and then 'Join class'
Add each student individually using their email address via the 'people' tab at the top ✅
How to make Google Classroom engaging and interactive
Teaching online can feel like hard work at times but get it right and you are creating invaluable moments of insight, building knowledge and forging memorable learning experiences for your students.
Forward-thinking teachers know that students respond best to well-prepared, immersive lessons. So, let's look at some ways you can make your Google Classroom lessons more engaging and interactive. 💪
#1 Mix it up
Consider sharing different types of resources with your students. In addition to Google Workspace tools like Docs and Slides, you can share images, links, videos, and screencasts.
You can also apply this differentiation approach to the way your students submit their assignments – let them work to their strengths by responding with either a comment, video clip or drawing to demonstrate their understanding and personal style. 🖼️
#2 Create channels
One way to encourage class-wide interaction is to use Google Classroom's Stream page. Stream acts like a social media feed within Google Classroom where everyone can find announcements and upcoming assignments.
By using Stream to post your class agenda and a Chrome browser extension that allows you to record, edit and assign screencasts you can create video messages, tutorials and recorded evaluations for students to refer to. 🤙
#3 Break it down
Breaking your course into smaller, digestible chunks with microlearning and adding mini wins along the way is a great way to keep your student engaged. Create milestones and different rewards after each stage of learning – like quizzes, games and other rewards. 🤏
#4 Gamification
Apply game-like mechanics – like goals, points and badges – to the learning experience. Students can earn instant gratification from their learning efforts and leaderboards will increase interactivity and engagement, too. 🎮
#5 Pause for questions
With all the apps, extensions and automisation at your fingertips, it's easy to forget the importance of making space for questions. Make sure you schedule regular breaks between activities so that your students can ask questions and engage in some critical thinking. More often than not, it's not just the student that puts their hand up that feels they need clarification. 🙋
Top three apps that integrate with Google Classroom
Google Classroom uses an API – application program interface – to connect and share information with many popular tools. An API is software that goes between two applications and allows them to talk to each other. So, a YouTube API allows you to display videos on a website while a Facebook API allows you to display Facebook info on a website. 🤓
Hundreds of apps and websites integrate with Google Classroom. Let's take a look at three of the most recommended ones below.
#1 BrainPOP
BrainPOP and BrainPOP Jr. give you access to hundreds of videos, games and quizzes that explain diverse topics including health, art, English language, maths and science.
Students can watch an introductory video on a particular topic and then choose interactive follow-up activities including quizzes, games and vocabulary reviews. Students can also log in through the Google launcher menu and submit their work from there directly. 🧠
#2 DOGOnews
DOGOnews is a free app offering kid-friendly content about current events. Most articles are several paragraphs long and include images, videos or infographics. There's also an option to listen to a narration of the text – making it a more accessible extension. The paid Pro version of the app also includes quiz questions for each article to check students' understanding. 📰
#3 Flipgrid
Flipgrid allows students to engage in face-to-face discussions. You can create 'grid' message boards where you can ask questions and then students can submit video responses – a great tool if you follow a Flipped Learning model.
The videos appear in a tiled grid, so it's easy to see who has responded, and students can click through each other's videos too. You can control security settings and set a maximum video length. 🎥
Should teachers get the Google Classroom mobile app?
One of the biggest stressors for teachers and tutors is time – between class assignments, marking and ongoing evaluation – sometimes it feels like there just aren't enough hours in the day.
This is where the Google Classroom mobile app could be a game-changer for you. For example, it can help you handle quick student questions in seconds rather than hours or days. But, not all teachers want to be constantly 'on call'. So, let's take a look at the benefits of the Google Classroom app and how you can tailor it to suit you and your students' needs. 📲
#1 Reply instantly
Sometimes, students just need a quick answer to a simple question and being able to respond almost instantly means they can get on with the work unimpeded. After you've created an assignment, you can send both private comments directly to your students or class-wide comments that everyone can benefit from.
When either of these types of comments come in, you'll get a push notification on your device so you can reply straight away. When you respond to a comment in Google Classroom, we recommend putting your first and last initial at the beginning – that way you'll be able to easily see which ones you've responded to.
#2 Manage notifications
Instant access to you is a great benefit to your students but it's important that you set and maintain your boundaries. With the Google Classroom mobile app, you can easily manage your notifications.
It's easy to make Google Classroom notifications quieter or less invasive on your mobile device – or you can even turn them off completely. Just remember to let your students know when you will be available – only during the school day or after school until a certain time for example – and then set up your notifications accordingly. 🔔
#3 Easy annotation
The Google Classroom mobile app is perfect if you miss writing comments in the margins of student work with your pen as you can open up a document and draw on it with your finger or a stylus! Needless to say, this is easier with a tablet than a mobile – the bigger the screen, the easier it is to annotate student work.
Your tray of tools includes a fine-point pen, a wide-point marker, a highlighter, a text tool, an eraser and a selection tool. So you can circle what needs changing, highlight something, handwrite comments or type them with text. When you're done, Google Classroom will save your annotations as a PDF file and will return it to the student. 🖊️
What is Google Classroom doing with my students' data?
Any teacher worth their salt – particularly those working in the online space – may be asking themselves 'what is Google doing with my students' data? Should I be worried about privacy?'. 🔐
According to the Google Classroom Privacy Policy and Terms of Service, Google is fully committed to the security and privacy of users' data and protecting users and schools from attempts to compromise it. The terms also say they do not assume ownership of any user data in the G Suite core services and do not share or sell users' G Suite data to third parties.
For G Suite for Education users in primary and secondary schools, Google does not collect or use any user personal information for advertising purposes or to create advertising profiles, whether in core services or other Google services accessed while using a G Suite for Education account. 🏫
Teachers should be aware that Google may serve ads to G Suite for Education users in the "additional services" section but – as an administrator – you have the ability to restrict access to those additional services.
Google Classroom is a great way to make online tutoring with GoStudent even easier! GoStudent tutors enjoy freedom, flexibility and students on tap, so, what are you waiting for? Register to become a GoStudent tutor today! 🎒