Contents
GoStudent plays host to a wonderful network of tutors who are experts in their field. In our GoStudent Expert series, you'll find tips, guides and information from some of our very own GoStudent tutors. Find out what our learning experts have to say right here...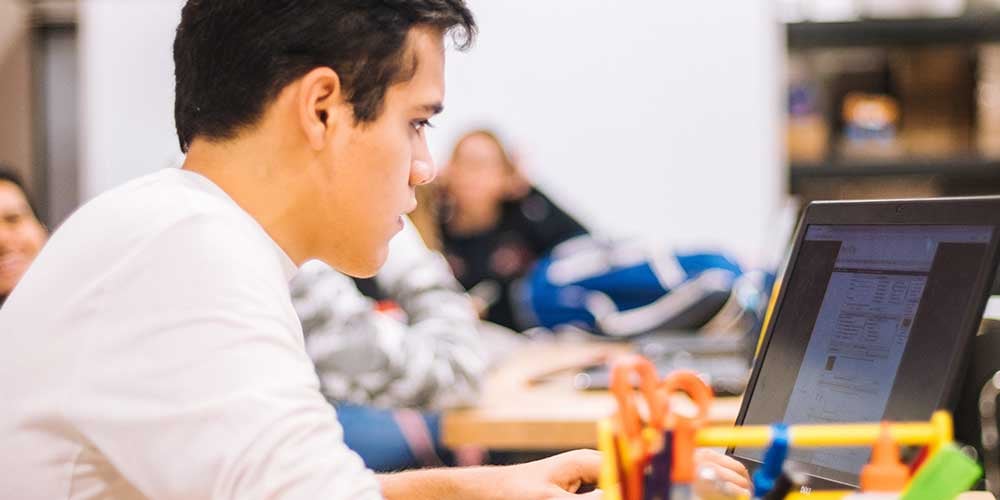 GoStudent Expert Evelyn's Guide to Educational YouTube Channels
Spending time on Youtube is a popular pastime amongst the younger generation. If you're concerned that your child is wasting time watching Youtubers instead of revising, don't worry! Youtube can actually be a powerful tool for learning. Here is a list of the best educational Youtube channels that we recommend your child watch in their spare time.


🧸
Educational Youtube channels for toddlers
We recommend this channel because it encourages children to how to read and write in a fun and exciting way! Learning the alphabet, ABC phonics letter sounds, vowels and consonants, and letter blending are just a few of the subjects covered in those videos.
Follow along with Lotty as she learns how to write each letter of the alphabet. Moreover, the learning colours videos teach the basic colours using a variety of subjects. 🖍️
If you have children working at KS1, this channel is a gem. With weekly episodes spanning about 30 minutes each, WordWorld is produced in such a way that words are "the stars of the show".
Almost like a show-and-tell activity, objects are built with the letters that make up the word they represent. This is another great channel to encourage literacy📖.
You could try showing your child this channel if you want to instil creativity in your child's life. This channel uses animation to explain the fundamentals of art theory to children and teaches them how to create a variety of art styles, from Halloween Crafts to mandalas. There are hundreds of videos on this channel.
We recommend this CBeebies YouTube channel if you want to watch Youtube with your children. It offers a safe environment where CBeebies content is readily accessible with no inappropriate links or adverts.
CBeebies is dedicated to delighting and surprising its pre-school audience and remains the UK's most-watched and most loved channel for the under-sixes.
You could try Sesame Street to ensure your child has fun whilst learning. Sesame Street combines live-action, sketch comedy, animation and puppetry to teach both academic skills such as counting and social skills such as nonaggressive ways of resolving conflict.
Issues were addressed through interpersonal disputes among its Street characters. Sesame Street also addresses real-life disasters such as the September 11 terrorist attacks and Hurricane Katrina in a child-friendly way.
🧒
Educational Youtube channels for primary school students
You could try this cannel to engage your child in school science. This bi-weekly show from the producers of Crash Course is all about primary school science. It looks at the earth, habitats, space, chemical reactions, engineering, and much much more with host Sabrina Cruz. Every Tuesday and Thursday there are new uploads.
This series begins with KS2 science and will go into Earth Science, Physical Science, Biology, Geography, Engineering, and Astronomy. There is a playlist for each subject!
This is a child-friendly version of the immensely popular network National Geographic. Nat Geo Kids features videos about animals, science, culture and much more. The videos are short but informative, and there is a great deal for your child to choose from to help feed their curiosity.
This channel makes fun, exciting learning videos for primary school students.
The lead narrator and writer is a homeschool dad. This is a jack of all trades in the educational YouTube channel–sphere.
It's aimed at the younger age bracket of KS2, although there is some useful content for 10-11-year-olds. Covering topics from maths to history to geography to biology and even social studies, there isn't much this channel hasn't explored. It's American so be aware that some subjects may not match your local curriculum – but it's a great all-rounder to boost your child's general knowledge.
Twinkl Kids' TV videos offer clear, visual demonstrations on how to use Twinkl's library of science experiments, sensory activities and creative craft resources at home.
You'll also find educational video games, such as maths teasers or sorting activities. It covers a range of topics from history to science for primary school students as well as extracurricular topics such as holiday activities.
Smile and Learn offers unique educational material designed by lead educational experts. This channel features didactic stories and videos about an eclectic range of values, Geography, History, Literacy, Science, Modern Languages, emotions, yoga.
We recommend this channel for complete beginners from ages 4 to 11 to learn the basics of music theory. Instruments covered include the drums, piano, ukulele and guitar. This is a great precursor to music lessons with teachers.
Mr Henry's Music World YouTube Channel offers fun activities for starters who want to learn all about music. If your child is looking to learn the piano with a fun and engaging curriculum, Mr Henry's Music World channel may be the best option for them. The channel offers a simple breakdown of music theory and piano skills that are essential in building a solid music foundation.
We recommend this channel as an exciting introduction for your child into the art world. Miss Kate & Miss Jessica have been teaching art for almost a decade in our school programming and here at the Paint It KIDS Studio. With this channel, engage your children in art and inspire them to create their own art.
No matter where you live, or what your schedule is, you can paint along with this channel here at Paint it Kids anytime! There are daily art lessons. Topics include principles of design, the fundamentals of colour and how to draw an Easter Bunny.
We recommend this channel to introduce your child to the joys of cooking. This channel features the culinary adventures of 10-year old Zoe, who uploads new, fun and healthy recipes every week with the help of her family!
Your child may even get their cooking featured in one of her episodes by sending a photo to kidscookingwithzoe@gmail.com. There is even a Kids Cooking Club: https://bit.ly/kidscookwithzoe.
We recommend this channel to supplement your child's art education at school. This channel's goal is to present children with videos that they can really enjoy and improve their skills at the same time, to teach them about drawing, art and the universe through improv stories. I Love Drawing is a fun and accessible way for children to learn about art history and techniques.
🏫
Educational Youtube channels for secondary school students
We recommend this channel if you want your child to follow their schools' curriculum. BBC Teach offers free classroom resources throughout the UK.
It covers 22 subjects, ranging from early years to GCSE/Nationals and Highers. Additionally, for major events, such as Black History Month or Shakespeare Season, BBC Teach also curates collections pages featuring content and links to relevant pages from around the rest of the BBC.
Your children can learn about a range of subjects from English Literature to productivity from their favourite YouTubers such as Youtube's resident librarian Jack Edwards and corporate lawyer Eve Cornell.
There are over 100 videos to choose from. This is a channel to keep your child busy, keep them learning or even just to give them somewhere to escape to! Any profits made from Adsense will go straight to charities helping fight COVID-19.
We recommend this channel if you want your child to have a rigorous education online. Khan Academy is a nonprofit organization with the mission of providing free, world-class education for anyone, anywhere. Their interactive practice problems, articles, and videos help students succeed in math, biology, chemistry, physics, history, economics, finance, grammar, and many other topics.
They also offer free personalized SAT and LSAT practice in partnership with the College Board and the Law School Admission Council.
Their resources have been translated into dozens of languages, and 15 million people around the globe learn on Khan Academy each month.
There will be a brand new video every day at 6 pm, as well as regular content on their Instagram: @thestudytubeproject.
You can try The SciShow to encourage your child to explore unusual topics in science. There is a new video almost every day exploring the latest in science news, guest interviews and quizzes. The SciShow is led by renowned internet personality Hank Green.
Led by Hank's brother John Green, a famous author, The Crash Course team produced more than 32 courses on a wide variety of subjects, including organic chemistry, literature, world history, biology, philosophy, theatre, ecology, and many more!
The videos are quirkily animated and explain topics in an engaging manner. Right now, they are producing Organic Chemistry and European History courses. They have also recently teamed up with Arizona State University to bring viewers two more courses: Study Hall Composition, and Study Hall Algebra.
Kurzgesagt makes an eclectic range of videos exploring science. Their videos are beautifully animated and always exciting to view. We recommend this channel because they can explain complex topics easily.
Like the SciShow, Veritasium explores scientific topics in an interesting and clear manner. Unlike the SciShow, Veritasium also explained mathematical ideas such as Bayes' Theorem and even interviewed Bill Gates about the future of humanity!
TED-Ed's commitment to creating lessons worth sharing is an extension of TED's mission of spreading great ideas. Within TED-Ed's growing library of TED-Ed animations, your child will find carefully curated educational videos, many of which represent collaborations between talented educators and animators nominated through the TED-Ed website (ed.ted.com).
This channel demystifies the art world and discovers the stories behind the world's greatest paintings and sculptures. Each episode will focus on one piece of art and break it down, using clear and concise language free of 'art-speak'.
We recommend this channel if your children are pop culture fans. Wisecrack is a collective of academics, filmmakers, artists, and pop culture junkies who are curious and contemplative about the world around us. This channel explores big ideas like philosophy and critical thinking through the lens of movies, TV shows, video games, current events, books, and more.
As you can see, Youtube is full of entertaining, educational content that can both complement their learning at school and stretch them beyond the curriculum! We wish your child many happy and productive hours on Youtube's recommended channels. 🌎