Contents
Like everything else in the digital world – creativity has also integrated itself with technology. Digital creativity is about using digital tools and technologies to explore creative ideas and new ways of displaying ideas, research, or any work. 🎨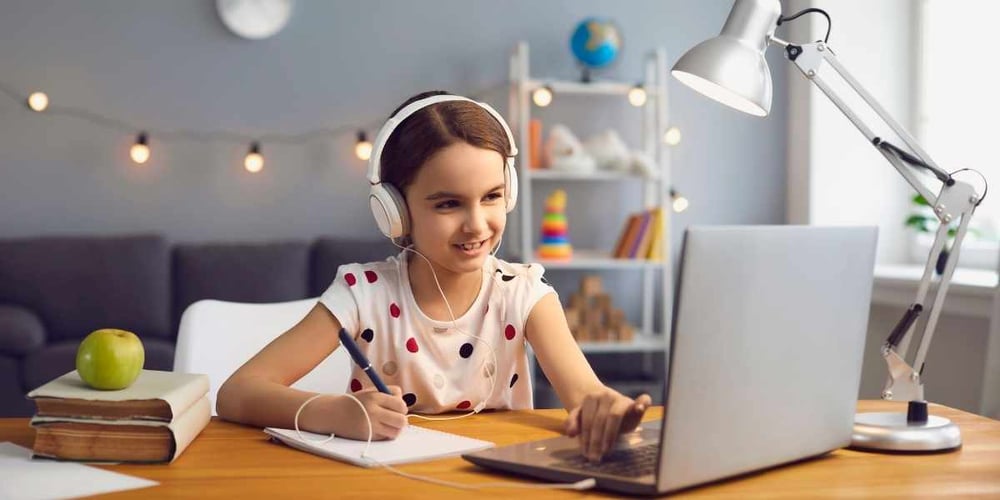 Why is digital creativity important?
The reliance on technology in the pandemic has shown us that creative digital skills are a need for thriving careers. They also determine a student's ability to actively participate in contributing to creation and innovation in society.
Digital creativity also harnesses skills like communication, adaptability and collaboration. All of which are highly-sought after qualities by current employers.
Do schools provide students with enough opportunities to be digitally creative?
In the UK there is already a creative digital skills shortage in a number of key creative industries. So while schools might be trying their best to impart digital literacy and creativity in students, there is still a gap. One which parents can also step-in and help close. ✊
Moreover students already spend a couple of hours everyday (if not more) looking at screens. With a bit of initiative and planning, parents can ensure that kids also develop creative digital skills while they are already online.
So here are a few ways on how technology can enhance creativity at home:
🔥 Expert Tip : "There is a misconception that digital creativity is just about creating an end product like a website or a podcast," says Chritsian Mba, head of media studies and English teacher at Kettering Buccleuch Academy. "Rather it's about how you can communicate your ideas through it."
So Mba encourages parents to let students engage with digital activities that help them communicate their ideas, thoughts and stories.
A father himself, Mba frequently tasks his kids to use Stop Start Motion – a free app available in the Apple app store – that allows them to tell digital stories.
The first step for his children is to create a storyboard or written script with their toys featuring as characters. After which they take photos of their toys in various scenes of the story and upload it to the app. Stop Start Motion then allows music, audio and video to be added alongside the photos. The app then merges all these edited bits of media into one seamless video – creating the digital story!
Nicola Yelland, Professor of early childhood studies at the University of Melbourne whose research specialises in new technologies at schools and communities, recommends tools like Book Creator – a platform which allows combining of text, image, audio and video to create digital books.
Yelland's granddaughter loves the app. That's because while the toddler hasn't learnt how to read or write, BookCreator allows her to create her own book by simply adding pictures and her own voice to it. 📒
Don't know where to look for such user-friendly technology? 🤔
Here are a few app suggestions :
Imovie
Inshorts
TextToPic
Stop Start Motion
CapCut
Animoto
Book Creator
Adobe Spark
TikTok (Have a family account if you are uncomfortable with your child having social media accounts of their own.)
Still struggling with finding the right tech for students and yourself? Follow the advice and recommendations of edtech experts on Twitter! 🗣
Involve classroom lessons
Perhaps one of the easiest ways for parents to encourage digital creativity in students' schedules, is by integrating it with classroom lessons.
Mba suggests that parents can try 'digital ways of revision' at home for lessons taught in class. How?
Ask kids to make a ten-minute podcast, movie trailer or powerpoint presentation on a lesson that is going to be tested in school soon. Whether it's the cold war or photosynthesis, students must sum up key events or concepts of the particular lesson.
Students will have to make specific creative choices – from picking images, quotes to soundtracks – so they can make the lesson engaging for their parents. This process Mba says will help students "clarify their thinking" on the particular lesson. 🧠
🔥 Expert Tip : "Research shows that students continue to consolidate their learning when they're able to reteach or share that information with other people," says Mba.
For younger students, there are simple ways of taking the lessons they are learning in schools and turning them into fun creative digital activities at home.
So if your younger one is learning about the seasons you can take them outside and get creative. Like let students take a picture of the same tree for the next twelve weeks, as it sheds its leaves and blossoms. Then create a time lapse from all the pictures – digitally capturing the season change! 🌲
🔥 Expert Tip : "Parents have a really big influence in the lives of their children," says Mba. "If you give time and energy to something you make that important to your children. You make them want to do it. So parents shouldn't be scared of new technologies."
As a medium for skill-building
Digital creativity is not just a means by itself. It can also be enhanced by seeking digital learning resources that develop other skills in students.
🔥 Expert Tip : "Sometimes it's not always the written word that is the most effective way of communication," says Mba. "By allowing your child to develop digital literacy and digital skills you're helping them to be bilingual in a digital age. Which means rather than just only being able to communicate in analogue, they are able to also communicate in digital speak as well."
Moreover, learning digital skills does not always have to be academic. Between school and homework students also need time to unwind and entertain themselves.
One of the ways Mba achieves this by playing the popular video game Minecraft with his sons. According to the UK-based innovative tech learning school FunTech; "Minecraft can teach kids the fundamentals of programming skills, teamwork, problem - solving, project management, and offers a fantastic environment to foster creativity and "out of the box" thinking."
You can find explore all of our articles on digital learning right here. 🎮
If students aren't too fond of online gaming there are plenty of other options as well.
Wondering how to teach creative writing to elementary students? Maybe your kids enjoy coding? Or just simple drawing? A quick Google search is sure to lead you to apps and platforms that digitally support the interests of your child.
Allow kids to explore these various options so they find the kind of digital creativity that they enjoy best. 💪
Scheduling time for digital creativity in your day might feel like an add-on responsibility.
So parents can also make it part of family moments!
Mba kids love baking so he encouraged them to start recording themselves doing different recipes and post it on the family social media account. This way they also saw how their baking skills impacted more people. A definite encouragement for early entrepreneurship!
Perhaps you could record and share your family version of The Great British Bake Off! 👨‍🍳
Yelland suggests making digital diaries with your children around milestone moments of their lives.
So if it's your child's 10th birthday, maybe they can capture short videos on what it's like to be growing up and put it all together? Maybe 'life in a lockdown' can be preserved through a multimedia presentation of everyday moments through a digital diary?
🔥 Expert Tip : "I think that the heart of digital technology is about fostering deeper relationships," says Mba. "I try and ensure that when using technology with my family." 👪
Be playful with technology
🔥 Expert Tip : "Be playful with your kids," says Yelland. "If you want them to be creative, parents have to be creative too."
Play is children's language. It helps them make sense of their world and their relationships with others around them.
So there's no better way than to introduce another skill like digital creativity, than through play!
That is why Yelland suggests parents not shy away from learning technology that can help them be fun and imaginative with students. In the process they are sure to connect with their inner child too and release some of that digital-parenting stress too! 🤯
Activities and apps for sparking digital creativity through play
Our Advice : Digital creativity is an important skill of the future for students. The best way parents can ensure that students are motivated to engage with it is by investing some time in it themselves. As what is important for parents becomes important for kids as well!
Digital creativity needn't be a formal space that parents create for students.
The best ways to incorporate digital creativity in our everyday life is by:
Finding digital mediums to communicate students' ideas and stories.
Using digital creativity as a form of classroom revision.
Building skills through online learning.
Documenting family memories through creative digital formats.
Playfulness with technology ensures greater success at students engaging with digital creativity.

At GoStudent, we like to take care of the classroom learning so parents can have the space to focus on additional skill building like digital creativity with students. You can book a trial lesson with one of our tutors here.