Contents
Skype vs Zoom, the big debate! By the end of 2020, Zoom soared in downloads from 10 million to over 350 million as schools, workplaces, and individual users sought to find the best video calling platforms for their new, remote needs.
To be the best tutor that you can be, you'll need your technology to support you and your students. Is Zoom better than Skype for teaching? Keep reading as we do the work and make this decision super easy for you.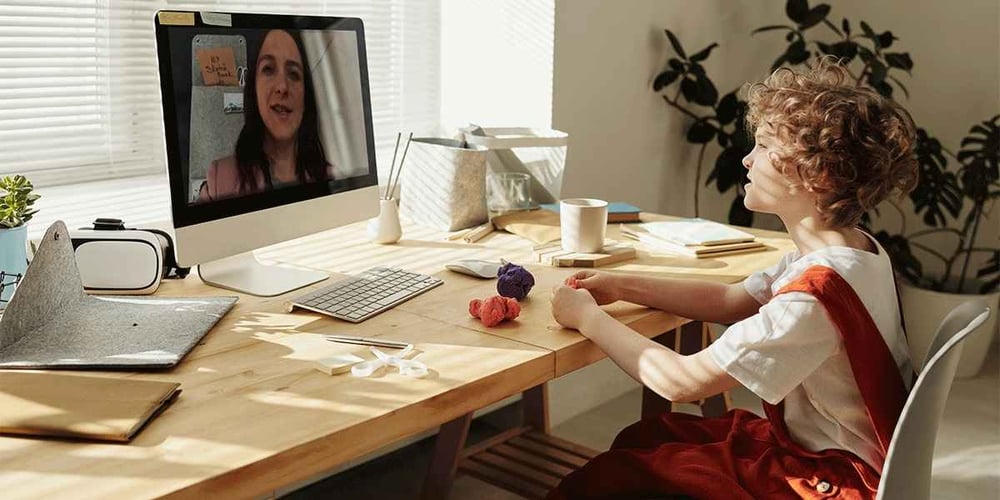 What is the best option for online teaching?
Online video conferencing apps are a must for anyone working remotely, and this includes online tutoring. They allow you to stay connected and for your workflow to continue, wherever you are in the world. So, Skype or Zoom for online teaching?
The main difference between Zoom and Skype for online teaching is the number of participants it allows at a time. The Zoom basic plan (free) allows a video conferencing of 100 participants at a time, while Skype's basic program allows only 50 participants. As an online tutor of one student, this feature isn't so much of an issue for you. So what other factors in the decision between Skype vs Zoom?
Whilst these two platforms share a lot in common, not all are made equal. We know what you need as a tutor to be successful so that in a lesson you aren't caught off guard or sidetracked by poor technology. Let's break them both down:
Skype
Now pre-pandemic, Skype was a huge market leader in the video calling sphere. Loved ones live far away? Long-distance relationships? Work calls with international colleagues? Skype was a true favourite amongst all different types of users with all the usual mod-cons of video conferencing:
File sharing: perfect for sharing resources and lesson plans whilst tutoring digitally, although some users report this as slow on Skype, and instead choose to email documents after the video call

Chat box function: talk and ask for feedback or comments as you go along the call, you can also use this space to highlight anything of importance

Option to record the call: save the video call for later to review or students can play ideas back if they missed anything (but with Skype, remember to download it within 30 days!)
With screen-sharing (including windows and documents), Skype allows for collaboration online. However, lots of users report this feature as temperamental, even needing to buy and use a second monitor to fix this issue!
If you're happy sharing your whole screen, that's great, but if it's specific tabs and documents you're after (and as a tutor, we know you're multitasking!) then Skype might not be for you.
Zoom
Just like Skype, Zoom offers the same types of functions like file and screen sharing. Want to carry out a test with your students and only share parts of documents and not the answers? Zoom allows you to switch easily between multiple tabs and documents so that you can be fully in control of the lesson.
However, unlike Skype, Zoom has its own unique features on offer that appeal to tutors teaching online:
Document-annotation tool: perfect for in-class checking for understanding and feedback quickly and instantly

Whiteboard feature: a useful tool to explain concepts and ideas through modelling ideas step-by-step within the lesson itself (pivotal for students with learning differences like dyslexia)
Pointer-tool: if students can't see your cursor, this feature is ideal to really clearly and visually keep students up with your explanations (Zoom even allows you to pause and save these notes, which you can then email to your students after the class, or add them to your shared online space)
Zoom has become the preferred platform for numerous online educators across the globe as the features that it comes with provide students with a more engaging experience. It is currently being used by more than 5,300 educational institutions around the globe!
Is Skype good for online teaching?
Skype is an innovative tool for video conferencing, file sharing, IM, online presentations, voice calls, and more. It offers advanced features varying from a free plan to paid plans depending upon the user's needs.
In the past, Skype was a firm favourite for global video conferencing, especially for those who wanted the simple process of making an account, logging on, and keeping in touch with friends and family.
Like Zoom, Skype supports a range of devices (Windows, Mac OS, IOS, iPhone/ iPad, Android, Linux, and Web-based) so that anyone and everyone can access video conferencing.
But, when new market-leader Zoom began to offer all these features, and more by (and we mean it, it's even Her Majesty the Queen's preferred platform!) updating its integrated services and features, Skype quickly became a tool of the pre-pandemic past.
Zoom has the ability to start a session with someone without having to 'add' them as a friend on your account (especially important when working with children and to be about to keep a clear boundary), through the capacity to give whoever you are calling a unique ID code and password.
Students don't need to make accounts or use their parents, and can simply use your unique code to access your session!
As a result, Zoom has become a firm favourite of educators, schools, teachers, and tutors because of its safety-first features. Its ideal free 40-minute video allowance is also perfect for a productive tutor session, and if need be, you can have a short break and restart another!
Is Zoom better than Skype for teaching?
So, Zoom or Skype for online teaching? The simple answer once and for all, is Zoom! This intuitive and engaging video conferencing platform was designed with educators in mind.
Zoom gives admins (you, the tutor) the ability to monitor meetings, such as muting and unmute users, and to control who is let into a call using the 'waiting room' feature. It also boasts great customer service (which is operational in multiple time zones) so if you are having issues it is easy to get in touch with someone about troubleshooting.
Students (especially those who are neurodiverse) can be naturally nervous and worried about learning online, and Zoom has thought ahead:
With Zoom you can change your background to something engaging and entertaining, this is especially useful if you're working with younger students, who don't have much technical experience
Zoom is geared towards educating: the audio transfers directly over the call (rather than out of your speakers and into your call), meaning it's crisp and clear, so this is imperative for any interactive lessons
Perhaps most importantly, students cannot create an account and share information on Zoom, they have to be invited by you with a secure ID and code - this is a safeguarding must!
Parents want their child's experience tutoring with one of our excellent GoStudent tutors (you!) online to be smooth and easy, and focused on the learning and not non-intuitive technology.
Let's review some key features:
| | | | | |
| --- | --- | --- | --- | --- |
| | Easy to share documents and tabs? | Chat box and file sharing? | Additional features like whiteboards and annotations? | Supports Google Drive and Dropbox? |
| Skype | Yes, good for screen-sharing, but multiple tabs are temperamental | Yes | No | No |
| Zoom | Yes, easy to switch between multiple tabs and documents | Yes | Yes | Yes |
Zoom has a free plan, and three types of paid plans, but as a tutor, there's no need because the Zoom free plan has everything you need to run a successful, online-friendly tutoring session for you and your students.
Want a dynamic and engaging online classroom environment? Zoom is for you! It's free to download and try, so have a go and experiment with all the features on offer.