Contents
If you're a parent looking for a great tutoring service for your child, you're not alone. Thousands of parents across the UK are seeing the benefits of tutoring to further their children's learning, and tutoring services like MyTutor are becoming increasingly popular.
There's no question that there are many benefits to online tutoring – in fact, our 2021 Education Report found that 96 per cent of kids in the UK believe that tutoring is valuable for their learning process. As a parent, you're likely wondering what the best tutoring website for you and your child would be in order to improve academic success. Let's take a closer look at how MyTutor works, and how it compares to other online tutoring platforms!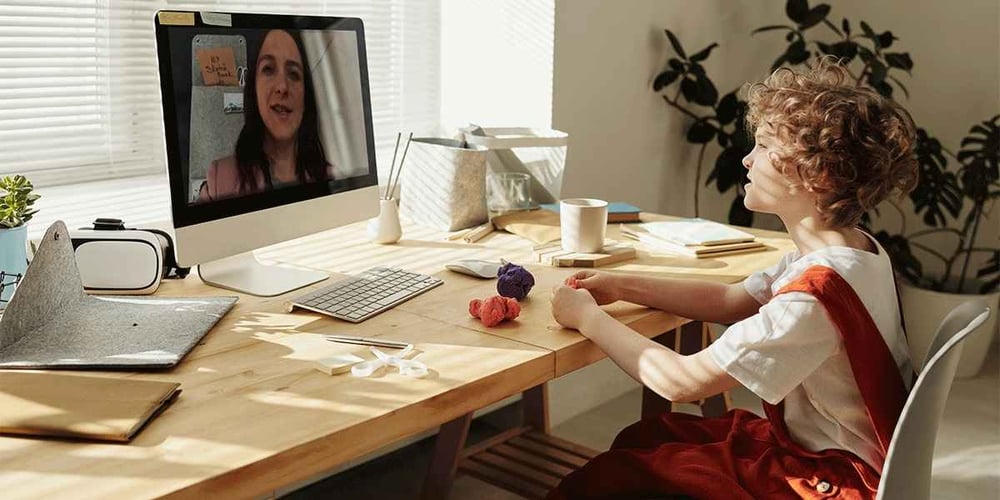 What is MyTutor?
MyTutor is one of the UK's leading online tutoring platforms. Offering one-to-one tuition to pupils across the country, MyTutor is one of the most well-established and trusted tutoring services in the UK.
MyTutor has a stock of great tutors ready to offer one-to-one learning support to children, with each one having attended a university in the UK to ensure they are highly familiar with the schooling British children need. They have a rigorous selection process for their tutors – in fact, only 1 of 8 tutors who apply to work with MyTutor make it onto their books, according to their website.
The MyTutor platform is highly geared towards UK pupils and parents in particular. Unlike some other big tutoring services such as Superprof which offers tutoring in more than 1000 different subjects, MyTutor has specialised in the core subjects every child in the UK will take in the course of their school career. 🏫
Deciding to try tutoring with your child is a great first step, but the next hurdle is to pick the right tutoring service for you. We would recommend doing your research online to find out what tutoring platform is best suited to your child and their needs. There are plenty of MyTutor reviews on sites like Trustpilot, so if you'd like to see what real parents have to say about the service, it's a great place to start!
What are the advantages of using MyTutor?
There are several advantages of using MyTutor – as one of the most commonly used tutoring services in the UK, they must be doing something right!
The pros of MyTutor include the following:
The company has a very selective hiring process, ensuring that its tutors are top-notch with the ability to deliver great one-to-one tuition.
MyTutor is closely connected to the school system in the UK – they work directly with over 650 schools across the country, and specialise in the core subjects your child will be taking during their schooling.
MyTutor is an affordable service, with prices ranging from £20 per hour to £45 for university-level tuition.
It's a UK-focused service – unlike certain other tutoring platforms that market themselves to users all around the world, MyTutor is tailor-made for pupils in Great Britain.
The varied pros and cons of using this tutoring platform have been outlined in thousands of MyTutor reviews online, so it's always wise to look into what other parents in the UK are saying about the service before you make your final choice. 💻
What are the downsides of MyTutor?
There are pros and cons of most tutoring services, and it's important to do your research and choose the tutoring platform that's best suited to you and your child's situation and needs.☝️
We've highlighted some of the positive aspects of the service, and a fair MyTutor review should also go over some of the possible downsides of the platform.
In general, the potential cons of MyTutor include the following:
Offering tuition in 30+ subjects, MyTutor has specialised its services in the core subjects in the

UK school curriculum

. This means that the service won't be as well suited to pupils who need tuition in less well-known subject areas.
Some parents have experienced issues with the MyTutor website, suggesting that it isn't very user-friendly. This is particularly the case when it comes to booking tuition for multiple children.
Since MyTutor's tutors are self-employed, they set their own schedules. Some parents have found it challenging to find a tutor using MyTutor as they sometimes don't reply to messages or their schedules have filled up.
The potential disadvantages of using MyTutor will depend on your individual situation and what you're looking for in a tutor, but you can check out the many MyTutor reviews online to find out more about the pros and cons of the service real parents in the UK report.
What are some alternatives to MyTutor?
These days, more and more parents are seeking out tutoring services to help their kids along in their learning journey – but finding the right platform is key. MyTutor is a popular option, but there are several other alternatives that could work just as well for you and your kids. ✔️
Among the top online tutoring services for UK parents, you'll find MyTutor, Tutorful, Superprof, Fleet Tutors, Tutor House, First Tutors and GoStudent. These tutoring platforms are all geared toward helping your child make academic progress in a positive and supportive way, and it's up to you and your kid to find the best option for you!
Fortunately, many tutoring websites offer free trial sessions so you and your child can test the service out before committing. Taking advantage of a complimentary trial lesson is a great way to find the tutoring platform that's best suited to you and your child's needs – and there's nothing wrong with trying out a few to find the best fit. Both GoStudent and MyTutor as well as several other services offer a trial session at no cost, so why not try them out?
How does GoStudent differ from MyTutor?
Along with MyTutor and a handful of other websites, GoStudent is a very popular tutoring platform among UK kids and parents. In fact, we've won the coveted Mumsnet Rated award for the Best Tutoring Service – and surely the nation's mums can't be wrong!
MyTutor and GoStudent are similar in that the focus is on providing high-quality tuition and supporting children's scholastic progress, preparing them for their academic future. Both tutoring services use a careful selection process when it comes to their tutors to ensure that the lessons are tailored to the individual needs of the child they're working with. 👩‍🏫
A key aspect in which the two tutoring platforms differ relates to pricing, which is of course an important point for parents to consider. While MyTutor's pricing ranges from £20 up to £44 per session for their most accomplished tutors, GoStudent offers more affordable and predictable pricing. The GoStudent rates start at £19.20 per session, with the maximum price being £29.60 per lesson depending on the learning plan you select for your child – and the cost of tutoring will be lower if you select a package with several lessons included.
Parents looking for a tutor with MyTutor may find it difficult to work out what tutor at what price point would best suit their child, and the tutoring may end up being more expensive than they initially envisioned. With GoStudent's clear and transparent pricing model, parents know that the price per lesson won't exceed £29.60 – meaning our services are well-suited for those looking for longer-term tutoring without breaking the bank. 💰
There's no doubt that online tutoring has plenty of benefits to offer pupils, and with a range of great tutoring platforms available, it's important to find the one that is best suited to your child and their needs as well as your budget and preferences. GoStudent is a fantastic option if you're hoping to boost your child's learning with one-to-one tutoring, but don't just take our word for it – book a free trial lesson and see for yourself!