Contents
What jobs can you get with a fine arts degree? A question often met with disparaging replies but the evidence suggests that there are plenty of fine arts degree jobs in the UK. Jobs that involve art increased exponentially in the years before Covid 19 suggesting that fine arts graduates can go on to enjoy successful and varied careers with an art degree. Let's take a look. 🧐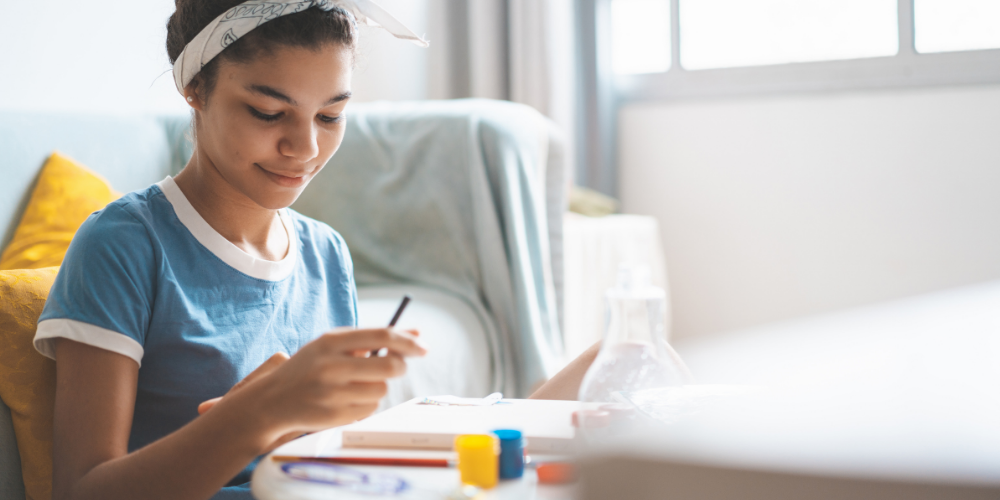 What subjects fall under "fine arts"?
The term "fine arts" can be a little vague and all-encompassing at times. So let's first contextualise it within the world of academic study before we investigate the question of "what jobs can I get with a fine arts degree?".
The traditional subdivision of "the arts" has seen it split into seven main strands: Architecture, Sculpture, Painting, Literature, Music, Performance and Film. In European academic traditions, fine art is developed primarily for aesthetics or beauty, distinguishing it from decorative art or applied art – such as pottery or metalwork – which also has to serve some practical function. 🏺
Nowadays, a quick search for "fine art" on UCAS will return 321 courses from 110 providers ranging from Art History at the University of Aberdeen to Photography at Arts University Bournemouth, Fine Art at Oxford and Painting, Drawing and Printmaking at Plymouth College of Art.
However, those degrees explicitly titled "Fine Art" tend mainly to focus on practical subjects – painting, print, photography, sculpture, film or performance for example – with theoretical modules like "Themes and issues in contemporary art", "Understanding the visual", "Creative analysis", "Visual culture: design, style and identity" and "Art, space and audience" underpinning the syllabus. 📚
Studying fine arts in the UK
The UK is one of the most popular destinations in the world to study fine art, leading the way in terms of creativity, innovation and research. With a host of internationally renowned art universities and institutions – including Royal College of Art, University of the Arts London, Goldsmiths and The Glasgow School of Art – there are a plethora of courses to choose from. 🏛️
Fine art programs typically combine a mixture of theoretical and practical course elements. Students are introduced to the history of art that has gone before them as well as the contemporary context within which they will be creating their own work. They are encouraged to underpin their practical work with robust research, and critical thinking strategies, work both independently and as part of a team and emotionally invest in the creative process.
Most art courses are taught by current or former artists, curators and academic researchers too, so you are likely to get expert tuition and a genuine insight into life after study as well as a chance to make lifelong connections with a network of fellow would-be artists and professionals already working within the industry. 🤝
Fine art degrees often require that a student specialises in a particular type of media, which is why many fine art students choose to take a foundation year before embarking on a degree – or opt for a 4-year degree course that includes a foundation year – so that they may benefit from a period of investigation and exploration before settling on a narrowed line of inquiry.
What is a BFA?
A Bachelor of Fine Arts – or BFA – is an international term used predominantly in the US, Australia, Europe and India. It refers to degrees in the visual, fine or performing arts. In the United Kingdom, a BA in Fine Arts is equivalent to a BFA. So, fine arts degree jobs in the UK are equivalent to what are considered to be BFA degree jobs abroad. 🌎
Ten transferable skills from a fine arts degree
Studying creative subjects at degree level can equip you with a set of enviable skills, both academic and personal, which will prove invaluable throughout your career – and not just in jobs that involve art.
In 2018, a landmark research project commissioned by Arts Council England called Tracking Learning and Engagement in the Arts (TALE) outlined the overwhelmingly positive benefits of arts and cultural education for young people and their continued professional development – including encouraging self-expression and creativity as well as building confidence and a sense of individual identity. 🙌
It's possible to access all kinds of careers with an art degree – due to their unique combination of critical research and practical methodology, fine arts degrees tend to foster an imaginative, can-do approach in their graduates alongside a whole host of transferable skills that employers are actively looking for including
1. Strong communication
The ability to effectively communicate ideas visually, orally and in writing.
2. Creativity and imagination
Experience thinking outside the box, a willingness to fail and an imaginative approach to project delivery.
3. Research and analysis
Thorough research methodology matched with strong observational and analytical skills.
4. Working to a deadline
Good time management skills with experience juggling multiple projects simultaneously.
5. Entrepreneurial spirit
Confidence in marketing one's own work, experience in business management and entrepreneurial skills.
6. Working independently
The ability to develop individual ideas, seeing them through to fruition and final presentation.
7. Collaborating with others
The ability to work together with colleagues, share ideas, designate roles and combine multiple inputs.
8. Creative problem solving
An imaginative approach to challenges, solving difficulties with open consideration and creativity.
9. Objectivity
The ability to learn from criticism, implement feedback and be objective about one's own work.
10. Progressive approach
An openness to new influences and concepts with an enthusiasm for the integration of novel materials, techniques, methods, technologies and tools.
What jobs can you get with a fine arts degree?
The answer to this question is much the same as that of "what jobs can you get with an art degree?" However, a degree in fine arts may specifically set you up for more practical creative roles whereas art degree jobs can be a little more varied and applicable to a broader set of employers. 🙋
Arts graduates can be found in industries including the creative arts, advertising, publishing, museums and galleries, libraries, design agencies, universities and print.
As discussed, fine arts degree jobs are not limited to creative roles – due to all those handy transferable skills – but the following table looks to illustrate how fine arts degree jobs may differ slightly from general art degree jobs.
| | | |
| --- | --- | --- |
| Job title | Art degree job? | Fine art degree job? |
| Advertising art director | ✔ | |
| Animator | | ✔ |
| Arts administrator | ✔ | |
| Art therapist | ✔ | ✔ |
| Commercial art gallery manager | ✔ | |
| Community arts worker | ✔ | ✔ |
| Concept artist | | ✔ |
| Conservator | ✔ | ✔ |
| Exhibition designer | ✔ | |
| Fine artist | | ✔ |
| Graphic designer | ✔ | ✔ |
| Illustrator | ✔ | ✔ |
| Interior designer | ✔ | |
| Jewellery designer | | ✔ |
| Museum/gallery curator | ✔ | |
| Printmaker | | ✔ |
| Secondary school teacher | ✔ | |
| Special effects artist | ✔ | ✔ |
Further training after a fine arts degree
Finding fine art degree jobs in the sector is not always straightforward. The industry is notoriously competitive and statistically, arts degree graduates are more likely to undertake short-term or part-time contracts whilst developing their own portfolio of work. 🎨
Some fine arts degree graduates will choose to undertake further training in a bid to diversify their experience or hone their specific practice. This may be a teacher-training course, an arts management course or a masters in one artistic discipline.
Master of fine arts degree jobs can offer an increased entrance wage, a chance to further network, better hands-on experience within a professional context or an opportunity to get into leadership roles. 🧑‍🎓
Pursuing a career in the arts
With negative news cycles perpetuating the message of the poorly funded arts struggling to offer enough jobs to graduates in the UK, opting for a fine arts degree can seem like a daunting decision to make. But the possible rewards could be well worth it – including a great career doing work that you care deeply about. 😍
Art contributes to what we see in our world, providing new opportunities for understanding and communication by visual and immersive means. It has an important impact on our society as a whole – something the UK government has recognised and is keen to measure more effectively moving forwards.
So, what jobs can you get with a fine arts degree? Sure, self-employment and freelancing roles are more common among fine arts graduates but in many respects, they are uniquely well-equipped to deal with job scarcity or insecurity given their transferable skill sets and entrepreneurial approach. 💡
The latest edition of Luminate's "What do graduates do?" study indicates that their enterprising nature actually puts arts graduates in a strong position when it comes to developing new opportunities.
The answer to what jobs can you get with a fine arts degree is therefore broad and inclusive. The latest graduate research showed one-third of creative arts graduates were working in areas directly related to their degree with 50.2 per cent of respondents in full-time employment and 20.6 per cent in part-time employment.
Far from fanciful or inconsequential, arts professionals are widely regarded to be among the most important in our society as they push boundaries, question the establishment, provide emotional rest bite and generate highly-consumable entertainment. Creativity is an essential component in a global economy that relies on its workforce to be knowledgeable and innovative. 💭
What's more, the Arts Education Partnership found that arts education leads to a heightened sense of enjoyment, enhanced communication skills, increased self-confidence and strong knowledge of social and cultural issues.
Although Covid 19 has had a significant impact on the UK's creative industry, almost 2 million people are employed in creative organisations, with a wider number of 3.04 million making up the creative economy which also includes creative roles in non-creative organisations. 📈
Ultimately, studying fine art at degree level is about more than just seeking gainful employment. Students who feel compelled to explore their own creative potential and practice reap all kinds of personal development rewards from their studies and often go on to hold some of the most important positions in our society.
Our GoStudent tutors believe that arts and creativity play a vital role in education. Book a free trial lesson to see how it can work for you today. 🖌️