Chapters
What do we mean when we talk about the arts? What role do the arts play in education?
Art education helps students develop strong academic skills. Artists' brains are actually different from other brains! That's how influential art can be. And engaging in creative activities helps students process emotions better.
As the UK government moves ahead with plans to cut funding for art and design courses by 50% across higher education institutions in England, we discuss the importance of the arts in children's education.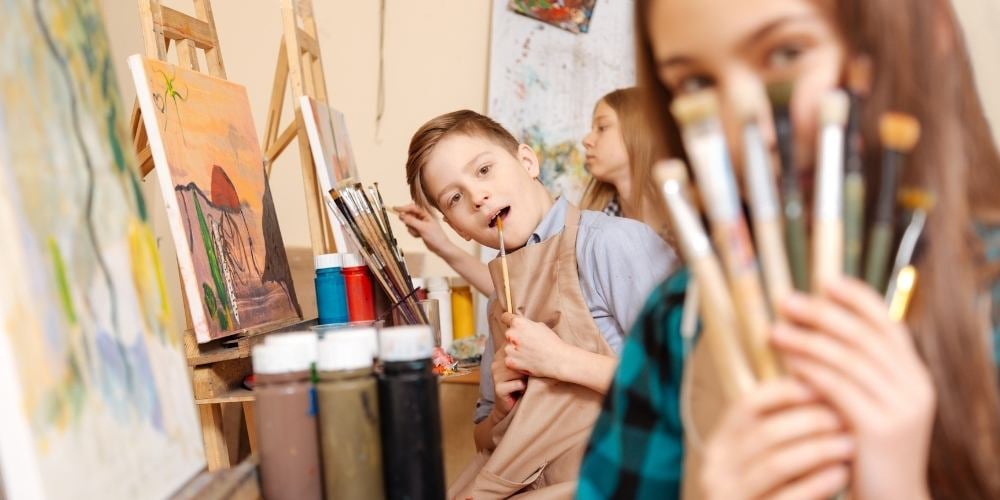 What is considered the arts in school?
The term "the arts" can be a little vague and all-encompassing at times. So what do we really mean when we talk about the arts in education and why do these subjects matter so much?
Firstly, let's take a look at the sorts of subjects in question at both primary and secondary education level.
Educational Stage

Arts Subjects Taught

Primary School

Music (instrumental and vocal)

Dance

Drama

Creative Writing

Painting and Sculpture

Photography

Radio

Secondary School

Music (instrumental and vocal)

Dance (traditional and contemporary)

Choreography

Theatre and Performing Arts

Creative Writing and Poetry

Fine Art and Painting

Sculpture

Photography

Graphic Design

Design and Technology

Radio

Costume Design
The arts are the best place to develop those all-important creative learning skills. But what is creative learning and why is it significant? More on that below. 👇
What is creative learning?
Creative learning is all about building knowledge and developing skills using creative techniques. Rather than focussing solely on memorising information and painstakingly absorbing as many facts as possible, learning through the arts and incorporating creative education allows students to explore their own comprehension framework.
Encouraging a creative approach to learning and embedding artistic practice into the educational curriculum lets kids take a break from traditional constraints, broadens their skill base and encourages them to express themselves.
Employing the use of hypothetical scenarios, improvisation, storytelling, abstraction and debate – all cornerstones of teaching the arts – not only makes learning more fun but also equips young people with important, ongoing life skills. 🎭
How can arts education equip you for adulthood?
Learning through and about the arts enriches the experience of studying while at school as well as preparing students for life after school.
Learning the arts at school can help children in the following ways:
Art provides a much-needed break and a way for students to unwind. Art is relaxing and promotes emotional well-being. And

happier students do better in school.

Learning an arts-related activity (like playing an instrument or painting) teaches students valuable skills that translate to better academic performance.
Art activities engage the brain in different ways than traditional academic activities do. This means that students are developing and growing their brains as they participate in art.
Art can enhance learning in academic subjects. It's important that students really understand what they are learning rather than just memorising the surface level information.
Using creative learning methods brings variety and imagination into the education picture and helps young people to think outside the box – not just in academic situations but in personal ones too. These skills, developed at school, can be invaluable in adulthood.
In 2018, a landmark research project commissioned by Arts Council England called Tracking Learning and Engagement in the Arts (TALE) outlined the overwhelmingly positive benefits of arts and cultural education for young people and their continued professional development.
This research found that arts subjects encourage self-expression and creativity and can build confidence as well as a sense of individual identity. With over 7.8 billion people on the planet, these sorts of skills are crucial.
Challenging the obvious, the conventional and the assumed is an important skill for any individual in today's world. With a wealth of misinformation around every corner, helping young people to develop the confidence to question ensures that they become more discerning, well-rounded and accomplished human beings in the long run.
Offering all students the opportunity to study arts subjects is also an important piece of the necessary and ongoing equality agenda as it increases social mobility – encouraging and motivating students from low-income families to go into higher education. 🎓
Why are arts important in schools?
As the world continues to shift before our eyes, arts and cultural education is more important than ever with regards to the health of our communities and our wider society. The Tate have said:
"Creativity is an essential component in a global economy that relies on its workforce to be knowledgeable, imaginative and innovative."
The Paul Hamlyn Foundation, one of the largest independent grant-making foundations in the UK, strongly advocates for the importance of arts education in schools stating that:
"In addition to the enjoyment and enrichment the arts bring, arts education can increase young people's engagement in school and learning, and support key educational outcomes."
Perhaps more important than anything else is the issue of access and inclusion. For many young people, particularly those experiencing the most disadvantage, the only opportunity to gain access to arts education is at school.
Lastly, results from an Arts Education Partnership study indicated that the positive effects of arts education stretched well beyond simply garnering technical knowledge and skills in the specific art form of study – other benefits cited were a heightened sense of enjoyment, stress relief, enhanced communication skills, increased knowledge of social and cultural issues as well as increased self-confidence, self-esteem and teamwork skills. 🎨
At GoStudent we believe that the arts play a vital role in education. Try a free trial lesson to see how it can work for you and your child today.