Chapters
UCAS, GCSE, IB, A-Level – The world of education is full of abbreviations to navigate.
UCAS stands for Universities and Colleges Admissions Service.
The good news is that UCAS is designed to be helpful rather than stressful, and is a crucial part of your application to an undergraduate course at university. Keep on reading to find out everything you need to know about UCAS.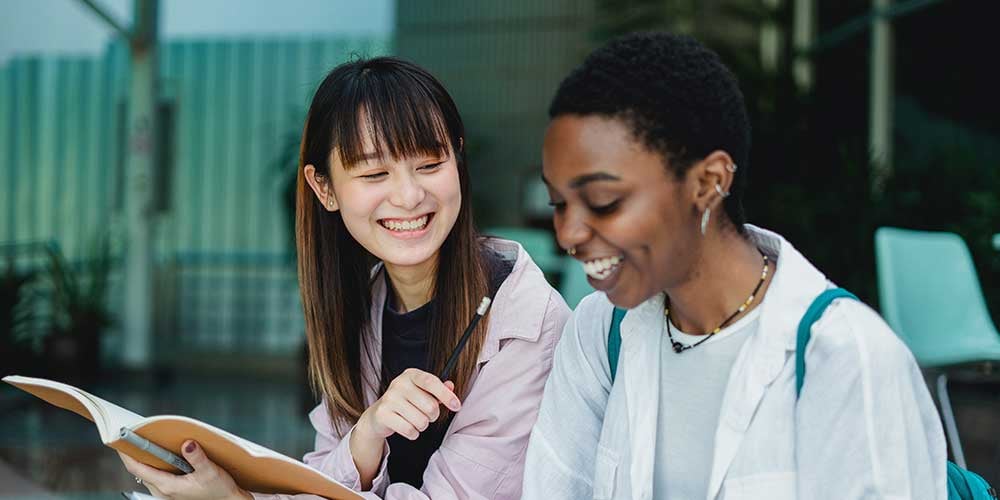 What is UCAS?
Think of UCAS as the online Student to University matchmaker service 💘, with a database of almost every UK University and course within it. UCAS manages all key information about your current education and university applications in one place online.
Do I need to use UCAS?
In most instances, a student planning to study at a university in the UK must use UCAS. Almost all universities, with very few exceptions, subscribe to UCAS. UCAS has a monopoly on the UK university application market.
For most of the application process, you should be able to input your information independently. This is a good opportunity to take full responsibility for your further education. 👩‍💻
What is the purpose of UCAS?
UCAS will send your university applications to the requested universities (up to 5), and universities will publish their individual offers for students on your UCAS account.
UCAS is also in touch with your exam board and will receive your exam results and publish them for universities to see on results day.
How to use UCAS
Firstly, you will need to create a UCAS login and fulfil an online application form for UCAS here.
The application has a few sections including:
Basic information
Education history
Employment history
Course selection
Personal statement
You can fill out a few sections at a time, save the partially completed application 💾 and return to it later, keeping in mind the UCAS application deadline.
You'll have to also remember that you'll need a reference. If you are applying through a school or college you'll have to enter a buzzword that links to your school or college so your teacher can write a reference. Then they can also look over your application and send it on your behalf.
If you are doing an independent application you can ask your previous school or college. In the 'Options' section select 'ask a registered school, college or centre to write a reference only'. This route needs a buzzword from the school or college – so you'd have to discuss it with them.
Once completed, your school will receive the UCAS application to input some final details, such as references and predicted grades.
💡 TIP: You can read our advice about what to do if your predicted grades are lower than university entry requirements here.
Once the school has added its finishing touches, the application will be sent by UCAS for the chosen universities to consider.
What happens after the UCAS application is sent?
In between you pressing "send" and waiting for offers plus studying hard, you can track your application using the Personal ID sent in the UCAS welcome email, plus your password.
You may be invited for an interview via a letter in the post ✉️ and will be notified of any university offers by UCAS.
Universities will take some time to consider the applicant and subsequently reply via UCAS with one of the following:
A conditional offer – This means you are awaiting exam results, and the university will confirm your offer if specific the predicted results are achieved.
An unconditional offer - This means you have already finished your exams and received the results that you need to guarantee your place at university.
An unsuccessful application - In other words, a rejection, but let's think positively here. Universities look again on results day at the conditional offers that they made beforehand. If the required exam results are met, then the university confirms its offer through UCAS.
💡TIP: If you are unsure that you will meet the grades required, speak to one of our tutors who can help.
How much is UCAS?
💷 If you're applying to study in 2022: £22 for a single choice, or £26.50 for more than one choice. ​
💡TIP: Maximise your chances of receiving an offer by using all five choices to apply for university courses rather than applying for a single choice.
When do I need to use UCAS?
You can begin your application for 2022 now, and the official deadline for when your UCAS application needs to be submitted is:
Applications for all UCAS Undergraduate courses, except those with a 15 October deadline, should arrive at UCAS by 18:00 (UK time) on 26 January.
What is Clearing in UCAS?
On results day you may receive final grades that are lower than requested by the universities. All offers may be withdrawn, leaving you without a place.
Clearing is available for anyone via UCAS who does not hold any offers on results day. Students then look through Clearing for suitable university places that have not yet been filled from all over the UK.
Although there can be inspiring courses through Clearing, it is a highly stressful situation leaving students scrambling for a suitable course and committing to studying in a city that they may know little about 😵. Going through Clearing is not what any student hopes of doing on results day but it's not the end of the world either.
We hope this guide has helped you feel more confident when it comes to submitting your university application. UCAS is there to help rather than hinder so be sure to make the most of it. Good luck!