Chapters
Good communication with school and teachers is crucial to the success of your child's education and your peace of mind. So how do you ensure it stays open, transparent, and collaborative? Our guide to good parent-teacher communication, complete with top tips, has the answers. 👇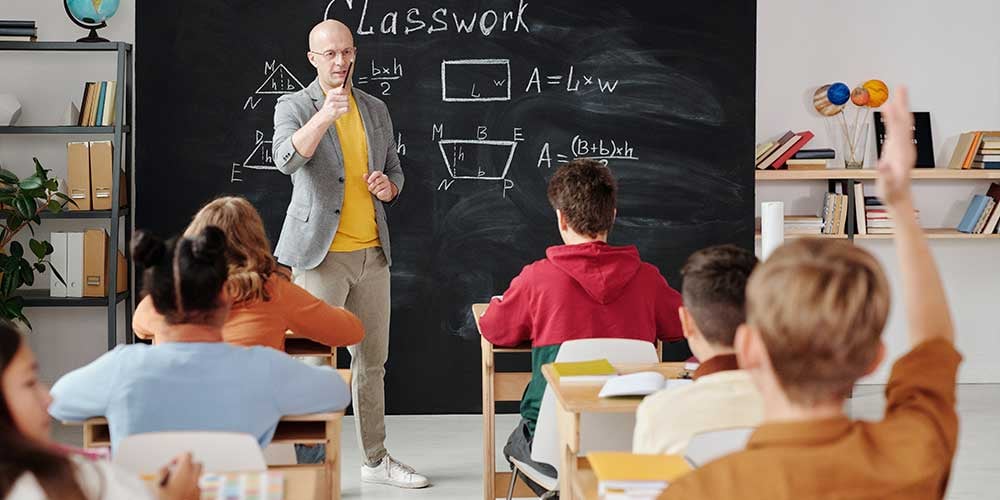 What types of parent-teacher communication are there?
As parents and teachers, all communication should center around your child's education, involvement, and well-being. Let's take a look at when parent-teacher communication is necessary and how it might be handled.
Class-wide communication
Perhaps your child's geography class is planning a field trip, or the drama department is hosting auditions for the school play. The teacher initiates this type of communication and won't always require a response. Think; notifications, updates, and announcements. 📢
Personalised parent-teacher communication
You or your child's teacher can initiate this type of communication. Perhaps your child struggled with a question on their homework or needed to visit the nurse during lesson time. This type of information is relevant to your child only rather than the entire class – it's informal, spontaneous, and specific. 📱
Incident-based communication
This type of communication is specific to your child and can be initiated by either you or their teacher, but it might follow a more formal format in line with school policy. Informing the school of a significant change of circumstances at home or being advised of an injury your child sustained during PE, for example. 📩
Tips for great parent-teacher communication
As discussed, as a parent, you will likely receive different types of communication in differing formats, depending on the scenario. These could include:
Newsletters
Letters
Emails, texts, and phone calls
Social media and apps updates
So, let's talk about some things you can do to make the best use of every channel and keep communication open and effective.
Log in and set up
As soon as your child starts a new year at school, investigate which modes of communication their teachers are planning to use. Make sure your profile and login details are working, whether it's a parent-teacher portal, a social media app, or email updates. Turn notifications on to make sure you don't miss a beat. 🧑‍💻
Reach out
Don't be afraid to reach out to your child's teachers if you feel you would benefit from a little more contact with them. Remember, this is a two-way relationship. Once you have established a routine together, you can rely on one another to reply to questions and acknowledge updates in a timely manner. 🙋
Be consistent
Having worked hard to establish a good relationship with your child's teachers, keeping that communication up over the terms and years to come is important. The best way to do that is to be consistent in your approach, tone, and frequency of contact. ⏲️
Be mindful of tone
Although it's crucial to develop a good rapport with your child's teachers, this is still a professional relationship. Start by addressing teachers as 'Mr. Smith' or 'Mrs. Jones' – using teachers' first names, especially when children are nearby, can be confusing and set a bad example – be polite and open-minded. 🙇
Share the good bits
As parents and teachers deal with busy schedules and multiple commitments, it's easy for parent-teacher communication to become information and update-heavy. Remember to share in the successes too! A quick note to celebrate small achievements and positive news go a long way. 🥳
Parent-teacher communications FAQs
Quick answers to the most commonly asked questions about parent-teacher communication:
Why is communicating with teachers important for parents?
As a parent, you want what's best for your child. Not only will your involvement give you peace of mind, but it will also nurture positive relationships with your child's teachers and improve their chances of success.
A recent Department of Education and Skills report found that parental involvement significantly affects pupil achievement throughout schooling, more so than family background, size of family, and level of parental education.
What is the best way to communicate with teachers?
This will depend on a few factors, including your child's school communication policy. Ultimately, parent-teacher communication is two-way, so it's up to both of you to find a style that works together. No matter the mode, it's crucial to remain respectful, interested, open, and collaborative.
Can parents contact teachers on their personal number?
Contacting your child's teacher by phone or text message when they have a work phone is one thing, but approaching them on their personal number is generally considered inappropriate. If in doubt, consult the school's communication policy or talk directly to your child's teachers.