Contents
For you and your child, the first day of school is a very big deal, so we've put together a handy little guide to help you make the most of this special experience. Check out these tips to start off the school year in the best way possible.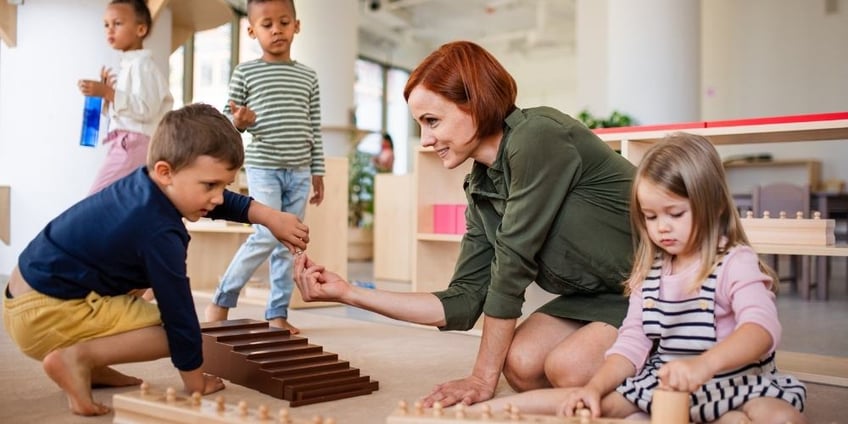 How to prepare for the first day of school
It's natural for you and your child to feel a mix of emotions about such a huge change to your family routines. It can be exciting, nerve-wracking, sad and joyous all at the same time. The best strategy is to tackle it head-on and get them ready for their new adventure. 💪
In the run-up to the big day
Start preparing for your child's first day of primary school or the first day of secondary school in the weeks before the start of term. This is a good idea because it eases them into the host of changes that will come with this big step bit by bit. Throwing them in at the deep end all at once could be a little traumatic.
To make the first day at school as painless and pleasant as possible, consider these suggestions:
1. Classroom conversations
In the weeks before school starts you should talk to your child about beginning this new chapter of their lives. You could introduce the topic by telling them about your own first day at school.
Make sure they know the name of their school and teacher. Talk positively about education and ask them what they're looking forward to most. Encourage them to tell you if there's anything they're worried or nervous about and talk them through solutions to potential problems. 🗣️
2. Read to get ready
For kids starting primary school, you can begin by reading some books together like Going to School by Anna Civardi or Topsy and Tim Start School by Jean Adamson.
Reading stories like these will give them an idea of what to expect in their new environment, teach them some useful school vocabulary and allow them to experience the first day at school emotions of the characters before they face the real thing.
If your child is preparing for their first day of secondary school, No Worries: Your Guide to Starting Secondary School by Jenny Alexander and Go Big: The Secondary School Survival Guide by Matthew Burton are full of great advice and tips for pupils.
3. Play school
Many kids may have played make-believe school with their siblings or friends without really understanding what was going on. Take some time to role-play a first day at school scenario with you acting as the teacher. Contact their school and ask what the kids will be doing in the first few days of class, then build that into your game.
When they're comfortable with the basics you could try switching roles as you become the student while they play the teacher. Role play like this is very valuable, not just to build their confidence, but also because it can help them understand why their teacher might need them to do things in a certain way.
As well as playing the roles of teacher and pupil, you should also encourage them to practice socialising with other children and making friends. If your child is shy, allow them to experiment by playing different characters that they have to get to know.
If they're chatty, remind them that it's good to listen carefully to other people when they're speaking and not just wait for their turn to keep talking.
4. Increase their independence
If your child is starting primary school, they're going to be spending a long time away from you. If they haven't had much experience with this, you should try to leave them in the care of a trusted relative or friend for a few hours at a time to get them used to the separation.
Make sure they can use the toilet themselves, get dressed, tie their shoe laces and take care of their possessions. They should also be able to recognize their own name in writing because they will need to know it in class.
5. Get a free sample!
If your school offers induction days before the term starts it's a good idea to go along and let your kid see what all the fuss is about. Actually meeting their teacher and having a look around the school and their classroom is a great way to get them comfortable and excited about starting their education.
6. Time trials
Start putting them to bed and waking them up on a school-day schedule about a week before their first day so they get into their new bedtime routine. You could even point out the times for getting up, leaving home and finishing school on the clock so they start to learn how important these are. ⏲️
7. To the shops!
You'll also have to make sure your kid is kitted out with the usual school essentials. Check with the school what the uniform requirements are and where you should buy their clothes.
As everyone will be wearing more or less the same uniform, kids really enjoy being able to express their identities in other ways. They'll love picking out a school bag and you should also take them to a nice stationery shop and have them choose the pencils and exercise books that they like—while keeping in mind school requirements.
The day before
Both you and your child are starting a new routine which can be stressful to get used to. Set aside time a day or two before school starts to get everything ready ahead of time. You'll feel great waking up in the morning knowing everything is well prepared.
Things to do in advance:
8. Dry run
Do a timed practice run a morning or two beforehand. Get them out of bed at the right time, then tell them they have so many minutes to get washed and dressed, eat breakfast and get to the front door. Then make a test trip to school.
9. Wardrobe check
Double check their clothes are all there and that they are ironed and clean. Write their names on the labels of their jumper, jacket, coat, and school bag. Clean and polish their school shoes. 👞
10. Kit pack
Get them to pack their bag with their pencils, exercise books and anything else they'll need.
12. Settle down
In the evening, don't make too big a deal about what's happening the next day. It's best to get them to do something relaxing and take their mind off the situation so they can settle down and get a good night's sleep.
13. Late lunch
Prepare a packed lunch for them last thing at night if necessary. That way it will be fresher, tastier, and healthier the next day. 🍎
The big day itself
14. Photo op
Once they're up, washed and dressed you can have a nice breakfast together and talk them through what to expect and discuss any worries they have. Take a photo of them in their uniform holding a sign reading "the first day of school 2022" in a memorable space in your home.
Give them lots of praise about how they look so clever in their new uniform. You can make a family ritual out of it on the first day of school every year and build a nice collection for the future.
15. Fashionably early
Even if you know how long the trip to school will take, leave early so you can both enjoy the journey feeling relaxed and stress-free.
16. Meet and greet
Use the extra time to introduce yourself and your child to the other parents and kids at the school. They'll meet a lot of new people today and they'll feel much safer if they start off while you're still there to support them. 👩‍👦
17. Short and sweet
When it's time to leave and hand them over to the teacher, doing it quickly is the best option. Just bring them to their teacher, tell them you know they're going to have a lot of fun and let them know when and where you'll pick them up when school is finished.
Say bye-bye and make a fast exit. Don't worry if they're crying due to slight separation anxiety, their teacher will soon calm them down and sticking around might give them the false hope that they can make you stay or take them home again.
18. School's out!
When you're picking them up again, arrive early so they won't have to wait for you. Do something special to mark the occasion like enjoying some ice cream in the park or preparing their favourite food for dinner. You'll surely be amazed listening to all the news they're bursting to tell you!
19. Picture this
To mark the great event you could get them to draw you some cool pictures of the things they experienced and the people they met throughout their first day. It's a wonderful way to get them to channel their experiences into a creative activity!
Your child's first day of school is the start of an exciting journey that will shape the rest of their lives. At GoStudent, we are here for you and your kid every step of the way. We offer essential parenting tips along with educational advice and support.
Our top-notch tutors stand ready to help your child with whatever they need to make the most of their education, from primary school to A-Level exams, we've got your back. Try out a free trial lesson today!