Contents
Since the start of Covid-19, people across the world have been forced to work from home. And while it has been the opposite of ideal for some, for others – including companies and organisations themselves – it has revolutionised how they think about work.
Not only has it shone a light on the fact that we don't need to be in the "office" eight or nine hours a day/five days a week, but it's also highlighted that working from home (or WFH, as we now affectionately refer to it) can actually be beneficial.
Of course, as with all things, it has its downsides. Read on to discover the highs and lows of WFH, and which WFH jobs you can do if you have some teaching experience under your belt. 🧑‍🏫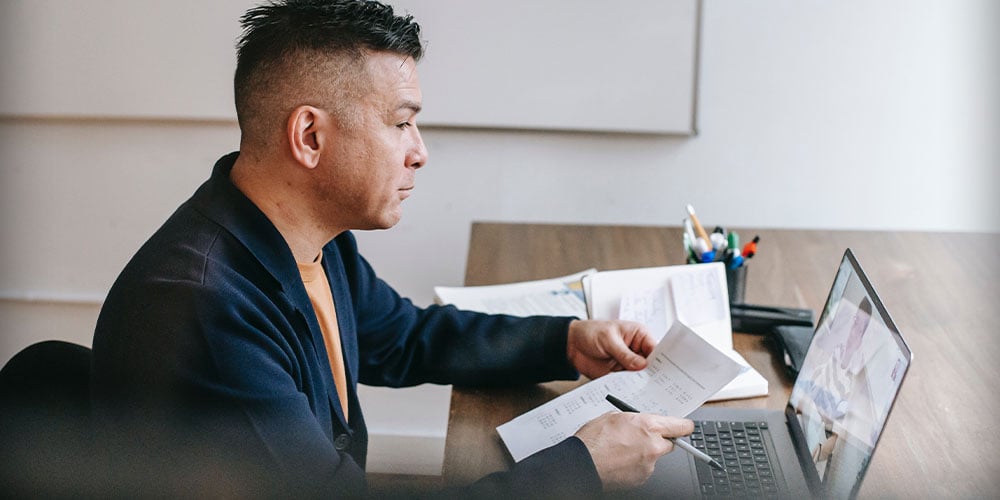 What are the pros and cons of working from home?
Pros
Many companies and organisations have realised that working for eight or nine hours a day (maybe more) isn't necessary and have now employed the attitude that as long as the work gets done, it doesn't matter how many hours you work.
There have even been policy changes made to guidelines around flexible working in schools.
Plus, it's not like every minute of those eight-hour days is spent working: Vouchercloud, the UK's largest money-saving brand, conducted a study which revealed that the average UK office worker is only productive for two hours and 53 minutes during a working day. ⏰
Whether it's getting stuck in traffic, sitting through painful train and tube delays, or being crammed like a sardine onto a bus, we've all had to put up with hellish work commutes. Compare them with the five-minute sashay from bed to the dining room table via the kitchen for morning coffee, we know which one we'd choose! 🛏️
Money saved on takeaway coffee and lunches
While we don't believe that if you stopped buying takeaway coffees, you could buy a house, we do think it would free up some

extra cash

each week! Daily coffee and lunch habits can get pricey, so working right next to your kitchen might be just what you need to save those hard-earned pennies.

Cons
Less work/home boundaries
The beauty of working at work is that when you finish, you go home and work stays where it should – at work. However, when you're WFH, that line can become blurred and, unless you're really strict with yourself, the hours you work may overrun into "you" time.
Never have we wanted to re-organise our wardrobe, colour-code our bookshelves or spring-clean the kitchen as much as when we're working from home. In fact, we'll do anything if it means we can avoid sitting down and getting on with dreaded work tasks. Not to mention how many films and series we suddenly find new excuses to watch if it means we don't need to look at our ever-growing inboxes. 📺
Gossiping at the coffee machine, in-person meetings, and bouncing ideas around with your co-workers – are just some of the things that we miss out on when working from home. The social aspect of work can be a real plus for many people, so when we're faced with days spent alone aside from a few Zoom meetings, it can certainly feel lonely. 😕
What are some of the best work from home education jobs?
If you're looking to switch up your work life but not sure where to start, we've rounded up some remote education jobs that may suit you. All you need is teaching experience, a suitable set-up at home and a passion for educating people. 🥰
And for more remote education jobs – including some that may surprise you – head to flexjobs.com and see how you can use your teaching skills in more ways than one.
In search of non-school-based jobs? Online tutoring could be just your bag. You can assist students with regular school subjects, or even teach English as a Second Language (ESL). There are many companies to choose from that are looking for remote workers – including GoStudent!
Our mission is to unlock the full potential of every student, so if you think that's where your talent lies, check out how we select our tutors and discover the best things about our fantastic tutor collective. Not only that but we've also been bestowed with the much-coveted Mumsnet Rated award which means you'd be working for an actual award-winning team!
If you want to be part of GoStudent's innovation but don't fancy tutoring, we regularly update our jobs page with a plethora of remote roles that require varying experience, including teaching.
If you're a musician with skills to share, teaching from home may be an option worth exploring. Not only will you find fulfilment in helping students find and develop their musical talent, but you could make some great cash while doing so.
The average hourly rate for online private music teachers was just over £34 in 2021, according to the Incorporated Society of Musicians (ISM)'s 2021 survey of teaching.
If you'd prefer to take a more hands-on approach, you could hold one-to-one or small group lessons in your home. Just make sure to tell the neighbours! 😂
For many parents, getting their children to learn a foreign language is important because not only does it improve their academic performance but it expands their horizons too. 🌍
Being a language tutor allows you to work from home and choose your hours according to your lifestyle. Plus, thanks to the joys of the internet, classes can be held online too. Don't consider yourself a video-conferencing whizz? Check out our guide to using Zoom for tutoring.
Teaching materials provider
Don't let all your burgeoning ideas go to waste – take those educational lightbulb moments and compile them into teaching materials. Or, if you have stacks of resources from years of teaching and don't know the first thing about what to do with them – we do! Share your wealth of knowledge with your fellow teachers. Sites like Teachers Pay Teachers let you share lesson plans, activities and worksheets and earn money from them. 💰
Educational writer/blogger
If you're a teacher who no longer works in a classroom but still has pearls of wisdom and nuggets of knowledge that you wish to impart to the world, get writing! You'll need to be a keen researcher, have a wonderful way with words and be a tenacious networker if you want your voice to be heard – but it's so worth it. Check out LinkedIn, blogs and other online educational websites for ideas on how to get started. 💻
Not only does being an educational consultant allow you to share your expertise and coach teachers, but consultants can earn great money too. The downside is that you may need to visit clients at their place of work every so often, but everything else is as flexible as you want it to be.
Should the idea of working seasonally and part-time pique your interest, then we encourage you to look into online test scoring. ✔️ ❌ While it's seasonal because tests and exams are only held at a certain part of the year, this could be a great side hustle if you already have the main gig and are looking for extra income.
Whether it's assisting authors with getting their book to the next level or workers whose jobs require them to be somewhat of a wordsmith, writing coaches work collaboratively with their clients to take their writing skills up a notch or two while also encouraging their creativity. 🖊️
If the mention of becoming a GoStudent got you thinking, then go ahead and register right here.