Contents
Do you remember the first time you were asked to write about yourself? Did you spend long, tiring nights trying to come up with ideas for that school essay? Unless you are an exceptionally gifted thinker, 🎓 chances are, things wouldn't be all that different now either.
Writing about yourself is usually an exceptionally difficult task. It requires a great degree of confidence and clarity - the kind that's especially hard to get when you don't even know where to begin. This is what makes personal statements such a nightmare for most students. These statements require you to present yourself in a confident, formal and self-assured way, all in the space of 500-600 words.
A good way of getting started with a personal statement is by understanding the basics. The following FAQs can be extremely helpful in understanding the nitty-gritty of writing a personal statement for university. ✍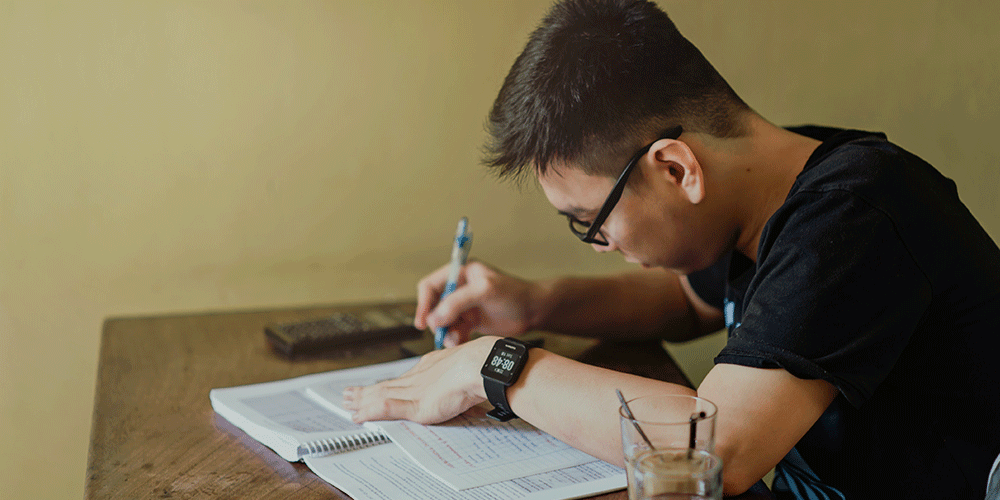 Why are personal statements so important?
University applications can sometimes seem monotonous. Sure, they showcase things like accomplishments, hobbies, skills, etc., but what do they say about your child as an individual? What makes them such a perfect fit for the course? Personal statements allow universities to understand everyone's unique perspective better.
It allows them to understand why and how your child stands out from the herd. Personal statements are the university's way of finding out why each student would be an asset to the course and how they'd contribute to the cohort.
Personal statements are especially important for students looking to make scholarship applications. They give them the chance to explain why they deserve the scholarship and how their skills and personality align with the scholarship providers' goals.🥇 (They also let students boast without seeming arrogant!)
What should a personal statement include?
Ideally, a personal statement should include:
Career aspirations relevant to the course(s).
The reason/origin of your child's interest in the subject (Don't be afraid of mentioning a brief anecdote here if it fits).
Any relevant professional/ internship experience relevant to the course(s).
Your child's experience with education so far (It's good to stick with the positives here. Any criticism that is mentioned is expected to be constructive).
Why is your child so interested in this particular university? 🤔

Relevant extracurricular interests

or

work experience that demonstrate the good qualities in your child. 💼
How do you start a personal statement?
Simply put, go for the kill, right from the very beginning. Far too many people waste words meandering around the topic, only to find themselves going way over the prescribed word limit.
The opening paragraph should show that your child is applying for the course because they have a genuine passion for it, not just because they found it 'interesting'.
It's important to show enthusiasm for the subject from the very beginning. As for the opening line, it should ideally be the best line of the statement. Now, this can be hard to do. This is why it's generally a good idea to write a few rough drafts before putting pen to paper for the final time. Some people even choose to write their opening lines after they're done with the rest.
What are the most common mistakes people make while writing opening statements? 🚫
Some of the most common mistakes students make while writing these statements are:
👉 Not paying attention to the word count
The universities take their word count limits quite seriously. It is always better to be a couple of words short than a couple of words over.
👉 The opening sentence is too long
Nothing can be worse than losing the reader midway through the first sentence. While it is the most important sentence, it does not necessarily need to convey the most information. The goal is to pack the most punch in an extremely short space.
👉 Focusing too much on the negative
Remember, the personal statement is expected to be aspirational, not critical. Far too many students end up sounding cynical and overly critical, trying to be unique in their views. Your child should speak about the things they love the most and why they love them. Nothing can be more unique!
👉 Sounding too mechanical
Make sure accomplishments and professional experience don't end up taking centre stage in the statement. These are the details that simply fluff up the centrepiece, i.e., your child's unique perspective. University applications already have a section for applicants to showcase their achievements. It's better to only mention them briefly in the personal statement.
Personal statements are more than just novelty pieces that decorate university applications. They are an important part of it. They offer the university a unique, first-hand look at things like life experiences, worldviews and passion for the subject each student has opted for.
It is important to take time to draft a statement that aptly represents the person instead of just relevant work or achievements.
The best personal statements are the most personal and passionate ones. If you want one of our world-class tutors to read through your child's personal statements or help you where you are struggling, register with GoStudent here.