Contents
Are you almost done with your A-levels and are now thinking of applying to a university in the UK? You've come to the right place! We have compiled the best university ranking UK list that will help you make the best choice.
According to the QS World University Rankings 2022, the UK has four of the top ten universities in the world.
Many of the best universities in the UK are centuries old and have strong recognition worldwide. Oxford and Cambridge are some of the most famous universities in the whole world and institutions like King's College and the London School of Economics also have an impressive reputation, even outside of the UK.
The UK's reputation as a student-friendly study destination allows it to attract a diverse crowd from all over the world. The vibrant and friendly culture of UK universities means that you will enjoy your time in the UK while pursuing a world-class degree taught by some of the best professors in the best universities in the world.
However, to ensure that you enjoy your time at university and gain valuable knowledge from your studies, it is also important to consider other factors besides the rankings. We have also included information about the location, student life, and alumni network.
So if you aspire to study at the best universities in the UK, read on for some insightful information and tips: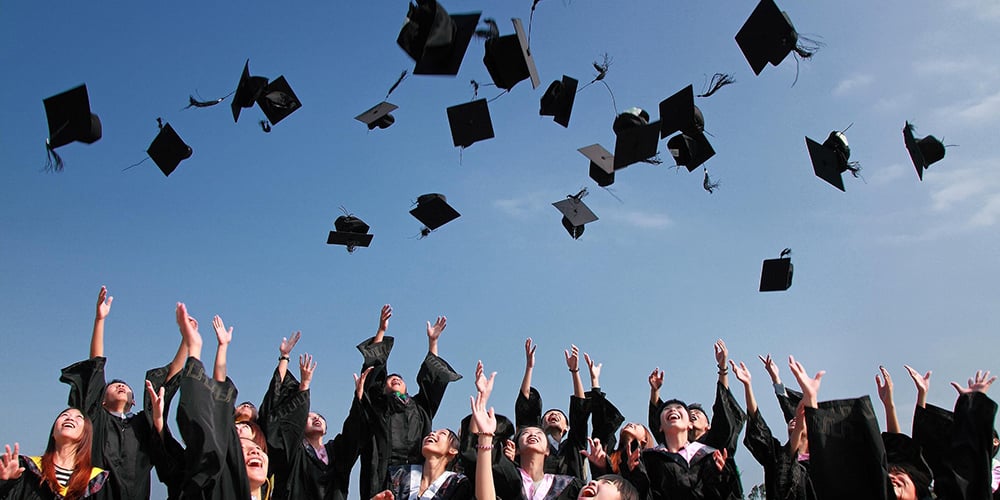 1. Oxford University
If you want to enjoy a small student town, Oxford, located in the Southeast region of England, is the perfect place. The town of Oxford has 40,000 students, making up 27% of its population. Student life, therefore, plays a huge role in the city and there's always something exciting on offer.
Harry Potter fans are probably already familiar with Oxford's buildings and the way around them as these buildings were used as filming locations for many movies.
Oxford University has a rigorous selection process, with only 14.3% of students accepted from the 23,000 students who applied for an undergraduate degree in 2020.
According to the Times Higher Education (THE) World University Rankings, this university ranks fourth in the world and is the best university in the UK.
Oxford is well-known for its 275,000 strong alumni network, among whom are 28 British Prime Ministers (including Boris Johnson!), 55 Nobel Prize winners, and 120 Olympic medal winners. So, if you dream of one day working in 10 Downing Street, consider Oxford strongly.
Oxford University boasts a strong international class profile as over 41% of students and 48% of their academic staff are from countries outside of the UK. So a degree from Oxford can expose you to different mindsets and cultures, which will open your mind and encourage you to see things from a different perspective.
An excellent place to shape young minds of the future, a degree from Oxford is worn like a badge of honour, no matter where in the world you go.
2. University of Cambridge
The word Oxbridge is used to refer to the two oldest and arguably best universities in the UK - Oxford and Cambridge. Cambridge, founded way back in 1209, is the second oldest university in England and the fourth oldest in the world.
The University of Cambridge is located in the student town of Cambridge. Over 20% of residents in the town are students. You are sure to have the opportunity to mingle amongst like-minded peers at Cambridge, form meaningful bonds, and make friends that last a lifetime.
Book lovers, this is the perfect place for you - Cambridge University has over 100 libraries with more than 8 million books and journals! Also, alumni from Cambridge have won more noble prizes than alumni from any other university.
Cambridge is known for being ethnically diverse, with 29.3% of its students accepted for the undergraduate degree in 2020 from black, Asian, and minority ethnic backgrounds.
The motto of this university is Hinc lucem et pocula sacra, which means 'From this place, we gain enlightenment and precious knowledge.' Much like the motto states, you will surely learn a lot at this prestigious university.
3. Imperial College London
While Imperial doesn't boast the same long history as Oxford and Cambridge, it has climbed the ranks extremely fast since its founding in 1907 to establish itself among the best universities in the UK. Imperial is extremely well-known for its strong science, engineering, and medicine departments. More recently it has also started a business school.
The research-led education at Imperial exposes you to real-world challenges and encourages you to find solutions to pressing problems. Imperial publishes more than 10,000 research papers annually and has helped many medicines and products become popular for large scale usage. Imperial's Tissue Bank is the largest MS-specific brain donor scheme operational in Europe and Imperial works with scientists from around the world to further research.
Imperial's focus on encouraging students to work on group projects ensures that you will get to interact with other students from all over the world. This diverse crowd will expose you to different schools of thought and ways of working, enabling you to think outside of the box and develop a global mindset.
Based in South Kensington in London, Imperial is one of the best universities in England and will ensure that you gain a well-rounded education in the large city of London.
One of the other strong benefits of studying in London is that it allows students to interact and network with potential employers during their degree. This ensures that you already have a strong network to tap into while searching for a job after your studies. Imperial also offers a Careers Service to all students regardless of their level of studies.
Lastly, Imperial offers a range of student activities, including 380+ student-led clubs, societies, and projects. These activities are a great way to make new friends and develop skills. Some of the activities offered at Imperial are a drone flying society, e-sports, and yoga. Imperial also has a number of music and theatre groups, letting you develop your personality and interests beyond studies.
London's international and multicultural population will allow you to learn about other cultures. Some of the activities you can really take advantage of in London include eating at authentic restaurants, watching plays, going to museums, and walking around the numerous parks in London.
4. University College London (UCL)
University College London, or UCL as it is popularly known, ranks fourth best university in the UK and eighth in the world.
UCL is very progressive when it comes to academia and encourages students to learn through a hands-on approach. UCL has also pioneered several firsts such as the design, development and application of novel biomedical technologies. UCL is also famously known for being the first university in England to welcome female students.
UCL's research-based teaching methodology means that research is integrated into many of the degrees they offer, giving you the opportunity to make an original contribution to your field of study.
If you decide to pursue an education at UCL, you can choose from over 400 different undergraduate degree programmes across various fields. UCL is also known for its 42,000 strong current student network and 300,000+ alumni. Some of UCL's famous alumni include Mahatma Gandhi, Alexander Graham Bell, and Sir Seewoosagur Ramgoolam.
UCL has also had 30 Nobel laureates among its former staff and students; a winner in every decade since the Prize started, so you are sure to be surrounded by some of the brightest minds from over 150 countries.
Located in central London, this university allows students to enjoy the thrill of living in the capital city, with access to the best entertainment and nightlife. UCL also has teaching and research links with numerous leading hospitals, museums, galleries, libraries, and professional bodies in central London, giving you the chance to learn through practical experience.
5. King's College London
King's College London or KCL, founded in 1829, is one of the oldest and best universities in England.
With a particularly distinguished reputation in the humanities, law, the sciences (including a wide range of health areas such as psychiatry, medicine, nursing and dentistry) and social sciences, including international affairs, King's College London has a lot to offer.
KCL has played a major role in many of the advances that have shaped modern life, including the discovery of the structure of DNA, and the research that led to the development of radio, television, mobile phones and radar. So if your child hopes to work with the latest technology in healthcare or scientific invention, this is definitely the place to be!
Gordon's Museum of Pathology, one of the largest pathology museums in the world and the largest medical museum in the UK, is part of King's.
The King's experience is much more than an excellent education. As a King's student, you have exclusive access to an unparalleled range of activities that will enrich your experience. These extracurricular activities are a great way to meet new people, develop skills such as creativity, and gain teamwork experience.
6. University of Edinburgh
Holding a QS world ranking of 16, the University of Edinburgh has been home to innumerable famous inventors, entrepreneurs and business people.
It was at the University of Edinburgh that Sir Arthur Conan Doyle was inspired to create his legendary character, Sherlock Holmes. This university is also where James Young Simpson pioneered anaesthetics through his discovery of the properties of chloroform. J.K. Rowling, the creator of the famous Harry Potter series, is another known figure amongst the vastly successful alumni of this university,
The university is located in the old town of Edinburgh, in South East Scotland. Edinburgh is famous for its safety, well-being and greenery, and inclusivity. In 2018, Edinburgh was rated as the world's best student city.
If you are interested in the field of arts, humanities or social sciences, the University of Edinburgh is a great choice. Edinburgh has the most libraries per capita in the world and in 2004, it was formally announced as UNESCO's first City of Literature.
7. University of Manchester
One of England's first civic universities, the University of Manchester played a big role in Manchester's development as the world's first industrial city.
Rated the top university in the world for social impact, this is one of the best universities in the UK and is an excellent choice if you dream of solving large global problems in the area of social impact.
The University of Manchester offers numerous undergraduate degree programmes, including ones with placement years. Placement or intercalated years allow you to work closely with different organisations such as government bodies, health services, global businesses and registered charities in-between their second and third year at university.
This one year, which can be spent either working or studying at a partner university, allows students to get a practical taste of the theoretical knowledge they learn. They can then come back to university in their fourth year and focus on areas that they wish to pursue after university.
The University of Manchester is the largest university in the UK and it is only a single site university, ensuring you have physical access to a large student body and phenomenal faculty.
This university is ranked the 27th best in the world and boasts a 94% employability rate. Here, you will also have phenomenal research opportunities, as the University of Manchester is recognised globally for the quality and volume of its pioneering research and has attracted more than £391 million in external research funding between 2018 and 2019.
8. London School Of Economics and Political Science
The London School of Economics and Political Science (LSE) is ranked 2nd in the world for social sciences and management and is regarded as an international centre of academic excellence, innovation, and entrepreneurship.
Admission to this college will give you the option to choose between a number of undergraduate degree programmes across industries such as social sciences, politics, economics, law, sociology, anthropology, and more.
Higher education statistics data showed that 68% of LSE's students were from a non-UK background in 2018-2019. LSE's international student body ensures that if you decide to pursue a degree at LSE, you will have the opportunity to learn amongst students from all over the world.
LSE is known to have one of the most international student bodies in the UK. LSE's alumni network includes people from over 190 countries. So the next time you want to understand something about a small remote country or the culture there, you can surely reach out to the strong alumni network. LSE alumni benefit from an amazing mentoring network and have exclusive access to a series of lectures with leaders across a wide range of industries worldwide.
So if you wish to pursue a degree from a world-class university and develop a strong international network, LSE is the best university for you.
9. University of Warwick
5 years after graduating, Warwick graduates were found to rank in the top 10 in the UK for the highest earnings. Warwick University was named as University of the Year for Teaching Quality by the Sunday Times Good University Guide 2022.
The University of Warwick offers its students various resources such as career advice, free mental health counselling and health services. You will also enjoy a new state-of-the-art SportsHub built on a campus that is surrounded by peaceful greenery.
The University of Warwick is located an hour from London by train or a bit more when travelling by bus. It provides students with the best of both worlds - campus life and city life, should they long for it. While most undergraduate degree students at the University of Warwick stay on campus during their first year, many of them decide to move out to nearby towns in the following years. Some of the most popular student residential areas near the University of Warwick include Leamington Spa and Coventry.
The university is almost split exactly in half with a boundary line between Warwickshire and Coventry running through it. Authorities of both regions helped build the university.
As of 1st August 2021, Warwick boasted 18,441 undergraduate degree students.
10. University of Glasgow
The University of Glasgow is known for its beautiful campus and crowd of intellectually gifted young individuals.
This university includes among its alumni, the father of economics Adam Smith, Scotland's architect of devolution, Donald Dewar and renowned physicist and engineer, Lord Kelvin.
Based in Glasgow, the largest city in Scotland, the University of Glasgow attracts students and staff from over 140 countries.
The University of Glasgow was established in 1451 and is the fourth oldest university in the English-speaking world. It has more listed buildings than any other university in the UK and it also has the oldest faculty of engineering in the UK.
The University of Glasgow has welcomed famous names since its opening. For example, Albert Einstein gave a lecture to explain the theory of relativity and the world's first ultrasound images were published by a member of the faculty, Ian Donald in 1958.
If you're afraid to head off to a new city, you need not worry, because Glasgow residents are known for being friendly and welcoming.
If you are looking to study in the UK, we hope this list of top universities has helped you! While most of these are world-renowned universities, it is essential to find a university that will help you prosper in the field of your interest and enable you to develop your personality.
Undoubtedly, studying in one of the best universities in the UK is a dream come true for most students and will be an experience that helps you to develop strong skills and enhance your learning.