Contents
Congratulations, you're heading off to uni at last! You're about to take one of the most significant steps of your life, and a world of possibilities awaits you!
It's easy to get carried away, but planning your big move properly is the key to getting off to a great start. Of course, we don't want you to forget anything important, so we've put together a university checklist UK students can use to pack for their first exciting semester! 🌟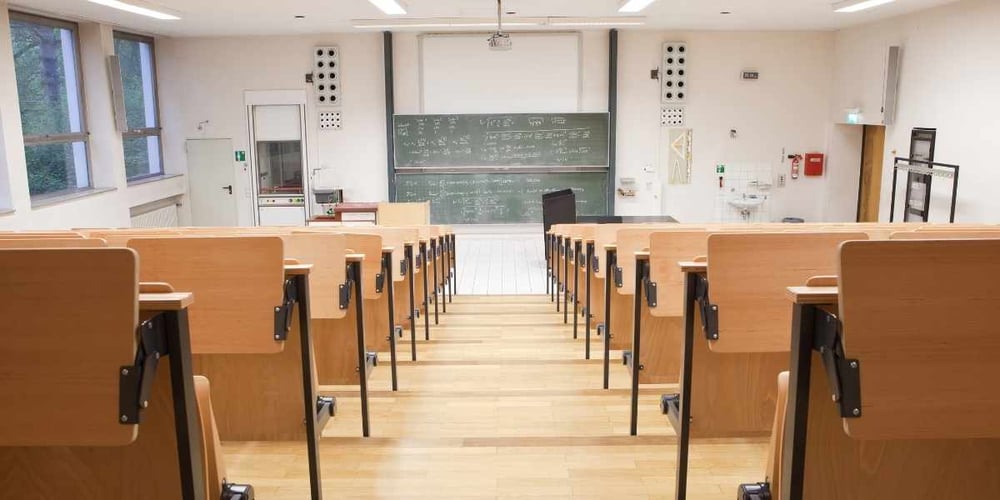 What do first-year students need for university?
Whether you're staying in halls of residence, a dorm or private accommodation, you're going to need some stuff to start your new independent life. 💪
The first thing to do is find out how big your accommodation is and what's already there. For example, check what's in the kitchen - is there a kettle, microwave and toaster? Also, ask if there are bedclothes in your room.
Second, find out if there's anything that isn't allowed, some places have restrictions on bringing in things like kitchen appliances, heaters and electric blankets.
Next, everything else! Our university checklist first-year UK students need to consult is below.
What do university students need most?
If you want a very short list: Clothes, ID, bank cards, laptop and phone, are probably the most essential things for university for freshers and human beings in general. But let's go into detail about all the stuff you really need for uni.
Uni essentials for adulting
Starting university is a big adventure; you're striking out on your own for the first time and beginning to live as an adult. That means taking responsibility for your own affairs too, and you'll find there's a lot of paperwork that comes with being an adult!
You never know when certain documents will come in handy, so we've included them as student essentials for uni.
You should take:
Bank cards, a copy of your bank account details and any recent bank letters as these can be helpful when applying for things. Students

spent up to £421

during freshers week in 2021, so you really don't want to be without access to your money!
Details of accommodation and contract - because it's always good to know what rights and responsibilities come with your living space
Driver's licence
Insurance policy information - Students starting uni typically own more than

£2,000 worth of tech

, so it's not a bad idea to take out an insurance policy. You can find ones tailored specifically to students which cover any valuables and gadgets you bring with you.
Letter showing your address - among other things, this may be required to register with a local health centre or GP
National insurance card - necessary if you take up a uni job
A paper copy of important phone numbers as a backup if you lose your mobile
A passport, driving licence or another form of ID is essential
Purse or wallet to store all your cards etc
Student discount cards - if you haven't applied for a 16-25 Railcard or NUS card, it's worth doing ASAP as they offer a lot of discounts for students
University acceptance letter - last but definitely not least, you certainly wouldn't want to forget this!
We suggest you take a photograph or scan each document before you pack it. Then, put all the photos in an encrypted folder and copy it onto a pen drive that you leave at home or upload to a secure cloud storage space. That way, if anything happens like fire, flood or theft, you'll have all your important info backed up. It's also a good idea to store these documents in a secure metal lockbox or padlocked case in your university accommodation to prevent theft. 🔐
University essentials for decorating
It's a good idea to take a few small things to personalise your room, but don't go overboard. It's not uncommon to feel a bit homesick when starting uni, and it can help to have familiar things around you to help settle in. 🎨
Blu-tac or drawing pins to put up some posters or pictures
Photos of family and friends
Posters, not too many, one or two is enough to make you feel at home
Small ornaments or knick-knacks you can put on your desk or shelves
A throw and a cushion for making university chairs more comfortable
First-year university checklist for dressing
The key here is not too much but not too little. You'll be at uni for Autumn, Winter, Spring and a bit of Summer, so you'll want to bring clothes to cover all weather possibilities. Bear in mind, that you might not have much wardrobe space for more than a week's worth of clothes. You don't need to go overboard at the start, if you're planning to go home the odd weekend or during the Christmas or Easter breaks, you can swap out your wardrobe then, but it doesn't hurt to have things on hand for different conditions.
Comfortable, casual clothes you can wear every day like t-shirts, jeans, hoodies and jumpers
A dressing gown and slippers will make the walk from the bathroom back to your room much more comfortable
Gloves are good, also get yourself a pair of fingerless gloves for warmer typing during Winter
Hangers for the wardrobe, annoying to pack, but essential!
Hats to keep your head warm, disguise bed head and look good
A scarf really makes a difference when there's a chill in the air
Party clothes for clubbing, partying and random acts of socialising
Shoes for various occasions: a pair for daily use, a pair for exercise and a pair to impress
Sleepwear- invest in some decent pyjamas or nightdresses before you leave home!
Smart clothes you can wear to official university events or job interviews
Sportswear to feel comfortable while you play or work out
Sunglasses to protect from glare, hide your hangover eyes and add an air of mystery
Underwear: it is definitely time to get some new pants!
Warm jacket or coat because Winter is always coming!
Uni checklist UK for eating and drinking
Preparing enjoyable, healthy meals isn't that hard, you just need to be prepared. Taking control of your own diet is a learning experience, so prepare to experiment!
BONUS TIP: If you share your kitchen with other students, you might want to put a little mark on your stuff using a permanent marker to identify it as yours in case anyone takes a fancy to it. ✅
Baking tray - essential to avoid making a big mess every time you use the oven
Bin bags - useful for rubbish, but also dirty clothes
Bottle opener and corkscrew - you will lose these, buy cheap ones
Chopping boards - you should have at least two: one for raw meat and one for everything else
Cling film - cover leftovers for later, keeps flies and flatmates away
Cutlery - spoons, teaspoons, knives and forks - at least two of each in case you want to entertain. Don't forget sharp knives for cutting meat, bread etc.
Dishcloth because spills are inevitable
Glasses for your bevvies
Grater to use with cheese or veggies
Herbs and spices - the secret to all tasty dishes
Measuring jugs or cups for kitchen wizardry
Mugs - at least two for you and a mate's daily brew
Oven gloves - keep your pinkies safe
Pans and pots - one small one and one medium-sized one, and a frying pan
Plates big and small, and bowls - at least two of each so you can feed a friend now and again
Recipe book - if you're new to cooking, get one aimed at students, which should explain the basics. A recipe book is safer to handle in the kitchen than your precious phone or tablet
Sandwich bags - useful for storing food in the fridge or your backpack
Some basic food supplies to get you started when you move in
Tea Bags and coffee to keep you going morning, noon and night
Tea towels for drying your dishes and soaking up spills
Tinfoil for keeping things hot
Tin opener - when your student loan runs out enjoy some cans of soup!
Tupperware - a few various sized containers suitable for precooked meals or saving leftovers
Vegetable peeler to maintain your healthy diet
Washing up liquid and some kind of sponge - we really recommend getting a dishmatic!
Uni packing list UK for entertainment
All work and no play etc. etc. It's good to have some entertainment resources on hand to use for improvised game nights or rainy Sunday afternoons! 🎲
Board games

or playing cards to keep you and your mates entertained when you're all studied out
An extension lead or two will always come in handy
Headphones because sometimes you just want to entertain yourself!
Speakers for video games, films, parties
TV - probably not needed if you've got a laptop,

83% of freshers

use Netflix after all. But remember, if you watch or stream live TV, you'll need a TV licence of your own!
List of things you need for university for healthcare
As well as topping up any prescription medication you need before leaving home, you should pack:
A basic first aid kit with bandages, painkillers, plasters, antibacterial gel or spray, and rubbing alcohol
Camomile tea bags - great for making a calming, soothing drink when you're stressed out with deadlines or

exam nerves

Glasses or contact lenses, if you need them, and a copy of your prescription
Vitamins, we especially recommend having some vitamin C with zinc to make colds and touches of flu easier on your body
Miscellaneous things to take to uni
Some bits and bobs that you should consider:
A bike is an excellent investment for uni: it's a flexible means of transport and good exercise, don't forget your helmet and make sure you get a strong lock or three!
Scissors and sellotape will see you through good times and bad
Small sewing kit - to repair small holes and tears or to put together a costume for themed parties
Torch - for emergencies
Umbrella - for when your hood just isn't enough
Things uni students need for sleeping
Some halls of residence and dorms supply bedding, so find out what's on offer before you start packing. Also, if you're bringing your own bedclothes, don't forget to find out what size your bed is! Finally, it's not a bad idea to get a spare set to use because you might not always have time to wash and dry everything in one day. 🌛
Blankets
Duvet and cover - the higher the "tog" rating, the cosier you'll be in the depths of Winter
Earplugs - absolutely essential in shared accommodation!
Pillows and pillowcases
Sheets
Hot water bottle
What do university students need for studying?
A student's stationery needs are vast and different courses will have their own requirements. 🎓
But at the very least, you're going to need:
A4 Binders plus A4 file paper for your notes
Agenda or calendar to keep track of everything
Desk fan - may or may not be helpful depending on the year
Desk lamp - to save your eyesight
Ethernet cable to connect your laptop directly to the internet for a reliable connection and maximum speed
Highlighters to help you identify key points to remember
Hole punch - because sometimes the lecturer doesn't have time
Laptop and charger - if you don't have one, get one! Check the

minimum specs for Windows 11

and buy a second hand or new laptop that exceeds them and you'll be sorted
Lever arch files - for when ring binders can't handle the pressure
Notebooks - handier for taking notes than file blocks
Pencils and pens of different colours
Portable hard drive - get one and back up your laptop regularly!
Post-It notes are great for ordering your future self to do important stuff your past self didn't do
Ruler - you might not think so, but one day you'll need it
Stapler - to make pages behave themselves
USB stick - for transporting documents to printers, copying files from classmates and backing up work at uni
Uni dorm essentials for washing and grooming
Everyone has their own routine, but don't forget the basics:
Aftershave or perfume
Deodorant or antiperspirant
Face cloth or sponge
Hairbrush and/or comb for your beautiful barnet
Nail clippers or scissors
Razors and shaving gel
Shampoo and conditioner
Soap or shower gel
Toilet bag
Toilet brush and bleach
Toilet rolls
Toothbrush and toothpaste
Towels big and small
Washing detergent for your clothes
What should you not bring to uni?
This could be quite a long list, starting with don't take your gran and ending with don't take part in free events offered by dodgy American cults. But let's look at some things people might actually be tempted to bring with them. ❌
Don't take:
Your bookshelf - look, you'll have access to books by the shedload at uni; there's no need to lug your own library about the country. Books are heavy and take up a lot of space, leave them at home.
Your pets - a student lifestyle is not pet-friendly. Most student accommodation will not allow you to keep so much as a stick insect, so don't even think about dragging along your cat or dog. Your flatmates won't be happy, your pet won't be happy, and you won't have enough time to look after them properly anyway.
Your microwave/kettle/toaster/mops/brushes/hoovers/sofa - these should already be available in your accommodation, and there won't be room to put your own there as well.
Your printer - printers are bulky and expensive to run. If you want to print stuff, it's cheaper and easier just to use the facilities at uni. Also, if your friends find out you have a printer, you'll be tortured at all hours by people wanting to print off a last-minute assignment.
Your car - parking spaces outside your uni and halls of residence are probably quite limited, and as most universities are in the middle of cities, it's easier to get around by bike or public transport.
Your iron - Seriously? You'll never use it!
So that's it, all the uni essentials and non-essentials are covered!
Good luck starting your new life as a student! Don't forget that GoStudent tutors are always available online to help you get to grips with your university subjects. Our tutors are experienced, patient and professional, and they've also been through all the ups and downs of uni life and lived to tell the tale! Hit this link to book a free trial class today!