Contents
Learning through play can be the most effective way to gain new skills. Here are some top tips for the best games out there to play together as a family.
One of the best ways to help strengthen your child's planning, reflective and social skills is through playing board games regularly. Not only are they fun and engaging (often bringing the whole family together) they can be testing and complex, encouraging individual and communal problem solving! Not to mention making hours go by away from screens without a second-thought.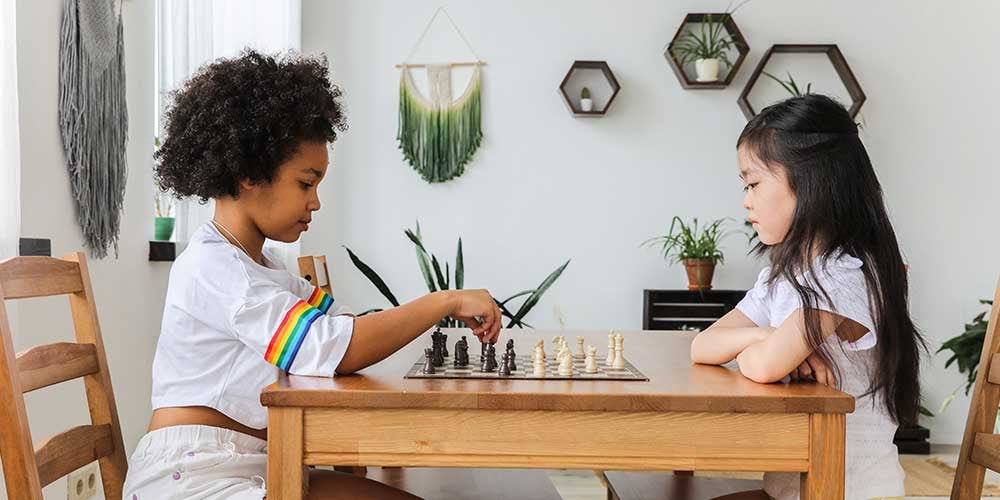 Here are our four top board game picks from play-at-home favourites, to compact games for travel and being on the road:
👀 A game for memory: Dobble
Dobble is a breath of fresh air when it comes to accessible board games. Fast-paced, addictive and compact, this travel-size game is the perfect addition to any family trip. It's small tin fits in the palm of your hand and contains 55-round cards, printed with cartoon images (from monsters to rain drops). The basic aim of the game is to quickly recognise matching symbols as new cards appear. Finish it all too fast? There are five different possible ways to play, and groups can include 2-8 players.
✅ Learning hack: Choose to play with your children for 10 minutes or 10 hours, and this game still gets everyone's brains going. The repeated coloured shapes help with short-term memory retention, and the need to call-out symbol names improves verbal ability and overall confidence. The lack of written words is a plus, too, and inclusive of children as young as five or six. Give it a try!
🍌 A game for wordplay: Bananagrams
Kids with a love of reading will always be drawn to word-based games. Kids bored of Scrabble? Try Bananagrams! Many of the same rules apply: you're given letters to make words, aim to fit letters together and using up all your letters counts. Add time limits, shouting 'SPLIT!' and containing all it's pieces in a yellow, banana-shaped bag and you've put the fun back into word games. Best thing of all? No waiting for turns as everyone plays at once! You can take this everywhere you go and pack it away quickly again afterwards.
✅ Learning hack: Check out some quick instructions before you start and then you're good to go. This game helps with developing vocabulary, but also with dexterity. Letters need to be placed clearly and quickly, so hand-eye coordination skills are a must. Encourage younger children to verbally sound-out words as they place down their letters.
🐱 A game for strategy: Exploding Kittens
For those with slightly older children, looking for something more interactive and involving more gameplay. Try Exploding Kittens (not literally of course). Players take turns drawing cards until someone draws an exploding kitten and loses the game. The deck is made up of cards that let you avoid exploding by peeking at cards before you draw, forcing your opponent to draw multiple cards, or shuffling the deck. As fewer cards are left, the game gets more intense. This game is perfect for bringing families together, and raising competitive spirits!
✅ Learning hack: This game forces you to think carefully about what move to make and when, as well as remember the role of each card. It can be confusing at first, but once mastered is perfect for strengthening your children's logical and numerical thinking. This game rewards concentration!
🦕 A game for actions: On a Scale of One to T-Rex
Our favourite new game combines performing ridiculous and hilarious actions with fierce competition. Pitched as 'a card game for people who are bad at charades', it's impossible not to have fun playing. Players must perform actions like 'Be a T-Rex' or 'Scratch an Itch You Can't Reach' on a scale of 1 to 10. The twist is that the quality of your action doesn't matter. Points are earned by guessing and matching the intensity each player is performing their action. You'll be laughing together from the get-go 🤣
✅ Learning hack: This game is perfect for children who love being loud, but also those who'd prefer to be very, very quiet (and both score you points 👍🏼). I love the inclusivity of acting together all at once, as well as the silly actions and roles to be played. This one's for big groups and a family of all ages.

👉🏼 At GoStudent we work carefully with students to develop their social skills as they learn. Do you want to find out more? Book a free trial tutoring class with one of our experts! With our Summer Tutoring Plans, we can work closely with your child to improve their overall confidence as they take on new challenges.