Contents
When it comes to choosing a place for your family to live, school catchment areas are an important thing to consider. They are based on your child's address and can give your child a better chance of getting into the school of their choice. However, almost every town, council and area have their own way of doing things.
In some cases, schools don't even have a catchment area. This can make it especially tricky to navigate the process of finding the perfect school for your child.
Many parents may find themselves wondering how school catchment areas work and how they are calculated. Fortunately, GoStudent is here to help–read on to discover what catchment areas are, what schools consider when you apply for a place and how you can apply for your child to attend a school near you! 🏫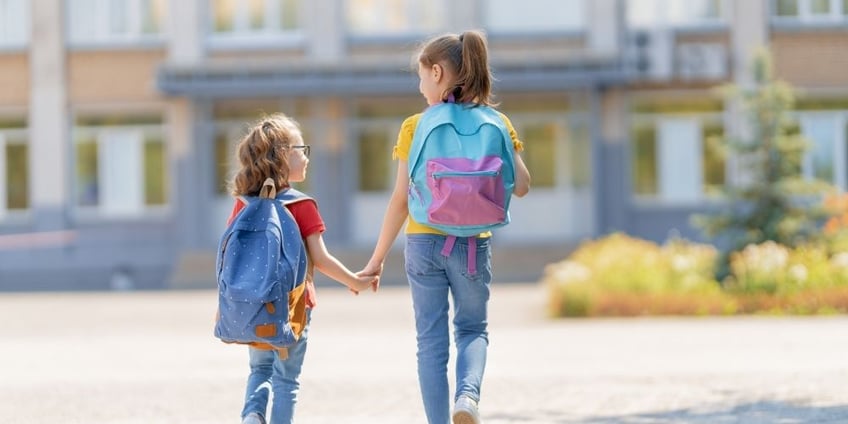 What are the main types of school catchment areas?
There are four main types of school catchment areas across the UK. Which one is used is dependent on the school, so it's important to do some research.
Checking the school's website, giving them a call or sending them an email are all great places to start if you're considering applying for your child to attend that school or sixth form. Sites like Locrating and AdmissionsDay are also very helpful whether you're looking for one school in particular or a general area.
Straight Line Catchment
This is probably the closest to what you're imagining when you think of a catchment area. It's simply a circle with the school at the centre and any properties within that area are considered 'in catchment'. This is the most common system used in more built-up urban areas across the UK. 🏙️
Walking Distance Catchment
A local authority will establish set walking routes which are both short and safe. Applicants for the school will be assessed based on how far away they are, and how safely they can get to the school on foot. The exact area can change each year, partially depending on how far away the furthest student lived the year before. 🚶
Priority Admissions Area (PAA)
PAAs are fixed areas where children are admitted to the school as a priority. Once all the children, including siblings, are admitted from the PAA, admissions will open up to those outside the area. This gets broken down even further with applicants closer to the school within the PAA getting priority. 🗒️
Nearest School Catchment
This is the go-to method when there are a few schools in close proximity to each other. It's similar to a PAA but the shape of the area can change yearly. The area around the school is cut into sections and applicants are prioritised depending on which school is closest.
It's worth noting that some schools try to use a combination of the above, so a little research goes a long way. If you do discover that the school you're interested in uses a mix of catchment areas, it's best to make your application based on the one that gets you closest.
For many parents of young children, good school catchment areas is a key consideration when deciding on a place to live. It's a great idea to plan ahead and look into the catchment area for primary schools to ensure your child can get into a school that will suit their needs and be convenient for your location. 🏠
What's considered in an application?
Not everything comes down to location when you're finding a place for your child at a school. Simply living in the school catchment area isn't always enough, as there are other factors which need to be considered. These include:
Does your child's sibling already go to the school? Most schools will offer places to the siblings of existing students before opening up to new families in the area.
Is it a 'faith school'? Some schools are supported by a specific religious group and give priority to students who follow that faith.
Has the child come from a 'feeder school'? Some places have links with other schools in the area and prioritises applications from them.
Does your child have the right level of academic ability? Grammar and

private schools

often admit students depending on their grades. Your child may even have to take an exam to get their place.
Does your child need extra assistance? If your child has special medical or social needs you may wish to apply to schools with the facilities and expertise to support them.
Some schools also use a lottery or fair banding admissions system to allocate the places they have. A lottery system will randomly assign places between all of the applicants meaning everyone considered has an equal chance of getting a place. 🎟️
A fair banding system means the child has to take a test which will give an idea of their academic ability. From the results, a set number of lower, higher and averagely-performing students will get a place. ☝️
How big is a school catchment area?
Many parents may be wondering how to calculate catchment area for their children's school options. Fortunately, this information is available online and by contacting the individual schools you're interested in.
The size of a catchment area can vary depending on location and the type of catchment area the school goes for. You can check the sizes and which addresses are included via your local council's website. This is the same across the UK, and you should be able to find school catchment area maps online for the schools you're considering. 📍
Here are a couple of examples of catchment areas across the UK:
Wray Common Primary School, England
This school uses the Straight Line System for their admissions. This school catchment area map shows you the area they consider as their catchment area. If you take a look at the admissions page on their website, you'll find a guide which states: "The distance will be measured in a straight line from the address point of the child's home address, as set by Ordnance Survey, to the nearest official school gate for pupils to use."
Schools in Aberdeen, Scotland
In Aberdeen, the catchment areas are a patchwork of lines, each relating to a different type of school. They follow the theme of Nearest School Catchment as there are many schools in a relatively small area. Find out more about how schools in Scotland work.
Schools in Carmarthenshire, Wales
Similar to Aberdeen, Carmarthenshire County Council also uses the Nearest School Catchment approach. By clicking where you live within the area, you're directed to the school that's closest to you.
Carnalridge Primary School, Northern Ireland
This school uses Walking Distance Catchment. If you take a look at their admissions criteria, they say: "The remaining places will be allocated on the basis of the proximity of the child's home to the school, as measured by walking distance. Priority will be given to those living nearest to the school. (Walking distance from home will be measured on Google Maps UK.)"
Can you apply for a school outside of the catchment area?
The short answer to this is yes, you can apply for a school outside of the local catchment area. There are no restrictions on where you can apply, but you're less likely to be successful if you are located far outside the catchment area.
Your proximity to the school will likely be the last thing to be considered on your application, so make sure you're checking all of the other options first.
How likely am I to be accepted?
The likelihood of being accepted to a school changes from year to year and there's unfortunately no guarantee. However, in 2022, 83.3% of applicants received a place at their first choice of secondary school. There were over 614,000 applications received, a 1.5% increase in 2021. You can see the trends and headlining figures for school applications on the the latest government school applications report.
A lot of schools are also over-subscribed, so make sure to check to see if there's any information that shows how many students apply per place. This information can also be found on sites like Locrating and AdmissionsDay.
Tips for choosing a school
Finding a school needs a lot of research and there are loads of people going through exactly what you are.
Here are some key tips on how to find the best school for your child:
Find out which catchment areas your address falls into to give your child the best chance of being accepted.
Talk to the schools directly, as they will have the answers you're looking for. If you have your sights set on a specific school, you should get in touch to check their admissions policies and get a good feeling for how they work.
Check multiple websites when looking for information. Information can change quickly and websites aren't always updated. Sites like

Mumsnet

are a great place to start for inside information from other parents who have been through the process.
Chat to local families directly and find out their opinions on the local schools.
Take a look at Government School Finders to compare reports and performance league tables in

England

,

Scotland

,

Wales

 and

Northern Ireland

.
Get in touch with your local council to find out when applications are open and what the process is. However, be aware that if you're looking at private schools, they handle their own admissions.
How to apply for a school
So, you've had a look at the catchment areas and found a few schools you're interested in your child attending. It's a great idea to make sure you're well-prepared and planning ahead as there are deadlines which need to be met for admissions to schools. 📅
The next step is to visit the schools' websites to find out when they have open days. These are a great opportunity for you and your child to visit the school and get a feel for the place in person. Often, you will receive a tour and see things like cooperative learning in action with a chance to chat to teachers and students.
Bear in mind, this is a chance for the school to show off so they'll be putting their best foot forward and playing to their strengths. After the tour, it's wise to take the opportunity to chat to other parents to get their impressions and form a complete picture of the school and how it would be for your child.
Assuming you liked the schools you visited, it's time to put your child's name forward via the local authority. Your local council should have a section for school applications where you can list your top schools in order of preference. These applications usually open at the beginning of the school year, the year before your child is due to start – so you'll want to get an early start on the process!
You should hear back about your applications around March, ready for your child to start school in September. If you choose to apply for a few different places and you're accepted for more than one, you'll be given a place at your most preferred school.
What to do if your application is refused
On rare occasions, you may wish to make an appeal if your child was rejected by the school. You can do this once per rejection and it must be completed within 20 days of the decision letter being sent.
Once everything is submitted, an appeal hearing will be held where both parties will explain why the decision was made. Make sure you check out the specific processes for England, Scotland, Wales and Northern Ireland.
We hope this article has given you a better understanding of what school catchment areas are and how they work! You should now be ready to take that next step into applying for any type of school in the UK. Just remember to do your research, ask questions and read information carefully and the process should be a breeze.
If you think your child could benefit from some one-on-one tutoring ahead of the new school year, why not try out a free online lesson with one of our perfectly-matched tutors?