Contents
As we edge closer to GCSE and A-Level exam results this summer (and even more importantly the first set of national assessments sat in three years), schools are on the edge of their seats waiting to see if they've made national rankings. Confused about where to start with the top secondary schools in London? Let us talk you through the process.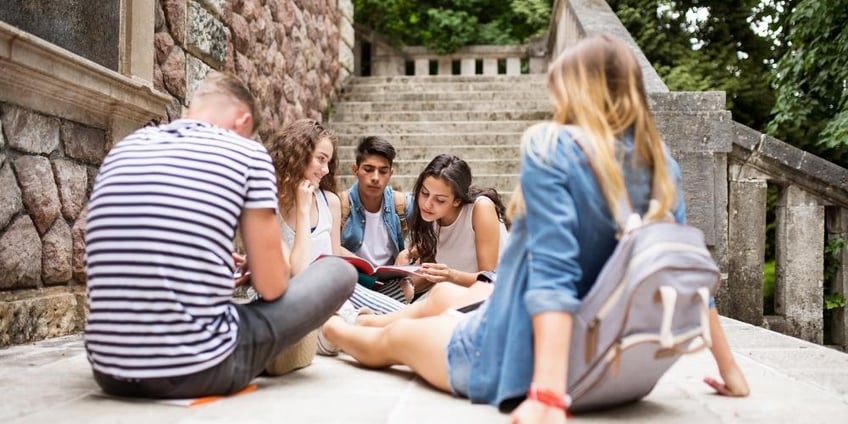 How is the best school in London decided?
With Ofsted beginning their school inspections once again this year, schools have their eye on improving their ratings as the best secondary school or maintaining their Outstanding status for the first time in years.
We know that the best school should be dictated by how happy the children are there. If they've made great friends, have good relationships with their teachers and are thriving in and out of the classroom, this should be the top spot. But this isn't always easy to measure! League tables take a different approach, focusing on what parents usually care about the most. This means results.
The education system in the UK is divided into four main areas: primary education, secondary education, further education, and higher education. This article focuses on the best secondary schools in London, attended when a child is aged 11-16. However, we do take into account schools that continue their offer of further education when a child is aged 16-18 (often named Sixth Form).
This is due in large part to exam results. One of the determining factors of how good a school is in London (and nationally in the UK), is the outcome of its end-of-school exams such as A-Levels and in some cases, the IB.
Determining factors
GCSE results (the rigorous national exams sat when a child is 16) are also considered and are an important stepping stone up to further education. Whilst the number of As and A*s a school is awarded is very important, the biggest trophy in schools goes to the number of Oxbridge, and Russell Group university places students are awarded in their final year.
But what are the other factors beyond exam results in deciding how good a secondary school in London is?
Ofsted rating -

Ofsted

is the Office for Standards in Education. Schools go through an Ofsted inspection around once every four years. Schools are given an overall rating (Outstanding, Good, Requires Improvement, Special Measures) based on observations of the school, its lessons, and its students. The best schools in London all have Outstanding ratings, the most desirable outcome for a secondary school. It's not a guarantee forever, and schools will need to continue to excel to keep their rating.
Quality of education - The best secondary schools in London are ultimately fantastic education providers: quality teaching, inclusive practice, and high outcomes for all. Students in these schools receive a holistically challenging and exceptional education, in every single lesson.
Level of progress - Progress 8 was introduced in 2016 for all schools with the intention of ensuring students are studying a broad and balanced curriculum. More than just exam results (attainment scores), schools are judged by the progress they ensure their students receive. In the UK we call this a

Progress 8 score

, where a school captures a student's whole learning journey, from Year 7 to Year 11.
Wider offer - Want your child to experience more than just great lessons? The best secondary schools in London can also offer a wider enrichment curriculum: excellent homework support, clubs, sports, drama, art, and non-academic encouragement. Teachers are usually experienced and well-qualified to offer more than just fantastic lessons. This includes great facilities, too!
Student and parental satisfaction - How happy the students and parents are with a school can also dictate the best secondary schools in London. This is calculated through surveys, parent forums, and governing bodies, as importantly all schools are linked to a specific local area or borough so need a strong, community reputation.
Entrance requirements
State schools in England can be grammar (selective) or comprehensive (non-selective). Children need to pass entrance exams in order to get admitted to selective schools. For non-selective schools, the decisive factor is proximity to school, otherwise known as a catchment area. Some state schools are church-affiliated and even though for some of them there is no need to sit exams to be admitted into them, a letter confirming church attendance is required.
Admittance to state schools in London isn't different from anywhere else in the UK, but naturally, because of its high density and large population, it can still be very competitive. Lots of parents purposefully choose to move into certain catchment areas due to the school offer, which means other parents can effectively be bought out of a school place even if it's non-selective.
London has 661 state secondary schools, and 238 private schools. This can make it hugely challenging for parents to decide the best route for their child. We are going to spotlight a few, key, excellent schools and also share the overall top 10 best secondary schools in London in each category of state and private.
Which area in London has the best schools?
Every parent wants their child to get off on the right footing in their life. Finding the best secondary schools in London is a key component in 'the bigger picture' of fostering a love of lifelong learning in their children. Where you choose to live when your child attends school is central to that development.
As most comprehensive schools are based on catchment areas, and with London house prices rapidly excelling, parents are strategising on where to live to ensure the best school place for their children. But which area has the best secondary schools in London?
While Redbridge, Southwark, Barnet and Hounslow have the highest number of Outstanding rated secondary schools, Kensington and Chelsea, Westminster and Kingston actually have the highest proportion of Outstanding schools to schools overall. This is based on 2018 data, when more Ofsted reports were carried out (it's worth noting that these have already started resuming again this year for the first time in four years).
We know that there are 10 times more applications for good state schools than places available in the capital, and house prices in these areas are soaring, as more and more parents want their children to gain a place dictated by living in the catchment area.
What are the best state secondary schools in London?
At GoStudent we support both selective and non-selective admissions processes, and can aid you and your child in acing the 11+, but also thriving in all schools. We'll take a look at three of the best secondary schools in London, but also the wider top 10 rankings of comprehensive schools, including grammar.
This grammar school for boys in the London borough of Barnet gains top positions year after year because of its league table positions. Highly rigorous, this one is for your child if they're looking to soar academically. It consistently ranks as one of the best secondary schools in London.
Another academically challenging school, there are multiple rounds to get into HBS. Located in leafy Hampstead, this school sits within beautiful grounds and provides a well-rounded education to girls. It's smaller than average, meaning all students have more teacher-time, and about three quarters are from minority ethnic groups making it one of the more diverse top schools in London.
Wilson's prides itself on being at the frontier of excellent teaching where its teachers are consistently developed in their practice. As well as an academic challenge for its boys, Wilson's offers a varied and diverse sports offer, as well as lots of community outreach projects.
These further rankings are based on numbers of As and A*s at A-Level and also strong GCSE results. These are set to change again this year with the re-introduction of formally sat national exams.
| | | | |
| --- | --- | --- | --- |
| Ranking | School | Boys / Girls | A/A* % |
| 1 | Queen Elizabeth's School | Boys | 96 |
| 2 | The Henrietta Barnett School | Girls | 93 |
| 3 | Wilson's School | Boys | 96 |
| 4 | The Tiffin Girls' School | Girls | 92 |
| 5 | St. Olaves Grammar School | Boys | 94 |
| 6 | The Latymer School | Co-ed | 85 |
| 7 | St. Michael's RC Grammar School, Finchley | Girls (Co-ed Sixth Form) | 84 |
| 8 | Tiffin School | Boys | 86 |
| 9 | Nonsuch High School for Girls | Girls | 81 |
| 10 | Suttom Grammar School | Boys | 81 |
You'll notice how grammar schools dominate the national rankings, but it's not all about selective education when choosing the right school for your child, especially if they might not be suited to the rigorous selection process involved in getting in.
Schools like Holland Park and Wembley High Technology College are entirely non-selective, and its entrance process is based on catchment area like all other comprehensive schools. They provide an excellent education for all, regardless of background.
Schools like Michaela and Reach Academy Feltham are also doing well within the Free School movement (not for profit schools not inherently linked to the local borough council), changing the way we think about and view comprehensive education. Be sure to look out for Free Schools in your local area as they become the best secondary schools in London as well.
What are the best private secondary schools in London?
London has a huge range of comprehensive (including grammar), but also independent (or 'fee-paying') schools. Let us talk you through three of the top private (or independent) secondary schools in London and what makes them so special, before sharing some of the wider rankings.
St Paul's is a girls' school and sits on a modern and sophisticated site in Brook Green in Hammersmith. An independent day school for girls since 1904, St. Paul's provides a world-class education, offering a mix of classical and forward-thinking education, rooted in academic discovery. It was awarded the Sunday Times Independent Secondary School of the Year in 2022 (and for the past nine years), in part due to sending 44 girls to Oxbridge, and 19 to colleges in America and Canada.
Eltham College is a leading boys (and co-ed for sixth form) independent school set over 70 acres of grounds in South East London. As well as having superb academic results, they have a strong provision in Music, Drama and the Arts. Students are supported and encouraged to focus on their strengths and interests. Selection is based on entrance examination, interview, taster days and references.
Highgate is a co-ed, all-through school meaning, it offers places for students aged 4-18. Whilst it does focus on exam outcomes, its emphasis is on scholarship and independence for all. It has a huge range of co-curricular activities on offer, and a strong community service programmes means that its students learn and develop wider values. Students love its 'friendly and homely' environment.
In addition to these fantastic schools, our league table below shows the full top 10 highest performing independent schools in London based on the percentage of top grades awarded to students.
Because of the impressive facilities and well-rounded educational offer in all of these schools, parents are looking for the school with the best academic outcome so that their own children have the best life chances.
It's important to remember that whilst these results are the most recent, based on the 2021 examinations, students have not sat public examinations since 2019. Grades were awarded by schools according to strictly controlled internal assessment criteria (aka. By teachers).
Most results correlated with those from 2019, whilst others were considerably different. Academic year aside, these schools still consistently rank highly in educational guidance. With fees of almost £20,000 a year for most, it's no wonder they are ranked as offering a world-class education:
| | | | |
| --- | --- | --- | --- |
| Ranking | School | Boys / Girls | A/A* % |
| 1 | St. Paul's Girls' School | Girls | 98 |
| 2 | St. Paul's School | Boys | 95 |
| 3 | James Allen's Girls' School | Girls | 93 |
| 4 | Eltham College | Boys (Co-ed Sixth Form) | 92 |
| = | Putney High School | Girls | 92 |
| = | Alleyn's School, Dulwich | Co-ed | 92 |
| 7 | Channing School | Girls | 91 |
| = | Highgate School | Co-ed | 91 |
| 9 | Godolphin & Latymer | Girls | 90 |
| 10 | University College School | Boys (Co-ed Sixth Form) | 88 |
Notable schools missing from this line-up last year were Westminster School and Latymer Upper which are highly likely to be back in the top 10 rankings this year as national examination results return in summer 2022.
Looking to ensure your child can cope with thriving in one of the best secondary schools in London? Need support with selective admissions processes? At GoStudent we know the system, and we support school admissions (both independent and comprehensive) and selective entry processes. Book a free trial lesson to find the right tutor for your child today.