Contents
If you have school-age children and you've just moved to Scotland or have not dealt with the Scotland education system for some time then this is the guide for you!
School in Scotland is unlike anywhere else in the UK. From the names for school years to the exam system to the curriculum, the differences are everywhere.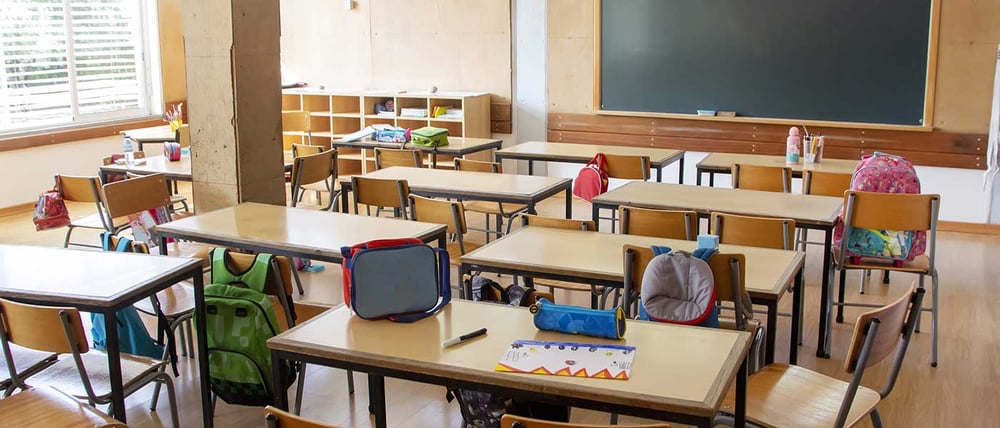 At what age do children start school in Scotland?
When it comes to primary school Scotland kids aged between four-and-a-half and five-and-a-half usually begin school in mid to late August. The rules covering the Scottish school starting age mean that kids born between September and February begin in the August before their fifth birthday. While kids born between March and August start school in the August after their fifth birthday.
That said, if your child was born between September and December, you can request your child start school the following August if you apply to the local education authority but permission to defer must be approved. If your child's birthday is in January or February, you can request an automatic deferral from the local education authority.
Are schools free in Scotland?
Schools run by the local authorities are free for kids from age 5 to 18.
Primary school in Scotland
🙋
As in the rest of the UK, primary education in Scotland lasts 7 years. However, while kids in England are starting Reception class, Scottish kids are starting P1 and the last class of primary school is P7.
See our handy table below for an at-a-glance guide to how school in Scotland works
Phase

Levels

Age range

(youngest age at start, oldest age at end of year)

Year

England & Wales

Equivalent

Qualifications

Broad General Education

Early

3-4-5

Nursery

Nursery

4-5-6

P1

YEAR 1

First level

5-6-7

P2

YEAR 2





6-7-8

P3

YEAR 3





7-8-9

P4

YEAR 4

Second level

8-9-10

P5

YEAR 5

9-10-11

P6

YEAR 6

10-11-12

P7

YEAR 7

Third and Fourth level

11-12-13

S1

YEAR 8

12-13-14

S2

YEAR 9

13-14-15

S3

YEAR 10

The senior phase

14-15-16

S4

YEAR 11

National 3/4/5

15-16-17

S5

YEAR 12

National 4/5 /Higher

16-17-18

S6

YEAR 13

National 5 /Higher/Advanced Higher
What is the Curriculum for Excellence at school in Scotland?
The Curriculum for Excellence is the guide state schools must follow when designing their courses for pupils. The idea behind it is to ensure kids enjoy a wide-ranging and more flexible educational experience that includes useful life skills in addition to traditional academic material. As it is a general guide, schools have some independence to decide exactly what to teach children as long as they cover the three core subjects of literacy, numeracy and health and wellbeing.
The Curriculum for Excellence is divided into two overall stages: the Broad General Education covering kids aged between 3 and 13 or 14 and the Senior Phase which pupils do between the ages of 15 and 18.
The Broad General Education is broken down into five levels called Early, First, Second, Third And Fourth. The Early Level covers nursery school and P1, First and Second Levels cover P2 to P7. The Broad General Education curriculum includes the following eight areas:
Expressive arts
Health and wellbeing
Languages (including English, Gaelic, modern and classical languages)
Mathematics
Religious and moral education
Sciences
Social studies
Technologies
At primary school Scotland gives children tests called the Scottish National Standardised Assessments (SNSAs). These 45-minute tests evaluate kids' abilities in literacy and numeracy and are taken in P1, P4, and P7. Children in the secondary school year called S3, the final year of the Broad General Education, also take SNSAs.
Kids do the SNSAs online and the answers are marked by computers. These tests are to measure progress but kids do not get a pass or fail for them.
Secondary school Scotland
In secondary school, Scotland school years are called S1, S2, S3, S4, S5, and S6 which are the Scottish versions of Year 8 to Year 13. S1, S2 and S3 finish off the Broad General Education phase that began in nursery and the Senior Phase runs from S4 to S6.
High school in Scotland is compulsory until the end of S4, but many Scottish kids stay on to do S5 and S6, making Scotland the best-educated country in Europe.
Qualifications at school in Scotland 📜
When it comes to exams and qualifications at secondary school Scotland focuses on enabling kids to finish with as many qualifications as they can manage rather than trying to make everyone jump through the same exam hoops at the same time as in the rest of the UK.
The system is flexible so qualifications can be taken earlier or later depending on a child's abilities and learning capacity. This approach means that at secondary school Scotland's terms for years are not easy to compare with the names for years elsewhere in England, Wales or Northern Ireland.
S4, which kids start at age 14 or 15, is the beginning of the Senior Phase and is when national qualifications start.
The important qualifications in the Senior Phase are National 5, Highers and Advanced Highers which are evaluated externally by the Scottish Qualification Authority. There are also National 1, 2, 3 and 4 qualifications that are marked internally by teachers or lecturers. These are provided to recognise the achievements of students who need extra support in their education and are seen as a stepping stone towards the more high profile qualifications.
National 5 are normally taken when kids are 15 or 16 in S4. They are available for a wide range of subjects and may involve coursework, exams or both. National 5 qualifications are roughly equivalent to GCSEs and children can choose to leave school at this point or continue for two or three more years.
Typically the next step for pupils is to take the Highers in S5 when they are 16 or 17. Highers are the qualifications that matter when it comes to getting into university, although they are more similar to the old As-Levels than to A-Levels.
Although the Highers fulfil university entrance requirements, many pupils choose to stay on in secondary school for another year to do Advanced Highers. These exams are more challenging and are at the level of first-year university courses. Kids that do well in the Advanced Highers can start university in the second year.
Pupils at Scotland independent schools can also sit GCSEs, IGCSEs, A-Level exams.
The Scottish Qualifications Authority offers many vocational and skills-based qualifications for kids who do not wish to follow an academic path.
Home school Scotland 🏡
For parents that want to homeschool, Scotland makes this possible.
Homeschooling is a right that every parent has in Scotland.
If your kid has never been enrolled at a council school or they go to an independent school, you can begin homeschooling Scotland style straightaway. However, if your child already goes to a council school, you must apply to the council for consent to take your child out of mainstream education and provide them with classes at home.
Gaelic schools in Scotland
Gaelic-medium education is very popular in Scotland. Around 50% of local education authorities provide parents with the opportunity to have their child educated in the Gaelic language.
The school system in Scotland can be very broad and varied making it hard for parents to keep up with all the subjects their kids study. Here at GoStudent we have tutors available to help your child with every stage of their education in Scotland. Click here to try a free trial class today!