Contents
Taking a year to explore your creative interests and potential sounds like a great idea but what do most arts foundation courses really offer? How much do they cost? And what do students do after completing their studies? Find out all the answers and more here. 👇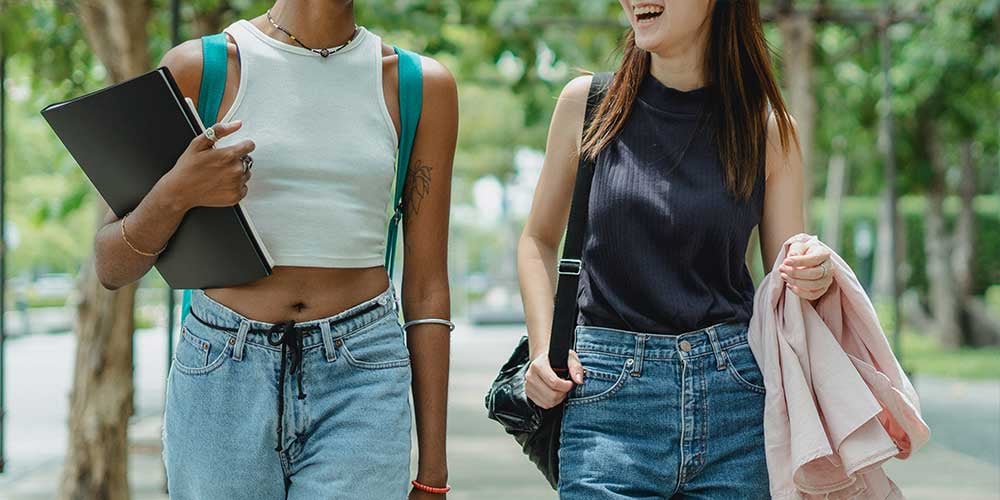 What is an arts foundation course?
An Art Foundation course is a one-year programme that bridges the gap between studying art and design-related subjects at secondary school level and undergraduate level. 🎓
What does an arts foundation course include?
Arts foundation courses are a fast-paced, fun, and creative year during which students can develop and explore their artistic abilities, prior to choosing an undergraduate degree. Foundation courses give students a chance to experiment with and explore different mediums before they specialise at degree level.
Each course can vary from institution to institution but generally, foundation courses in art and design consist of 3 terms – just the same as academic years 7-13. Students will be guided through their own creative journey, encouraged to question and investigate, taken on field trips to galleries and museums, take inspiration from their personal experiences, explore art theory and use a wide range of different materials. 🎨
Is an arts foundation course free?
For British school-leavers under 19 years old, tuition is free. Over 19 years, the fee is around £1,300. So, if you are interested in completing an arts foundation course, it is well worth getting prepared for it during the last year of study at sixth form so that you can apply in plenty of time. 🤓
Why study foundation year art?
Transitioning from secondary school to university can be tough. It is common to feel a fair amount of pressure around this time. Even if you are lucky enough to have a clear idea about what you might like to do for a career, there are still plenty of questions about where to study, when to take the next step or whether to take a gap year for example. 🗺️
Some guides and blogs will tell you that you need to have a foundation degree in art in order to go on to study art at an undergraduate level – that it is mandatory or compulsory – this is certainly not the case. An application to an art or design degree at university usually consists of a written application together with the submission of a portfolio of your work.
That being said, arts foundation courses can set budding artists up with a great set of skills, a positive trajectory and a clear idea of what type of art you may like to make which will inform your choice of degree.
What degree can I take with a foundation in arts?
Taking an art foundation course in the UK doesn't preclude you from taking any degree you want but they are, of course, designed with students looking to pursue a career in the creative industries in mind. It is also worth noting that some arts degrees are four years in length, with a foundation year built-in.
Some of the most common courses of study that students pursue after completing a foundation degree in art are:
Architecture

Animation

Fashion

Film

Fine Art

Illustration

Interior Design

Product Design
What to look for in art foundation courses UK
What makes one course more suitable for you than another? There are lots of variables to consider but these four are key when deciding where to study an arts foundation course in the UK.
Lecturers
Many times, universities and colleges will employ creative practitioners to teach modules on their courses. This is a brilliant opportunity to learn from a working professional about the realities of creating art and pursuing a life in the creative industries. Make sure to look up the lecturers' and teachers' backgrounds and work to get a feel for their creative direction and integrity. 🧑‍🏫
Facilities
Arts foundation courses are all about exploration, investigation and experimentation. It is important that you have access to facilities such as studio space, printing equipment, modern technology and more depending on what sorts of disciplines you think you might like to explore. Different institutions may place an emphasis on certain mediums over others – make sure that aligns with your interests as closely as possible. 📹
Location
Part of the art foundation course experience is about making connections with fellow students, networking with creative professionals, engaging with professional work in galleries and museums and getting to grips with the creative industries at large. While you may be researching "art foundation courses near me" it is well worth taking a look at what other parts of the UK may have to offer too.
There is no doubt that London houses the highest concentration of colleges, universities, creative institutions and opportunities but other locations also offer hugely popular and well-renowned experiences as well as outstanding natural beauty. Each city or region has its own perks and disadvantages. 📍
Syllabus
Although arts foundation courses are all designed to offer an introduction to several mediums and to develop a strong portfolio of work, each institution will have its own approach to its syllabus – where some may focus on ceramics and costume design, others may stick to fine art and painting. Make sure you research the history and approach of each institution as some courses are much more contemporary than others. 📚
Best art foundation courses UK
Ultimately, deciding on an institution and course of study is a highly personal choice that can be affected by all sorts of parameters like distance from home, cost of living, what the surrounding area has to offer, overall student experience and general approach to teaching. 🤷
These are some of the most popular, well-respected art foundation courses in the UK but it is important that you take plenty of time to research all your options as well as attend open days and speak to current students and alumni wherever possible. Here is a list of some of the UK's best arts institutions to get you started:
Royal College of Art

University College London

University of the Arts London

Goldsmiths

The Glasgow School of Art

Loughborough University

University of Oxford

University of Brighton

Edinburgh College of Arts

Lancaster University
Whatever career you might look to pursue, our GoStudent tutors believe that arts and creativity play a vital role in education. Book a free trial lesson to see how it can work for you today. 🎒