Contents
Homeschooling has gained popularity in recent years. Since the beginning of the COVID-19 pandemic, many parents have opted to fully take on educating their children at home.
In fact, according to a report from the BBC, home education numbers rose by 75% during the 2020-2021 school year. Specifically, over 40,000 students in the UK were formally taken out of school between September 2020 and April 2021, compared with an average of 23,000 over the previous two years.
Homeschooling is an appealing option for many families, whether due to ideological differences with the traditional schooling system, an unconventional lifestyle, or a child with special needs. It wields positive academic results too–studies have proven that homeschooled children often score higher on standarised tests than their traditionally educated peers. There are many other advantages to educating at home, too, including personalised education, increased family bonding, and a more flexible schedule.
Even with all its benefits, though, choosing to educate your child at home is not a decision to be taken lightly. For some parents, figuring out exactly what to teach their child is the most difficult part. Fortunately, there are numerous free online homeschool resources to help you create quality lesson plans for your child. We're here to share our picks for the best free online homeschool curriculum–scroll on to learn more!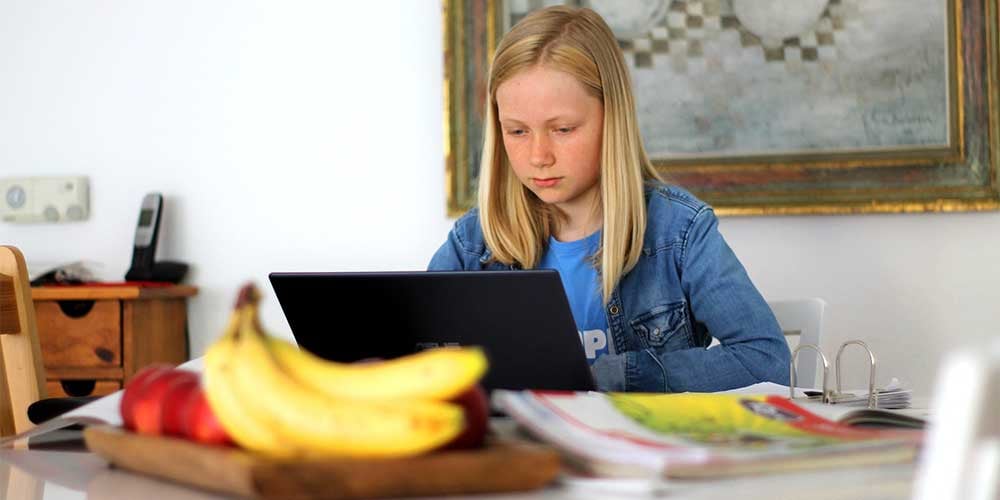 What to look for in a free online homeschool curriculum
If this is your first time homeschooling your child, keep things simple to start with. Begin with a curriculum that is for the year level your child would be in at a traditional school. Then, you can modify if your child is advancing quickly, or needs a little extra help in certain areas. The beauty of homeschooling is that it isn't one-size-fits-all!
In your first year of homeschooling, pay attention to how your child learns best. If they are a visual learner, for example, use free homeschool resources that utilise video content, graphs, and other visuals. If your student needs to interact to learn things, find resources that offer games and other interactive tools.
Remember that you can mix and match different homeschool websites, too. There are no rules in homeschooling!
GoStudent's top free homeschool resources
Choosing the right curriculum for your homeschooled student can be challenging. Fortunately, we're here with our top picks for the best free online homeschool curriculum.
1. BBC Bitesize
If you want your child to still be learning from the National Curriculum, BBC Bitesize is a great resource. This homeschool website has materials for students from reception all the way to A-Levels, and you can filter the lessons by country and year level. As the name suggests, the lessons are all easy to digest, making it a great resource to supplement more in-depth lessons. They even offer one of the best homeschool apps. If you have a long car journey ahead of you and want to sneak some learning in, BBC Bitesize is a perfect choice!
2. BBC Teach
BBC Teach consists of video content, all from the BBC presenters you're likely already familiar with! The videos are available for both primary and secondary school and cover topics like language learning, media studies, and art & music. For days when you're too tired to teach on your own, BBC Teach is a great stand-in teacher. (Don't worry, we won't tell!)
3. Oxford Owl
From Oxford University Press, Oxford Owl offers ebooks and other reading resources for students, but so much more than that, too. The website has games and videos to facilitate maths learning, as well as creative activities like storytelling, writing, and even fun cooking recipes. If you want some hard-copy resources for your child to learn from, too, Oxford Owl shares the different books you can order to complement the free online activities and lessons, making it a great all-in-one homeschooling resource.
4. UK Parliament
You may not think Parliament would have homeschooling resources, but they do! Understanding civics and government is an important part of a comprehensive homeschool curriculum, and Parliament offers videos and other resources explaining how the UK government works. The website also offers insights into how diverse groups have made their mark in the British government, including how women got the right to vote, and the history of legislation impacting the rights of Black Britons.
5. Coolmath
Coolmath has been around since 1997, meaning they are pros at online learning. The website offers free lessons and games for all levels, with their sister website CoolMath4Kids caters to a younger audience. The website follows US grade levels, but is comparable with the UK system, too. If your child is struggling through maths and finds the lessons stressful and boring, Coolmath will help make it more fun!
6. Code.org
It's so secret that learning to code is an incredibly useful skill for future career opportunities. Code.org is a nonprofit with the mission of expanding computer programming education in schools worldwide. They offer free coding games and activities from kindergarten through secondary school. As careers in STEM continue to grow, getting your child interested in computer science from a young age is a great way to set them up for future success.
Homeschooling has many options
Homeschooling can feel overwhelming at first, but these free online homeschool websites can help you create the best curriculum for your child's individual needs and interests.
Many parents choose to homeschool so they can have a more intimate role in their child's education. However, juggling the responsibility of being a parent and a teacher can be difficult. Educating your child at home doesn't mean you have to do it all on your own. If there's a subject that your child is particularly struggling with or that you don't feel confident teaching, recruiting the help of a tutor can help immensely–and GoStudent is here to help.
GoStudent can help you on your homeschooling journey
GoStudent is the #1 Rated Online Tutoring School, and our exceptional tutors offer personalised support to help your child not only have a better understanding of their schoolwork but also feel more confident. We're so confident you'll love GoStudent that your first lesson is completely free. Sign up today and see why we're rated excellent by thousands of parents on TrustPilot.