Contents
1. What is RAAC in UK schools?
2. How can parents support students during remote learning?
3. Make room for their feelings
---
You've prepped the school bags, sorted the uniforms, then suddenly you hear that your child's school has been closed due to building safety issues and something called RAAC. There's disappointment, confusion and frustration to deal with all round - and then, there's the schooling itself.
With little time to adjust, many students have been asked to return to remote learning while school buildings are checked. While this is undoubtedly the safest course of action, returning to online classes can be overwhelming for students and parents alike. Here at GoStudent, we want to offer a helping hand where we can - so we've put together our top tips for supporting your child if their return to school hasn't gone as planned.🤯
What is RAAC in UK schools?
RAAC (Reinforced Autoclaved Aerated Concrete) was used in the construction of public buildings such as schools and hospitals from the 1950s to the 1990s. It provided a cheaper, lighter alternative to traditional concrete and can be found in flat roofing, walls and floors.
With a shorter life span of around 30 years, many structures containing RAAC are at risk of deterioration. RAAC's aerated structure (a bit like a bubbly chocolate bar) makes it susceptible to moisture which can weaken it. Until the proper safety checks can be made, a number of schools have closed. This means that thousands of students are starting their school year remotely.
How can parents support students during remote learning?
One of the best things about going back to school is getting out of the house and seeing different faces. Let's face it, no matter how much you love each other, by the end of the summer, many kids need a break from their parents and vice versa!
An unexpected return to remote learning can throw a spanner in the works. Both parents and children may feel frustrated that the start of the school year hasn't gone as planned. However, there are a few things that you can do to help the start of term online go more smoothly.
Make room for their feelings
While other kids are back at school getting stuck into a new year, your child is not. It's important to take stock of their feelings in all this and think about their mental health. Perhaps they're disappointed and feel that they're missing out, or maybe they're anxious about returning to online learning after the pandemic.
Try to validate their experience and talk to them about how they're feeling. Acknowledge that it's a difficult situation and not at all ideal, but remind them that you're there to support them. If you can help them to recognise and express their feelings about the situation, it will be easier for them to navigate it.
Stick to a routine
Both children and adults benefit from routines, especially when things get tough. Agree on a manageable routine with your child to limit screen time and include:
regular breaks and snacks 🍫
Playtime or games 🎲
sports and exercise 🏸
socialising with friends and family 👩‍👦
fun activities that they enjoy doing 🙌
Remember that physical activity can improve mood, focus and energy levels while simultaneously reducing anxiety.
Help them stay motivated
It can be hard for students to stay motivated when schooling becomes an online experience rather than a physical place to go. At school, children receive positive feedback from teachers on a regular basis. Be sure to praise them for their efforts, work and behaviour - and remind them of the things they're doing well.🎉
If your child struggles with motivation, think about what appeals to them and make a deal. Yes, it would be lovely if kids would learn for the sake of it - but in reality, that's not always possible. Spur them on by letting them earn small treats, screen time or choose what to have for dinner. This kind of motivation can create a positive cycle of feedback and accomplishment.🏅
Work with educators
New academic years are full of change, with new subjects and teachers to contend with. Stay in touch with school staff and make sure they're aware of any issues your child is experiencing, especially with regard to mental health. Also, check that teachers' expectations are realistic. If your child struggles with the volume or type of work from a particular class, talk to the teacher and negotiate a more realistic goal.🎯
If there are things that can make your child's online learning experience more manageable, discuss them with educators. Perhaps your child gets anxious if their camera is on - in which case, warn the teacher that they may want to turn it off.
Give your child space
Make sure your child has their own dedicated workspace if this is possible. Check that their tech set-up works and that they can:
see the screen easily
reach at the desk comfortably
hear the teacher clearly
be seen and heard by the teacher
recognise when they're being asked to contribute
turn off their camera and microphone
Once they're comfortably set up, how close you stay depends on your child. Some children will prefer you to stay nearby, but others may feel put off by having a parent hovering at their elbow during lessons.
Find some fun
Your child isn't just missing lessons, they're missing day-to-day social interaction with their peers. You're not expected to be their teacher (they'll have plenty of access to educators online) but they may be missing their friends. Put aside time for fun activities, and if your child suggests something, lean in and say 'Yes!'
Arrange meetups with friends after school or at weekends to compensate for the lack of hanging out in the week. If you live near other kids from your child's school - arrange a lunchtime game of football/frisbee/tag on the local field.
Be kind to yourself
In the wake of the pandemic, the words 'remote learning' may have sent a shiver down your spine. It's ok to feel overwhelmed by the sudden turn of events - it's ok to not want to homeschool your kids all over again. Remind yourself (and your child) that this time it's different and temporary. You can still go out and see people and do the things that you enjoy.
Try to safeguard time for yourself to invest in your wellbeing - whether it's a trip to the gym, the pub or a walk by yourself. Lower your expectations of what you might achieve within your household and make time to decompress.🧘🏼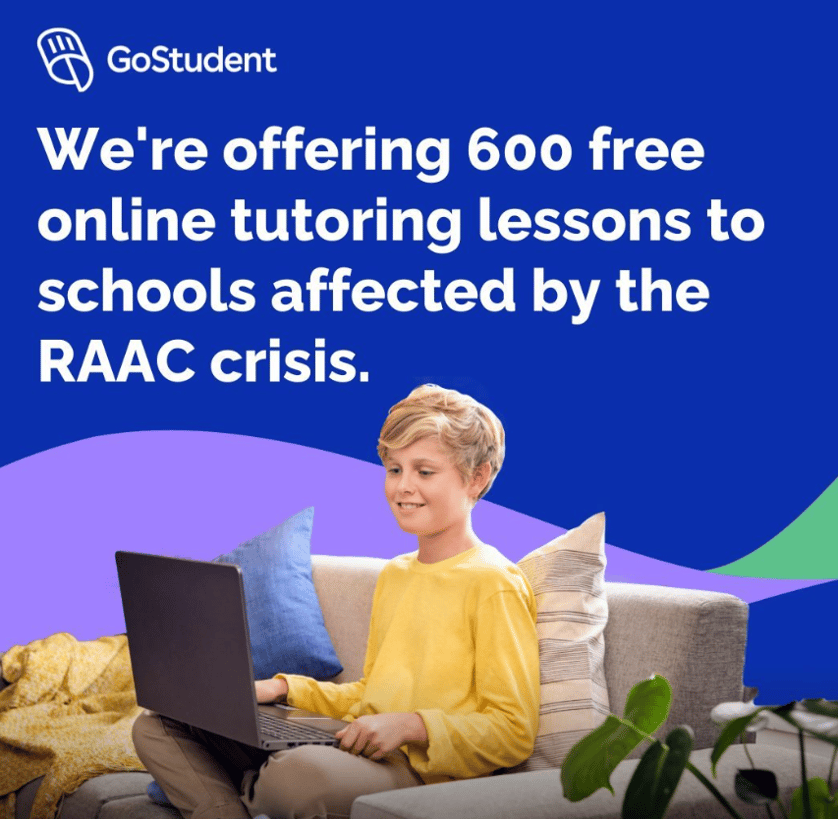 Here at GoStudent, we understand the consequences of the disruption caused by the RAAC crisis. As specialists in online learning, we're offering 600 free online tutoring lessons to schools affected by RAAC closures (affected schools can apply online here). If you know that your child's school is affected, let them know that they can get involved.
If your school doesn't manage to access these lessons and you think that your child would benefit from some extra support, why not book a free trial with one of our expert tutors.👩🏾‍🏫