Contents
Antibullying Week is an important annual event that can make the school and online environment safer and happier for kids, and potentially save lives. It doesn't just help children being bullied, but also those who are acting out by bullying and the bystanders who feel at a loss and don't know what to do. Creating this supportive, protective bubble at school and online is a large part of this campaign's ongoing success and we'll share how you can get involved.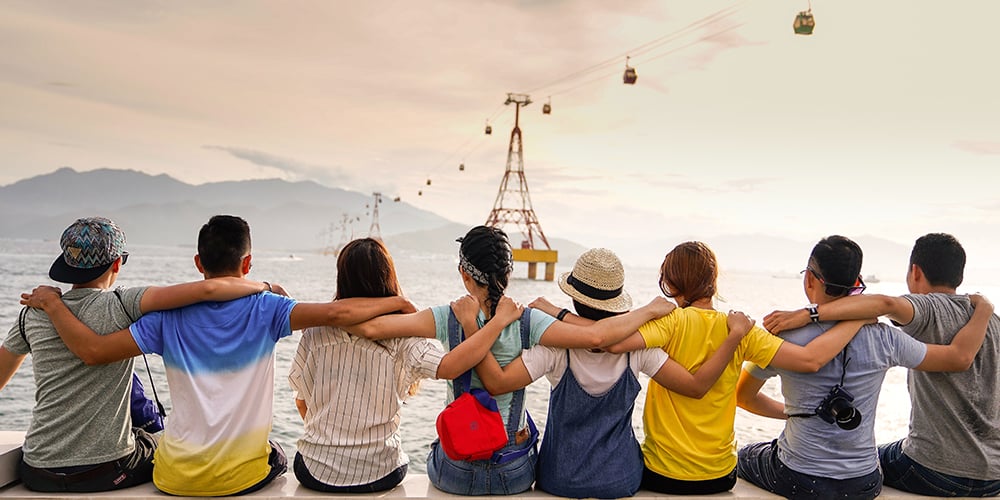 Why do we have an Antibullying Week?
Bullying is a common challenge that affects school children around the UK. Maybe your child has been a target already. The statistics show that bullying impacts many young people. Here are some numbers that research presents:
30% of children have been bullied in the last year
17% of children have been bullied online
Roughly 1 child in every classroom is bullied each day
What are the impacts of bullying on the victims?
Bullying has some obvious short-term consequences on victims leading them to become withdrawn, afraid of school (or online platforms), and generally less happy. This can impact their performance at school and behaviour at home.
There are also some frightening long-term effects that can carry through to adulthood including:
Mental health

issues
More likely to be unemployed
Propensity to be obese
Predisposition to earn less money
Less likely to be in a

stable relationship

Less likely to leave school with any qualifications
For these reasons and more, it's a serious problem that needs addressing and tackling at the community level, in schools, and at home. 💪 That's where Antibullying Week UK steps in.
What does Antibullying Week aim to achieve?
Anti Bullying UK Week began in 2002 and its main aim is to raise awareness and provide solutions for preventing and responding to bullying. Each year the campaign creates loads of resources for schools to use.
Antibullying Week has a large social media presence, posting positive messages and getting the community involved including influencers, young people, adults, companies, and parliamentarians.
Best of all, the success of the campaign is tracked and has proven to be useful across the board. Here are some of the happy findings:
93% of young people feel that Antibullying Week helps to raise awareness about bullying
86% of young people think that Antibullying Week helps schools to fight against bullying
The importance of tackling bullying cannot be underestimated. As one young person was quoted in the findings, "Anti-Bullying Week literally saved my life". While it's incredibly sad to think that any young person ever felt so low, it's great to see that this initiative is working and making such a massive impact.
Anti Bullying Week facts
Anti Bullying UK Week is organised by different organisations in England and Northern Ireland, although the dates are always the same. In England, Antibullying Week is organised by the Antibullying Alliance which is made up of around 140 member organisations. In Northern Ireland, Antibullying Week is organised by the Northern Ireland Anti-Bullying Forum which is made up of 25 member organisations. 🎗️
Here are some of the different years' themes that have been the focus to give an example of the subtle differences and similarities between the way that England and Northern Ireland promote the week:
| | | |
| --- | --- | --- |
| Year | England | Northern Ireland |
| 2006 | Bystander - 'See it, Stop it, Get help' | Bystander - 'Don't Just Stand There' |
| 2008 | Difference and Diversity -'Being Different, Belonging Together' | 'Tackling the fear of being bullied in a new school' |
| 2010 | 'Taking Action Together' | Bullying hotspots in school - 'Where the bullying is...and how we can stop it' |
| 2013 | 'The future's ours: safe, fun and connected' | 'I See, I Hear, I Feel' - including name-calling, spreading rumours, 'dirty looks' and cyberbullying |
| 2015 | 'Make a Noise about Bullying' | Definition and understanding of bullying behaviour - 'What Bullying Means to Me' |
What about Anti Bullying Day?
Anti Bullying Day is organised separately from Antibullying Week. The idea originated in Canada but it's now recognised in many countries around the world. Among events organised locally in different countries and cities, the main premise is that everyone wears a pink shirt to demonstrate their support against bullying. 💗
When is Anti Bullying Day?
The United Nations declared the Anti Bullying Day official date as May 4, although some countries celebrate it on different days. That means in 2021 it was on a Tuesday.
When is the official Anti Bullying Day 2022?
The official worldwide date set for Anti Bullying Day 2022 is Wednesday, 4 May.
What week is anti-bullying?
In the UK, Antibullying Week is held during the third week of November. Let's look at the specific anti bullying 2021 dates and anti bullying 2022 dates.
When is Anti Bullying Week 2021?
Antibullying Week in 2021 is being held from 15 - 19 November 2021.
Odd Socks Day is on Monday 15 November to kickstart the week. It's to celebrate everyone's individuality and to express how we are all unique. Send your kid off to school with mismatching socks on purpose and proudly showcase your own odd socks off around the home, shops, or office that day.
The Antibullying Alliance invites participants wearing their odd socks to donate £1 or whatever amount that you deem appropriate (and can spare) to support the great work they do. However, donating isn't essential to take part and the most important thing is to wear mismatching socks to show your support.
When is Anti Bullying Week 2022?
The Anti Bullying Week 2022 date is 11 November - 14 November 2022. Odd Socks Day will be on Monday 11 November in 2022.
What is the Anti Bullying Week theme?
As we saw in the table above, the themes change every year. While the goal of the week is the same, the different organisers will promote a theme that provides a focus and structure.
What is the Antibullying Week 2021 UK theme?
The theme this year in England is 'One Kind Word'. It's to highlight the positive impact that even a minor comment or action can make on someone's day. The Antibullying Alliance asked over 400 young people, parents and teachers what they wanted the week to be about in 2021. The answer was to make it about hope and fighting bullying with kindness.
This year, the theme is exactly the same in Northern Ireland (One Kind Word). It was actually developed across all four nations of the UK. Rather than just be anti bully it reminds us to be compassionate and that the best way to beat hate or anger is with love and kindness. 😇
What is the Anti Bullying Week 2022 UK theme?
The focus at the moment is on the upcoming Antibullying Week in November 2021. No doubt the different organisers are already planning next year's theme in the background and it will be released sometime after this year's event takes place.
What activities can I do for Antibullying Week?
There are probably many activities that your children's school will hold to promote Antibullying Week. What can you do to get involved at home and support your kid further?
Here are some ideas on the Bullying UK site:
Wear

odd socks

on Monday 15 November 2021 (the first day of Antibullying Week). An easy activity that anyone can get involved in!
Watch some of the great

anti bully videos

together that have been created and discuss how it makes your child feel
Raise awareness and show your support by buying the official Antibullying Week wristband
If your child is in secondary school, there is a great presentation available to download that covers a wide range of pertinent issues including

cyberbullying

and choosing kindness
Check out some of the debate topics provided around bullying and have a stimulating discussion with your child at home on each issue
Depending on your child's age and school, you may be able to get involved with activities at your child's school so why not contact your kid's teacher to see if they need any volunteers?
What is the colour for Anti-bullying Week?
Blue is the anti bully colour used in the UK. You'll find that the 2021 wristbands are blue in keeping with this theme and show of support. 👚
What is Diana Award Anti-Bullying?
The Diana Award Anti-Bullying Campaign aims to change attitudes around bullying in the UK and beyond. There is plenty you and your child can do to get involved including fundraising, campaigning and running activities at school.
Your child could even become an Anti-Bullying Ambassador. All ambassadors get fully trained by The Diana Award Anti-Bullying Campaign. Your child would be given the skills to help educate their peers on bullying and promote tolerance, in an effort to keep other kids safe online and offline. 😊
In memory of Diana, Princess of Wales, The Diana Award isn't just to reward work around bullying. It can be for any outstanding social action or humanitarian work and is open to 9-25-year-olds. Young people can win the award by nomination only.
What to do if your child is being bullied?
If your child is having a hard time at school or online because they are being bullied, you should act immediately. You don't need to wait until Antibullying Week to take action and receive support. We're sorry if this is happening to your child and we understand this is as difficult for you to watch as it is for them.
Please don't feel helpless or alone though. The UK has many services waiting to help you and your child. The Antibullying Alliance has a wealth of advice on their site, including links to expert organisations you can call who are friendly and professional and just want to help you and your child.