In our GoStudent Personal Stories, we talk to real people about real experiences. Gain an insight into education and learning trends as well as authentic advice from experts.
In honour of International Women's Day, we spoke to Brittany Gropp, the founder of FutboLISTAS, a young social startup based in Seville, Spain, that encourages girls and women to get involved with football while learning English at the same time.
Sports and being part of a community are both hugely beneficial, especially for young women. It encourages them to build confidence, relationships and boost their self esteem.
Keep on reading to discover why female representation in sports is so important and what makes clubs like FutboLISTAS so special.
Can you tell us a little bit about what you do at FutboLISTAS?
I'm the Founder of FutboLISTAS, and since we are a young social startup, that means I'm involved in just about everything! I help with marketing/branding, curriculum development, recruitment of coaches (paid and volunteer), girls, and mentors for the program, measuring program impact, sponsorships and partnerships, interviews with press…the list really goes on and on!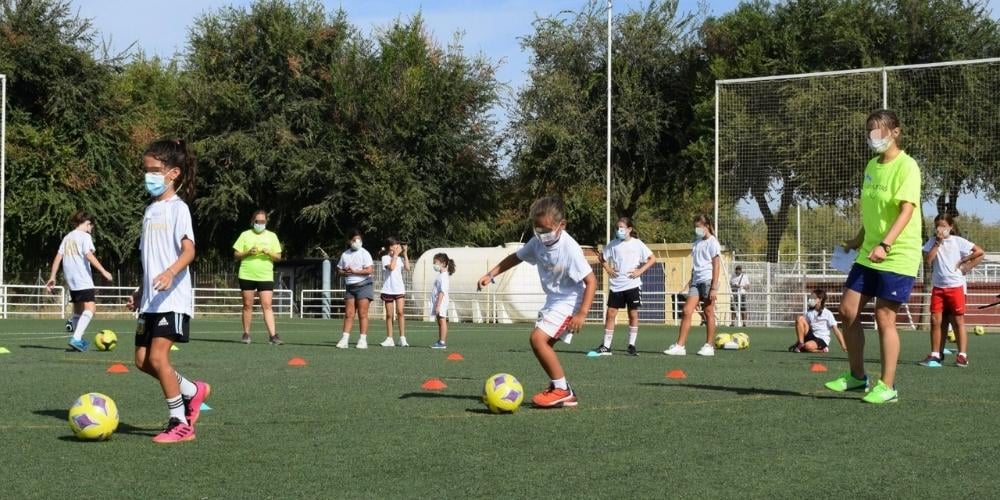 What inspired you to start FutboLISTAS?
I grew up in the U.S., where girls and women playing sports (and specifically playing football) is a very normal thing. My whole life I naively assumed that was the case everywhere in the world, so I was very surprised when I first moved to Spain during the summer of 2010 and learned that in Spain – a country whose name is almost synonymous with football – football was really only accessible and encouraged for boys and men.
I later lived in Madrid for a year in 2014, and wasn't able to play football the whole year there because I couldn't find a team that would allow me to play as a woman. When I moved back to the states in 2015 just before the Women's World Cup, I watched a phenomenal ESPNW documentary about Spain's Vero Boquete that had a huge impact on me. It made me profoundly sad and frustrated to learn that Vero – just 3 years my senior – had such an incredibly tough time trying to find her place in the football world as a kid, whereas I'd had opportunity after opportunity playing as a girl in the States.
I really took those opportunities for granted, not only because football helped me to meet friends, stay healthy, and compete, but also because football taught me many, many skills and lessons that I use daily in my personal and professional life. I vowed to myself then that if I ever returned to Spain (I was already eyeing a move back to Andalusia at the time), I would try to do something to help get more girls involved in the beautiful game. So when I moved back to Sevilla in 2016, I started brainstorming, and finally had the experience, connections, and courage to bring FutboLISTAS to life in 2019!
Why do you think it's so important for girls and women to have the opportunity to be part of a sports team?
For me FutboLISTAS is first and foremost about making it clear that girls, too, belong on the football field. Because it's absurd to say that football is too masculine for girls or that girls aren't strong enough, fast enough, etc. FutboLISTAS is the first all-girls rec football program in the region, which means any girl between 5-12 – regardless of size, shape, skill level, or knowledge of the sport – is welcome.
Our second main objective is to show our girls, their families, and the community at large that football is much more than a sport. Our motto is "más que deportistas" ("more than athletes") because we don't stop at teaching our girls football skills – our football training is based on life skills and values such as communication, leadership, teamwork, perseverance, self confidence, and so many other valuable skills that our girls can use to go after whatever dreams they have. And, of course, we run our practices in English, which helps them improve their language skills and gain confidence.
FutboLISTAS provides the opportunity to both play football and learn English at the same time. What are the benefits of learning this way?
Running our football practices in English with native speakers as coaches is another big differentiator between FutboLISTAS and other clubs. I myself became fluent in Spanish after joining a local women's football team in Seville, so I know first-hand how conducive the environment is to practising a language.
Nearly all of our girls are in English-Spanish bilingual schools, so FutboLISTAS practices allow them to continue practising English in a much more fun and interactive environment than the classroom can often be.
Aside from the benefits of staying fit and healthy, what else do the girls at FutboLISTAS gain from being part of the team?
There are infinite studies that show that practising sport as a kid helps women to achieve success in their careers later in life. My personal favourite study to quote is one conducted by ESPNW and Ernst & Young where over 400 women in leadership positions were surveyed globally, and it was found that 94% of them played sports when they were younger. There's undeniable correlation there.
While the list of skills, habits, and values that sport can teach is endless, at FutboLISTAS, we focus on five specific ones throughout the year: teamwork, leadership, communication, perseverance, and responsibility. Not only do we connect our football activities with these life skills, but we also intentionally take our minds off the on-the-field stuff once a month when we invite female mentors – local professional women from different career fields – to chat with our girls.
Our mentors tell us about their careers, how they got there, and how they use the same life skills we learn at FutboLISTAS in their everyday lives. Our hope is that these conversations provide the girls with more female role models in their community, while also encouraging them to stay involved with football even if they don't see themselves playing professionally one day. Unlike many clubs in the area, we aren't focused on teaching our girls to be professional footballers, but rather on teaching them to be good people with big dreams.
Why is female representation and involvement in sports so important? What do you think the future holds for women in sports?
It makes sense that girls' and women's football is so popular in the U.S. when you consider the fact that our women's national team has been winning Women's World Cups since the event debuted in 1991.
The fact that girls my age in the U.S. had access to watch women's games in-person and on TV; to listen to, watch, and read interviews with our women's players; to purchase jerseys, posters, and even Barbie dolls to represent our women's national team made it a no-brainer that so many of us wanted to play football growing up, and that U.S. society accepted it as perfectly normal and created spaces for girls and women.
When you compare that to Spain, whose women's national team didn't qualify for the World Cup until 2015 (24 years later), and whose media largely refuses to prioritise milestone achievements in the women's game because they'd rather feature mundane news about the men on the cover, it makes sense that Spain is behind in this regard. Billie Jean King has a phrase that I love to repeat because I believe it with all my heart: "If you can see it, you can be it." Sure, the demand and appreciation for girls' and women's football isn't at the same level in Spain as it is in the U.S., but I firmly believe that's just because Spanish society hasn't been exposed to it enough to get excited about it. And we know it's human nature to doubt things that are unfamiliar to us.
But the great news is that things are changing in Spain (as they are in other countries whose women's game got a later start). Futbol Club Barcelona Femení are giving Spanish media no choice but to highlight their complete domination in domestic and international play. Alexia Putellas became just the second Spaniard – male or female – to win the prestigious Ballon d'Or in November 2021, and it's clear her awards are not stopping there. The Spanish women's national team is on a 19-game winning streak as they creep up in the rankings ahead of the Women's EURO this summer.
Mark my words: girls' and women's football is about to explode in Spain now that young girls have so many incredible women to watch and look up to…and FutboLISTAS will be waiting with arms wide open for any girls in Seville who want to give the beautiful sport a go!

Find out more about FutboLISTAS on their website: http://futbolistassevilla.es/