Chapters
2. What will school start look like?
3. What does Back to School in September 2021 look like?
Wow! We don't know about you but it feels like the summer holidays rolled around pretty quickly. Before we know it it will be time to dust off those uniforms, pack lunch boxes and get ready to head back to school. To make sure both you and your child are fully prepared for the start of a new school year, keep on reading to find out the answers to all of your back to school questions.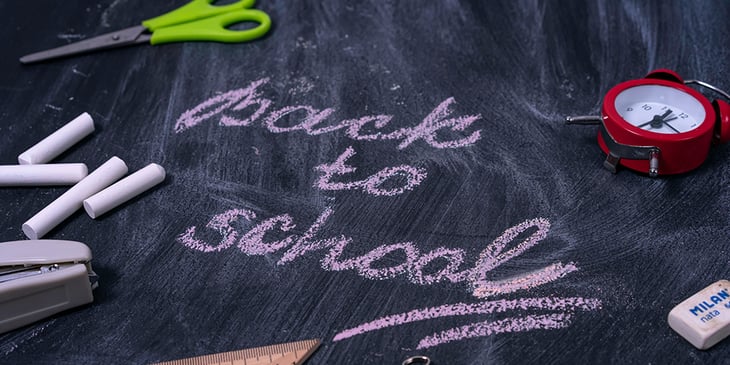 When does school start ❓
In the UK, the start of a new academic year begins in September. Summer holidays take place throughout July and August and usually last for around six weeks. While most schools in the UK follow a similar timeline, holidays and term dates are set by the local council, who publish the dates on their websites. Check out the info on Expatica.com to see a list of UK holiday dates from this year and last year, plus some great information on holiday childcare. 📆
Your child's school should provide you with information regarding important dates throughout the year, including holidays, teacher training days and celebrations. This information usually features in the parent's newsletter or can alternatively be found on the school website. If you're still unsure about when your child is due back to school, you can enter your postcode on the UK Gov website and check holiday dates on your local council's website. 💻
What will school start look like ❓
After such a turbulent time, confusion surrounding the rules about going back to school is to be expected. If your child is headed back into the classroom, it's important that you're informed about coronavirus regulations. Your little one might be feeling a bit nervous about the start of a new school year, especially after a year of home learning and lockdown. Check out websites like the BBC and Public Health Matters to find out exactly what the rules are and how to prepare for heading back to school post-pandemic. 🦠🦠🦠
We've compiled a list of the most important regulations for you right here:
👉 Masks and social distancing are no longer required in most schools in the UK. However, some schools have reintroduced masks in communal areas due to the spread of the Delta variant. In Scotland and Wales, all secondary school pupils are required to wear masks in class. Check your child's school website for further information. 😷
👉 The government has stated that it's no longer necessary to keep children in 'bubbles'. Children are now allowed to mix in larger groups at lunchtime and during assemblies. 🤝
👉 The NHS Test and Trace system will contact children that test positive for the virus and advise them to take a PCR test. 🧪
👉 From 16th August 2021, children under the age of 18 that have been in close contact with a positive case will no longer be required to self-isolate. 🧍
👉 If a child tests positive, they will have to self-isolate. 🏠
👉 Schools are asking families to take voluntary tests weekly. Children are still allowed to attend school if they don't take part. 🧑‍🏫
That's everything you need to know in terms of Covid regulations, but what else do you need to prepare for going back to school? Here's our handy checklist:
✔️ Uniform. Double-check that your child has everything they need in terms of uniform. Stock up on things like socks and tights, and make sure that everything still fits. Don't forget about their P.E. kit either, it's probably in desperate need of a wash! 👟
✔️ Stationery. Make sure your little one has everything they need in their pencil case. Some schools have specific requirements in terms of stationery. Your child may need a scientific calculator for maths or colouring pencils for art. As above, check your child's school website for further information. ✏️
✔️ Hygiene supplies. While it feels like the pandemic is almost behind us, it's still important for your child to pay attention to hygiene at school. Some teachers will ask you to donate things like hand gel, tissues, and wipes for the classroom. Make sure your child is equipped with the right supplies that will help them feel comfortable at school. 🧼
What does Back to School in September 2021 look like ❓
After such a long and drawn out interruption to our children's routines, heading back to school in September can seem a little daunting. A lot of parents are choosing to keep their children at home and continue home learning instead. Of course, every parent is entitled to make their own decision and we encourage you to do what feels comfortable for you and your family. 💕
What we will say is that children thrive off of routine. So whether you choose to send your child back to school or continue with home learning, be sure to incorporate structure back into your child's life and provide your support whenever they need it.
At GoStudent, we want to make sure each child fulfils their potential. If your child needs a little extra learning support after the summer break, why not book a trial lesson with one of our wonderful tutors today?