Contents
Welcome to our best children's books guide! Let us talk you through our top 15 best books for children. We'll also answer questions like; what actually makes a top children's book? Which are the most successful? And the most inclusive? All of our best kids books links connect you to a further synopsis and reading age via BookTrust and other great organisations so you can make even more personalised choices for your child. Let's dive in.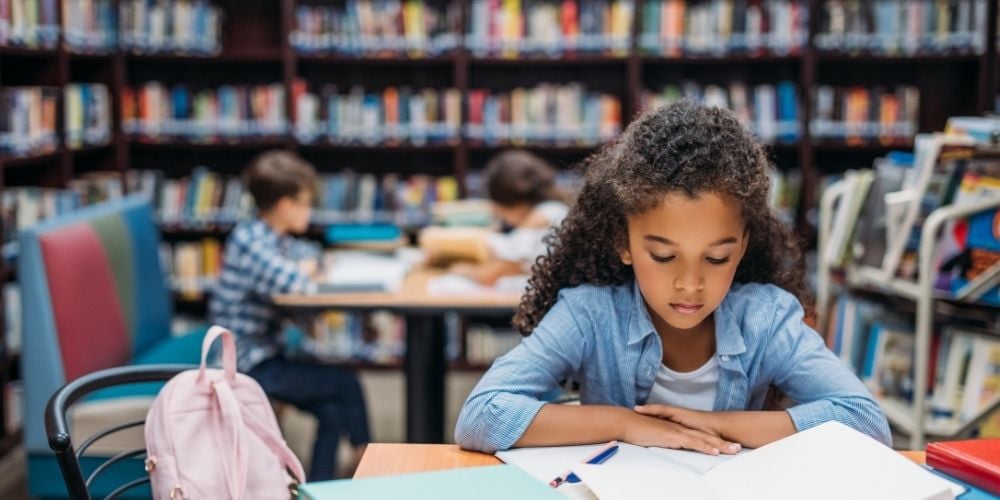 What makes the best children's books?
Have you read our guide on the best books for teens? Now it's time for us to cover our best children's books. Fostering a love of reading from a young age can open up children's worlds, improve their literacy and help to develop their empathy. But as parents it's often hard to know where to start!
We need to be mindful as adults when placing value judgements on childrens' literature. Does 'good' mean it's sold the most copies? Has the most adult-like moral messages? Appeals to most children, or encourages the reader to be a better person? All of the above are valid and helpful questions to consider when deciding if we want to steer our children towards certain books.
We also know that children want to share their recommendations with each other, and use books to form meaningful friendships (and to have something to talk about for hours!), so all of our recommendations are perfect for sharing between children and all of their friends. 😊
Reading is incredibly important for children because it helps them to develop cognitively, but also emotionally. Reading provides comfort, security and peace, and can be the ultimate form of escapism for children (into whole new universes!). Reading widely and regularly can also vastly affect children's academic progress, strengthening their critical skills and ability to process new information. You can make a huge difference as a parent by fostering reading habits, but also by reading together!
Even if you're not a reader yourself, storytime can be a fantastic way to spend a little quality time together every day, sharing in a new story. Studies show that 55% of all 0-2 year olds are not read to by an adult every day, which can often lead to a rejection of reading later in life. Even reading aloud for just 10 minutes can help!
A widely published critic and essayist (and children's book publisher), Edward Nawotka, asserted at Scholastic's children publishing conference that a great children's book is:
One that contains a simple and original idea presented with clarity and great power
One that connects with the reader, asserting its world directly into the reader's mind
One that makes the world seem larger and more interesting
One written with humor and a light touch
One that is a realisation of a complete but very different world
At GoStudent we align with these principles. We want to guide children towards great literature, and books that make them think, feel and imagine. ⭐ We want them to learn about the world we live in, but also to be transported to other worlds through their imaginations. And often, we want to re-read these books as adults, too. With that, here are our first three recommendations including some well-loved favourites:
If the best children's books are all about seeing the world in a new way, we 100% recommend this excellent series by children's author C.S. Lewis. The first book catapults the reader into Narnia, the world at the back of the Pevensie childrens' wardrobe. Full of rich fantasy imagery, religious symbolism and a wealth of characters, this book series teaches children about the themes of friendship, family and what it means to believe. There are seven books in the whole chronicle (hint: we also really love book three, The Voyage of the Dawn Treader), which will keep children occupied for months when they ask for the next installment.
Next in our recommended children's book list is The Boy in the Tower; a fable about friendship, loyalty and bravery. Set in the science-fiction world, the protagonist of this story is a boy just trying to make sense of the world around him. We love that this is the author's debut novel, and that she used to be a teacher, aiming to create a world that young people will know and recognise. This one is perfect for children who love fantasy fiction.
3. Holes by Louis Sachar (7+):
This winner of multiple book prizes is a firm favourite of both children and adults. When Stanley Yelnats is sent to Camp Green Lake Juvenile Detention Centre in the middle of the Texan desert, things start to get very strange indeed. We love the full cast of comedic friends, and villainous Camp Directors around Stanley as he starts to figure out the truth around him. This is one to read together as a family, and then watch the popular 2003 movie adaptation afterwards. Stanley is a hilarious and surprising hero who goes straight into our hearts.
What is the most popular children's book right now?
There's a reason these are the best children's books! Our next three books sold very well globally (and were some of the best children's books 2021), and we think they're pretty special, too:
This heartwarming, wonderful (and Newbery Medal-winning) story centres on Ivan, a silverback gorilla. The Silverback's job in the wild is to protect his family, but Ivan hasn't had a proper family to protect for a long time. Until Ruby arrives. Katherine Applegate was actually inspired by a real gorilla, also named Ivan, who spent 27 years in solitary captivity before animal welfare groups secured his transfer to Zoo Atlanta. This story will teach children about animals in captivity, but also universal themes like being brave. Check out the Disney adaptation together as a family after the final page is turned.
Where would this list be without one of the most popular children's books of all time? The first in this magical series has now sold over 120 million copies, and been translated into 73 languages. Harry, Ron, Hermione and a whole host of other characters have firmly embedded themselves into the childhoods of children and adults all across the world. The book (and series) cover important themes such as bravery and friendship and teach children about the importance of fighting for what is good.
One of the nation's best-loved new books, this story is perfect for all of the family to read together by the fire. The story centres around William Trundle - a boy who loves dinosaurs. The book is bursting with loveable characters, fast-paced adventure and, of course, Christmas spirit. Even better and more inclusively, William is a wheelchair-user, teaching children about the real experiences of those around them.
What are the most successful children's books?
Some of the best selling children's books aren't even set within our world and time at all. Child expert psychologist Bruno Bettelheim wrote that fairy tales are 'magic mirrors' which reflect our own society. 🌎 Even though they are often set in far-away lands, fairy tales (and stories like them) can tell us palpable things about our own social landscape.
Think Cinderella, with a dark twist! 200 years after Cinderella found her prince, the fairy tale is very much over. In this new world, the consequences for girls who don't find a match at the ball are very grave indeed. This dystopian story asks young people to question everything they're told, and teaches young girls to break down the constructs of the world around them. A brilliant read (and one to talk about with their friends!), beginning to end.
Good Night Stories for Rebel Girls is a children's book packed with 100 bedtime stories about the life of 100 extraordinary women from the past and the present. Set in a beautiful hardback cover, the pages are filled with colourful stories of women from all over the world. This is the perfect introduction to non-fiction reading for all children, and covers women in history long forgotten on the curriculum.
9. The Little Prince by Antoine De Saint Exupery (5+):
This short fable is one of the best-selling children's books of all time (over 140 million copies!). The little prince represents the open-mindedness of children. He is a wanderer who restlessly asks questions and is willing to engage the invisible, secret mysteries of the universe. It's now a contemporary classic, and a book to share and treasure! Remember that reading regularly develops children's vocabulary, and this book has a great list of advanced words worth discussing as you read.
Which children's books teach children about history?
Literature isn't only an escape, but our eyes into the past. Children's literature especially provides a safe way to explore history, and often more empathetically through characters they can truly invest in. Here are just some of our favourites:
Often a favourite taught in schools, Goodnight Mister Tom is an important story set just before the outbreak of World War II. The story centres around an evacuated child, Willie Beech, who lives a tumultuous and difficult life. This wartime classic provides a safe and thoughtful space for children to learn about what it might have felt like to be a child during the Second World War. It's worth pausing reading to cover some basic reading comprehension, to support your child in developing their memory skills.
Jacqueline Woodson is a famous author who predominantly writes books for adults, but in Brown Girl Dreaming she adapts her ideas for young minds. This multi award winning and New York Times bestseller is told in the form of poetry. It's a story set in North Carolina, about an African-American girl growing up in 1960s Civil Rights America. This is truly a global story though, about finding your voice and identity during times of change.
In 2021 we are in an age where we are challenging the perspective from which we view history. This story uniquely portrays the war through the eyes of a child stuck between the need for safety and the desire to help. Our central character here, Bamse, is asleep when the Germans invade Copenhagen, and their life is threatened during the Nazi occupation. We love the portrayal of the Danes to save their Jewish countrymen, and the portrayal of themes of good over evil.
What are the most inclusive children's books?
Every year, children are becoming more and more interested in reading about a world that reflects their own experience, whether that be through race, gender, class, sexuality and more. 🌈 These are our favourite inclusive recommendations, to support you to guide your children into reading about the different experiences of children around them:
Want to explore a whole new continent with your child? From her den in the mango tree, Asha makes a pact with her best friend, Jeevan, to find her father and make things right. With an unshakable spirit inherited by her grandmother, Asha crosses the world's highest mountains and transgresses rural and beautiful India. This is a story that transports students to a whole new world and the power of spiritual beliefs and tradition. Whilst over a third of students in the UK identify as black, Asian or minority ethnic, just 1% of GCSE English students study books by BIPOC authors. We want to remedy this early on, by exposing children to incredible books written by non-white authors from a young age.
Around 6% of children in the UK are disabled, yet very few narratives involve their stories. This is the true and incredibly inspiring story of Emmanuel Yeboah. Born in Ghana in 1977 with a deformed leg, he became the personification of courage and strength. It's a picture book, so the perfect introduction to readers and non-readers alike. Emmanuel rode an astonishing four hundred miles across Ghana in 2001, spreading his powerful message: disability is not inability. Today, incredibly Emmanuel continues to work on behalf of the disabled.
15. The Whispers by Greg Howard (7+):
The Whispers is set in the US's rural deep South, where main character Riley is certainly not allowed to have a crush on another boy. This story entwines love and romance with fantasy and mysterious creatures called The Whispers. Whilst statistics on the numbers of children in the UK who identify as LGBTQ+ are unclear, more than two thirds of respondents to national LGBT surveys admit that they are afraid to hold their partner's hand in public. We can't help but ask if there were more role models in film and literature, would children and adults be less afraid to be openly themselves?
And, breathe! There you have our epic children's book guide on all the top children's books that will keep your child's imagination growing. There are hundreds of fantastic books out there, so let this guide be a starting point to a world of new authors.
At GoStudent we want all children to foster a love of reading, and we want to support parents to know where to start with recommendations. We hope this guide gives you an insight into the fantastic world of contemporary children's literature, and the best kids' books. 📗