Contents
Non-fiction texts are just for adults, right? Wrong! From insightful science guides to inspirational tales about the most remarkable people – both historical figures and those alive today – our list of the 10 best non-fiction texts for kids are sure to provide hours of entertainment, wonderment and awe for the whole family to enjoy. 👇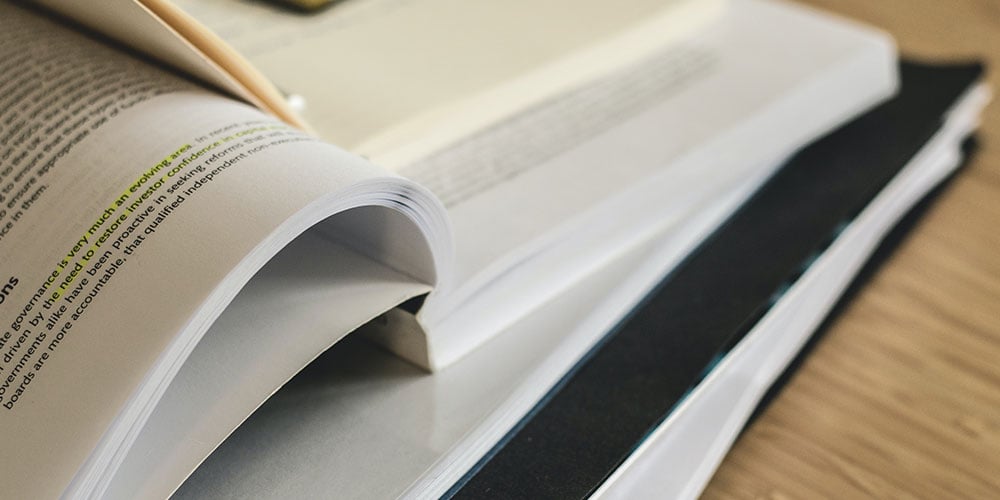 What's the difference between fiction and non-fiction texts?
As of 2010, the data fiends at Google calculated that there were just shy of 130 million unique books in our world. Twelve years on and who knows how many tombs, volumes, novels and chronicles may populate our bookcases, sit atop our bedside tables, contribute to library collections and lie in wait in book stores – freshly lasered and etched – ready to be opened for the first time. 📚
So, of those millions upon millions of books, how many are fiction and how many are non-fiction texts? And what is the difference between the two?
Generally speaking, fiction books and texts feature a plot, settings and characters created from the author's imagination, while nonfiction books and texts will feature factual stories focused on actual events and real people. Seems simple enough, right? But it can get a little confusing when the two intersect – when characters in fiction are based on real-life people for example. 🤷
So, given that fiction refers to texts that have been entirely imagined or made up by the author, non-fiction is by far the larger group of texts and is made up all of the remaining non-fiction text types including histories, biographies, journalism – magazines, online articles and blogs – essays, travel guides, philosophy, self-help and more.
Types of non-fiction texts
So, what is a non-fiction text? And how do you spot one in the wild? One easy way to decipher if a book is fiction or nonfiction is to remember that 'fiction is fabricated while non-fiction is factual'. Let's break the features of a non-fiction text down together with some fiction and non-fiction examples in the table below. 🤓
Fiction texts examples 📘

Type

Description

Example

Short stories

A brief fictional prose narrative that is shorter than a novel and that usually deals with only a few characters.

The Three Strangers

by Thomas Hardy

Novels

A long, fictional narrative that describes intimate human experiences

Jane Eyre

by Charlotte Bronte

Myths

A traditional story, often concerning the early history of a people, typically involving supernatural beings.

Pandora's Box

from Works and Days

by Hesiod

Fairy tales

A children's story about magical and imaginary beings and lands.

Hansel and Gretel

by Brothers Grimm

Non-fiction texts examples 📒

Type

Description

Example

Biographies

A detailed description of a person's life written by someone else.

Steve Jobs

by Walter Isaacson

Journalism

There are five principal types of journalism: investigative, news, reviews, columns and feature-writing.

The Passage of Power

by Robert Caro

Essays

A short formal piece of writing dealing with a single subject.

Fail Better

part of Changing My Mind

by Zadie Smith

Histories

A continuous, systematic narrative of past events or people – usually written as a chronological account.

The Making of the English Working Class

by EP Thompson

Travel Guides

A book of information about a place designed for the use of visitors or tourists.

Take the Slow Road: Scotland

by Martin Dorey

Philosophy

This genre runs from traditional philosophy to scientific theories to analysis of cultural phenomena.

Nicomachean Ethics

by Aristotle

Self-help

Guides to managing self-improvement in business success to confidence, relationships and dieting.

How to Win Friends and Influence People

by Dale Carnegie
Reasons to get your kids reading non-fiction texts
Children in the UK have been consuming books in greater and greater numbers over the last few years, with young people reportedly reading and enjoying reading even more during lockdown. In 2020, the revenue generated from children's books in the UK amounted to 396 million British pounds. 🤑
In the early months of 2020, 46.2 percent of children and young people in the UK reported having read non-fiction books outside of their school classes at least once per month, up from 45 percent in the corresponding period of 2019.
According to the National Literacy Trust's Annual Survey, almost 50 percent of children said that they had read new books during lockdown stating that reading has provided refuge in this difficult time, supporting their wellbeing and enabling them to dream about the future. 💭
So, here are just some of the reasons it's important to get your kids reading non-fiction texts.
#1 Encourages independent interests
Reading non-fiction texts can help your child to define their own identity and interests. If most adults are reading biographies, history books and newspaper articles that reflect their interests, why can't children do the same in an age-appropriate way? Reading non-fiction texts helps children to form their own tastes and opinions. 😃
#2 Broadens vocabulary and comprehension
One of the features of non-fiction text is its use of technical language as well as useful academic terms like 'consistent', 'definition' and 'indicate'. Also, the structure of non-fiction texts offers a more interactive way to approach learning – instead of reading the entire book we might skim through, read just one section in-depth, use the glossary to look up a new word or use the index to find a topic quickly. 📕
#3 Introduces different language patterns
Although creative storytelling is a great skill, being able to formulate and present an opinion with a more formal writing style will help your child at school and beyond. Unlike fiction texts, non-fiction texts tend to make greater use of the passive voice – 'it is believed that…', rather than 'I believe that…' – exposing your child to differing language patterns and a more academic, impartial tone of voice. ✍️
Everyday examples of non-fiction texts
There are plenty of English non-fiction texts and books for your little ones to get their teeth into. In fact, they are probably consuming and creating oodles of non-fiction already! Here are 5 examples of non-fiction texts that your kids are exposed to everyday. 🚶
Billboard advertisements

Letters

or postcards between family and penpals
Their own or friends' diary entries
Information leaflets from attractions and days out
Museum and gallery blurbs
The 10 best non-fiction texts for kids
As well as being entertaining, funny and often gorgeous to look at, non-fiction books can also teach your child about the world and difficult-to-grasp topics. Non-fiction can also appeal to reluctant readers in a way that fiction doesn't.
Here are just a few of the best non-fiction texts for kids. We hope our favourites get you and your budding bookworms excited about non-fiction texts!
#1
On the Origin of Species
by Sabina Radeva
Molecular biologist and illustrator Sabina Radeva has recreated Darwin's most famous work as a beautifully illustrated book for children and adults alike. The stunning pictures bring the theory of evolution to life for young readers and anyone who wants to learn about evolution.
#2
Grow
by Nicola Davies and Emily Sutton
Explaining the concept of DNA to young children sounds an impossible task but by all accounts, this book succeeds beautifully. All living things grow - every plant and every animal, including human beings and there's something about the way we grow that links us all together. With words from Nicola Davies and exquisite artwork by Emily Sutton, this groundbreaking book is enchanting and inspiring.
#3
Coronavirus: A Book for Children
by Elizabeth Jenner, Kate Wilson and Nia Roberts
With input from expert consultant Professor Graham Medley of the London School of Hygiene & Tropical Medicine, as well as advice from teachers and child psychologists, this approachable and timely book provides accessible explanations about the coronavirus and its effects – both from a health perspective and the impact it has on a family's day-to-day life.
#4
The Element in the Room
by Mike Barfield
Just about everything in the universe is made from only 92 elements – and from aluminium to zinc, many of them are hiding in your very own home. Packed full with beautiful and quirky illustrations by Lauren Humphrey, this unique and novel introduction to elements in the periodic table and the mystery of how absolutely everything came to exist is sure to excite all young readers.
#5
Little People, Big Dreams
series by Maria Isabel Sanchez Vegara and Conrad Roset
Presenting the lives of pioneering figures for younger readers, the Little People, Big Dreams series is a marvel of clarity and colour. From Jane Austen to Martin Luther King, each book provides an age-appropriate overview of an iconic life in simplified text and bold, captivating illustrations. Inspirational and enlightening, these volumes are an essential addition to any child's bookshelves
#6 S
peak Up! Speeches by Young People to Empower and Inspire
by Adora Svitak
From ground-breaking scientific inventions to pleas for the environment, anti-war speeches to incredible testimony of lived experiences, the speeches collected in this book are testament to the hopefulness and spirit of the next generation. It delivers a powerful message with a positive belief that we can, and should, act to protect the things we love.
#7
Outside: A Guide to Discovering Nature
by Maria Ana Peixe Dias and Ines Teixeira do Rosario
Amphibians, birds, rocks, oceans and clouds: they're all explored in this stylish guide to nature for children in cities and the countryside alike. Kids can become nature detectives and follow animal tracks, identify rocks, make a birdhouse and a swing that will reach the clouds. They can also become inspired by nature to make sculptures, write stories and draw animals.
#8
Fantastically Great Women Who Changed The World
by Kate Pankhurst
Written and illustrated by a direct descendant of suffragette Emmeline Pankhurst, this colourful picture book describes 13 inspirational women from history. Showcasing some of their great achievements across beautiful double-page spreads with additional 'Did you know?' facts, each woman is excitingly introduced, encouraging intrigue and wonderment in young minds.
#9
Dogs in Space
by Vix Southgate
This fascinating picture book tells the true story of two dogs, Belka and Strelka, who became famous cosmonauts. From the moment Oleg, a scientist from Moscow's Space Centre, found the two strays, he knew they were special – clever, calm, brave and obedient. Their pioneering flight into outer space paved the way for human space travel and the little dogs became famous all over the world.
#10
Grandad Mandela
by Zazi Ziwelene & Zindzi Mandela
Endorsed by the Mandela family, this uplifting tale, with distinctive mixed-media illustrations, introduces Nelson Mandela to a new generation, ensuring his legacy of justice, fairness and equality lives on. Through the eyes of his great-grandchildren, Zazi and Ziwelene, young readers will learn how this key historical figure worked tirelessly with his opponents to help create a fairer society.
Would you like to boost your child's learning and literacy? Our GoStudent tutors are passionate about working with young people to fuel their enthusiasm and support their academic achievements. Book a free trial lesson to see how it can work for you and your family today. 🎒