Contents
Open evenings are an excellent way to find out if a school is right for your child. It's important to know what to expect and which questions to ask. Our parent's guide to open evenings includes top tips and a list of questions to ensure you make the most of them. 🙌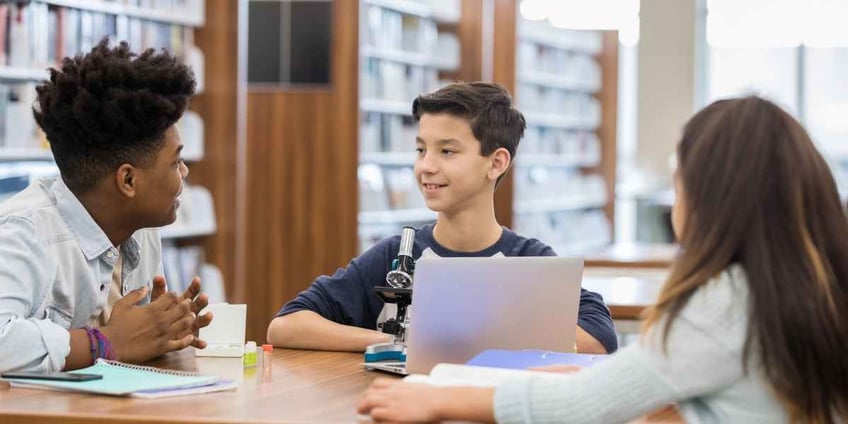 What is a school open evening?
School open evenings are an opportunity for schools to invite prospective students and parents. It's an event that lets parents and children explore and evaluate the school before deciding on whether or not to apply. 🏫
Open evenings offer an invaluable opportunity to get a feel for a school. It's a time to get advice on the admission process, meet with teachers and students, hear from the headteacher, take a tour and ask important questions.
Remember, school open evenings are not to be confused with parents' evenings. Parents' evenings are an occasion for parents of children already at that school to meet with teachers and discuss their child's work and progress. 👪
What to look out for on an open evening tour
Open evenings are an opportunity for schools to promote themselves, so how they organise these evenings can tell you a lot about their ethos and values. 🚸
Open evenings can vary, but most will include a school tour. Often led by a student guide, a tour provides a walkthrough of the school, highlighting classrooms, departments, and facilities. Teachers are often positioned in their classrooms, ready to chat with you on your way around.
During the tour, you might like to pay close attention to:
Exercise books 📚– How often are they marked, and is the feedback constructive?
Toilets 🚽– are they accessible, free of graffiti, and well-maintained?
Equipment 🎺– is a range available in the Music, PE, Technology, and Science classrooms?

Library

📙– is it well-organised and well-stocked

with spaces to sit?
Outside space 🌳– is it well-kept, so everyone feels welcome? Is it mostly paved or dedicated to sports?
Signage ℹ️– is information shared clearly? Check the language for tone. Is it encouraging or disciplinary?
What questions should I ask at an open evening?
An open evening can be the starting point in a valuable relationship between the school, teachers, and parents, so it's important to do your research beforehand and arrive with relevant questions.
We recommend reviewing the school's website before attending an open evening for information on their admission process, curriculum, behaviour policy, and links to Ofsted reports. 🧑‍💻
With more information under your belt, you can then ask the students and teachers more specific or pastoral questions. It's not about asking gotcha questions but rather getting key insights to help you with your decision.
Questions to ask your student guides
What are your favourite subjects? What subjects do you find challenging?
What do you like about your teachers?
Do you know your current level or predicted grade? Do you know what to do to reach the next one?
Where do you go if you are upset or worried about something?
Is there anywhere you avoid at break or lunchtime?
Top tip: Start with easier, ice-breaker questions before asking the tougher ones. Being approachable will mean you get more honest answers. 👌
Questions to ask teachers and staff
What staff development opportunities do you have here?

How big are your classes, and what are your student expectations?

How do you approach homework

, and how often is it set?

How many lessons do you teach per week?

Does your subject set? If yes, what criteria do you use, and how easy is it for a student to move between sets?
Top tip: When the teacher talks, are they directing all their attention at you, or do they include your child when they communicate? 🧑‍🏫
School open evening FAQs
Simple answers to the most commonly asked questions about open evenings:
Should I bring my child to the open evening?
Firstly, check the event details. If your child doesn't want to or has a conflicting commitment, it may not be worth forcing the situation. Most open evenings are designed for parents and children to attend together.
How can I find out about open evenings?
The best place to look for details of open evenings is on each school's website. It is also worth checking the press – online and local papers – as well as council and Local Education Authority websites.
What should I wear to an open evening?
Open evenings are usually informal events, so there is no need to dress up. Go for smart casual clothing that you feel comfortable in. Most importantly, wear sensible shoes so your feet don't suffer while taking a tour.