Contents
More than five million school meals have gone meat-free or plant-based since the launch of ProVeg UK's School Plates programme, kickstarting a meat-free school dinners revolution in the UK. 🥬
Has your child's school adopted a more meat-free approach to school dinners? Are you interested in how a plant-based diet might affect your child's health? Then this is the article for you. 👇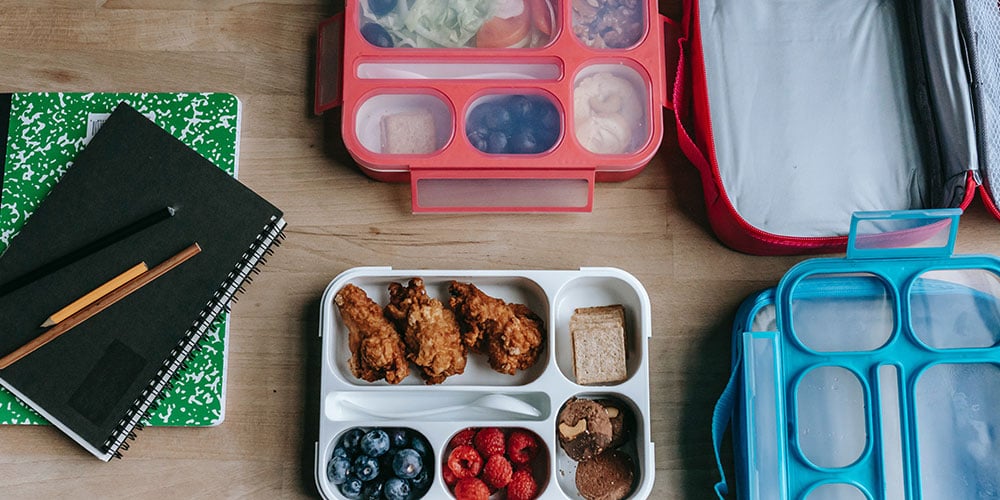 ProVeg UK's School Plates programme
The introduction of ProVeg UK's School Plates programme has seen 25 major school caterers, feeding over 350,000 children in around 2,500 schools leading the way in embracing the benefits of plant-based food. 🍅
Through its School Plates programme, ProVeg UK provides the following support, totally free of charge:
reviewing school menus
suggesting creative language and positioning changes to increase the uptake of existing veggie meals
developing new recipes
delivering plant-based cooking workshops in schools
Why are schools introducing meat-free dinners?
Local authority caterers are increasingly being guided by the Climate Change Committee's recommendation of a 20 per cent shift away from all meat and dairy by​ 2030 – rising to 35 per cent by 2050 – to put the UK on the path to net-zero. 🙌
They are also influenced by the National Food Strategy, on which ProVeg UK was officially consulted, which recommends the nation eats 30 per cent less meat, 20 per cent more fruit and vegetables, and 50 per cent more fibre by 2032.
Jimmy Pierson, director of ProVeg UK, said:
"We've been inundated with school caterers wanting our help to make their menus healthier and more sustainable. [...] The main driver for our partners is the environment and climate change, with around 80 per cent of local authorities in the UK has now declared a climate emergency.
Young people care about climate change and they care about the planet, more than any other generation. We owe it to them to make food a key solution to the climate crisis, starting with the food they eat every day at school." 🚸
Are meat-free school dinners healthy?
Whole plant-based foods are great for our health. They are packed full of nutrients and fibre, are lower in fat and calories than animal-based products and lower the risk of chronic diseases. 👍
Most UK children are fibre-deficient, with almost one-third of children aged 5-10 eating less than one portion of vegetables per day. This can lead to an increased risk of heart disease, stroke, hypertension, obesity, type 2 diabetes and several types of cancer.
Eating more plant-based foods can also help to reduce childhood obesity, which is regarded by the World Health Organisation as a serious public health challenge. Obesity rates in both reception-aged and year 6 schoolchildren increased by around 4.5 percentage points between 2019-20 and 2020-21 – the highest annual rise since the National Child Measurement Programme began. 🧒
What does a week of meat-free school dinners look like?
Our Lady of Sion School in Worthing have been have been serving plant-based meals to schoolchildren to rave reviews. Let's take a look at what a week of meat-free school dinners looks like there – hopefully this is enough to convince even the pickiest eaters out there! 🍜
Mon

Tofu Tacos with Asian Slaw, Choona Melt Jacket




Fresh fruit & cream

Tues

Vegetable Lasagne, Leek & Mushroom Quiche with Salad




Banana cake

Wed

Teriyaki Broccoli & rice Noodles, Lentil Soup with ChoriZo




Apple crumble & custard

Thur

Butternut squash & sweet potato Tikka Masala with rice, Caesar Salad




Jam Tart

Fri

Fillet Fisch Burger with Tartare sauce & chips, Jerk tofu, rice & peas




Salted Caramel & Chocolate Brownie
Meat-free myth-busting
There are plenty of stereotypes and misconceptions about becoming more plant-based in your approach to food – you've probably heard some of these before – let's have a go at busting some meat-free myths! 🥕🫑
This isn't an important issue for children
A YouGov survey found that nearly two-thirds of 11-18-year-olds said the environment and climate change were one of their most important issues for the country. Those in the survey who wanted to eat less meat also said they wanted to see more meat-free options made available at school since they're not always able to influence shopping habits at home. 🙋
My child won't get enough protein from a plant-based diet
Vegans and vegetarians get a whole load of protein from foods such as oats, quinoa, beans, spinach, tofu, lentils, broccoli, nuts, seeds, and more. Protein is really important – it keeps you full longer, gives you energy, and helps you build muscle – and a plant-based diet provides enough for your child's body to use. 🥜
Dairy is essential for strong bones
Dairy is not essential for strong bones, but calcium is. Vegans do, therefore, need to ensure that they take in enough calcium from plant-based sources. As with protein, there are plenty of places to pick up calcium, including soy, beans, lentils, peas, spinach, turnips, figs, sesame seeds and some nuts. 💪
Plant-based food is tasteless
Sure, meat tends to have more fat and salt in it but plant-based food has come a long way in the last few years as supply has risen significantly – the number of vegans in Great Britain quadrupled between 2014 and 2019. If anything, a plant-based diet offers a huge amount more variety when it comes to flavours – just think how many vegetables there are compared to types of meat. 😋
A plant-based diet is exclusionary
In fact, it's quite the opposite. Foods that contain no animal products at all can be enjoyed by meat-eaters, vegetarians, vegans, those with dairy allergies and people of all faiths. That's before you consider that they also reduce carbon emissions, promote a healthy planet and are cheaper – everybody wins. 🤗
Everything in life can be a learning opportunity, especially while we're young. If you're keen to feed your child's brain with the good stuff, why not try a free trial lesson with GoStudent? Our tutors are experts at bringing subjects to life, boosting academic success and having fun along the way! Get in touch and see how it can work for you today. 🎒