Contents
Every student works towards performing well academically and achieving the best AQA grades. When it comes to GCSEs, scoring good marks can open doors to good universities and much more. However, achieving a good GCSE grade isn't always easy and requires dedication and perseverance. The question that arises here is, "What is a good GCSE grade?"
Many students are unaware of the GCSE AQA grade boundaries 2022. But don't worry! 🙂 This quick guide on GCSE grade boundaries will help you understand everything you need to know, including what a good GCSE grade is and how to calculate GCSE AQA grades.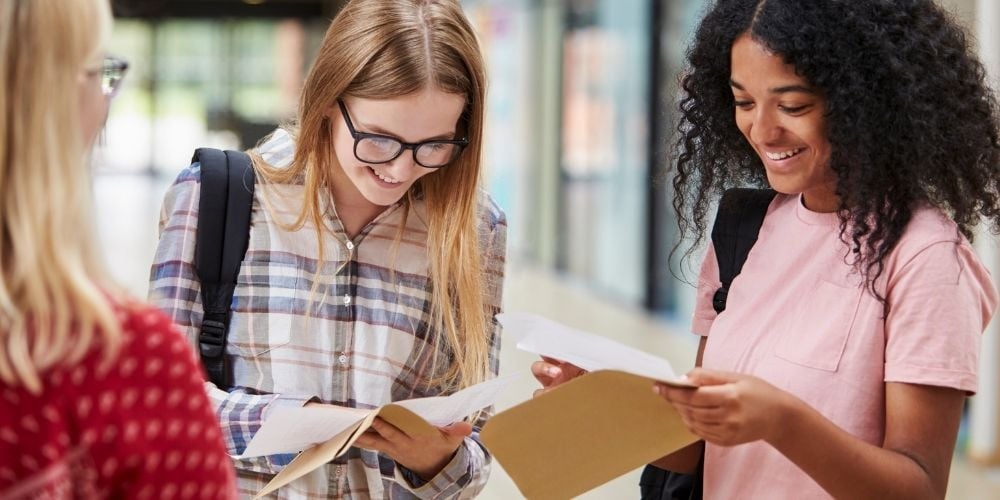 What are GCSE grade boundaries?
Once GCSE exams have been completed, the exam boards create minimum exam marks or grade limits depending on how students have performed in the papers across the country.
These grade limits are known as GCSE grade boundaries and they help standardise results year after year by preventing students from being unfairly penalised for scoring low on papers that all students found to be exceptionally challenging that year.
Prior to 2017, students were shown the GCSE grade boundaries before receiving their results. This practice allowed students to try to predict their exam marks long before the results were even announced, which understandably caused a lot of anxiety and stress around waiting for exam results.
To protect the mental wellness of students, the council decided to modify this practice. In 2017, it was announced that the GCSE AQA grade boundaries would be released on the day of the results for everyone.
Recently, the exam council brought in a new grading scheme called the 9-1 grading system. In this system, the highest grade is a nine, and the lowest is a 1. The previous AQA grades of A* and A are now represented by three number grades: 9, 8, and 7.
To better understand how to read the new system, we have compared both grades and presented them in a table format in the next section.
How to read the GCSE number grades?
With this new system, it is crucial to know how to read and understand your GCSE grades when you get them. So we have created a small data table that can help you compare and understand the new GCSE grade boundaries 2022 in an easier way!
GCSE Grading System

9

High A* grade

8

Lower A* or high A

7

Lower A grade

6

High B grade

5

Lower B or high C

4

Lower C grade

3

D or high E

2

Lower E or high F

1

Lower F or G

U

U remains the same
What GCSE grade is 70 per cent?
Since the new 9-1 grading system was introduced, this has been one of the most commonly asked questions. As per the old system, scoring 70 per cent means acquiring a lower grade A. When we compare the old system to the new one, with reference to the table above, we can see that 70 per cent is equivalent to a GCSE grade 7.
What percentage is a 7 in GCSE?
This is another frequently asked question regarding the new grading system. Grade 7, according to the old system, means scoring a lower grade A. A student who gets grade 7 (lower A) must have scored approximately 70-82 per cent in their examinations. According to the GCSE 2022 grade boundaries, securing grade 7 is considered a pretty decent score.
What grade is an 8 in GCSE?
As per the previous GCSE grade boundaries system, 8 is a lower A* or high A. This means students who sat the examination must have scored approximately 85 per cent or higher. Securing grade 8 also represents the student's aptitude skills, which are useful when it comes to solving complex and tricky questions. 🧐
What grades do students need to pass the exams?
Below is a list of AQA grades that students need to secure in order to pass the exam:
A 4 is required for a

basic pass

, and a 5 is required for a strong pass

A candidate who receives nine grade 4's has in theory passed all of their tests

The government's school league tables are based on the percentage of students who received a 5 or higher in English and

maths GCSEs

Many sixth forms will require a certain number of grade 5's or 6's as a condition for admission
How can a student achieve the perfect GCSE grade score?
Scoring a perfect GCSE grade can open up many opportunities for students. Although a perfect score is tough to achieve, it isn't impossible with the right amount of preparation and, of course, proper guidance. GoStudent can provide that type of guidance and support to help you ace your exams. Book a free trial session today!