Chapters
Whether you're taking your little munchkin trick-or-treating, sending them dressed up to school, or just want an adorable pic at home, we have the best Halloween costume ideas for you. We'll look at what will be on trend this Halloween for different ages for babies and kids. Your biggest dilemma will be choosing which costume to pick!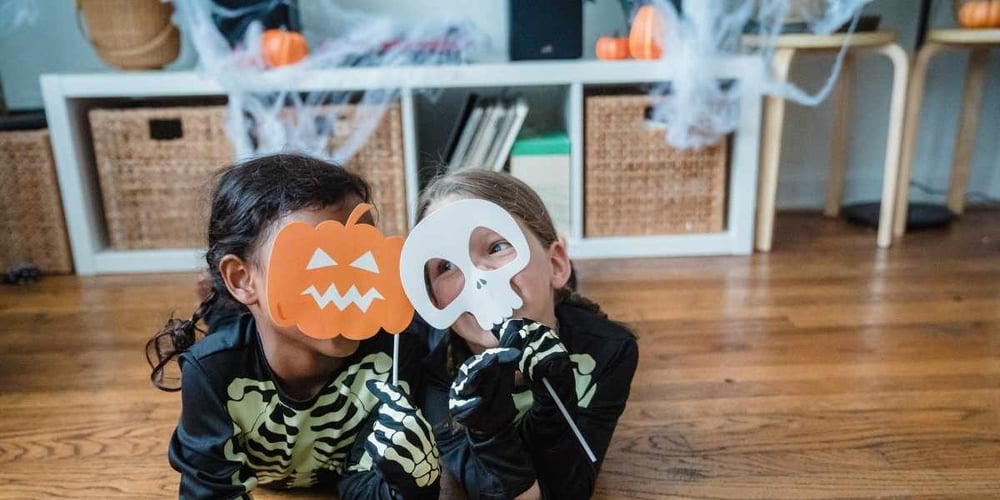 What are typical costumes for Halloween?
When it comes to typical kids Halloween costumes, you probably know a dozen off the top of your head. If your kid prefers to go with the flow, any of these listed will mean they are not alone. 😁 These are also great options if you're short on time. You will have no problem ordering any of these costumes as they're so common!
What are the top 5 costumes for Halloween?
When it comes to the most popular Halloween costumes for kids of all time, these 5 always make the list:
Witch 🧹
Ghost 👻
Princess 👸
Skeleton 💀
Pirate 🏴‍☠️
Baby Halloween costumes
Your baby isn't really going to understand what's going on but it's just too good an opportunity to miss getting them dressed up. Just make sure you pick a costume that isn't itchy and they can still move around in. Most of the costumes online that are made for babies come with very soft material and are easy to put on (e.g. with velcro).
Here are our top picks for baby Halloween costumes:
🕷️ Pumpkin - Dress your little cherub up in a bright and round costume to match their gorgeous cheeks.
🕷️ Baby Yoda - Whether you're a Star Wars fan or not doesn't really matter. These adorable costumes come with an easy wrap-around coat and ears to die for.
🕷️ Baby Dinosaur - These sweet little onesies will keep your baby warm and your camera busy.
Halloween costume ideas for toddlers
Your toddler will like nothing more than dressing up as their favourite character and bringing it to life.
🎃 Paw Patrol - You'll be spoilt for choice with the range of Paw Patrol costumes you can buy. As you can imagine, these aren't exactly going to be scary but they ooze cuteness.
🎃 Octonauts - This gorgeous outfit choice will turn your toddler into a fearless polar bear should they choose to be Captain Barnacles. Otherwise, you'll find all the characters and there are simple versions of the costumes that come with just a cape and mask.
🎃 Bing - Who doesn't like a cute bunny outfit and your toddler is no different.
🎃 Baby Shark - Characters from this monumental

song

are guaranteed to be a hit with your little one. You will find these everywhere and they come in lovely bright colours.
The easiest DIY Halloween fancy dress idea
🎃 Ladybug -

To make this

, the basics you need are a red jacket, black pants, black beanie (or Benny Hat) and some black felt.
Kids Halloween costumes
Your kid will probably have a very firm idea of what they want to rock this year. Here are some of our top picks:
🦇 Frozen - Frozen is always up there and whether it's a Queen Elsa or Olaf costume, your kid probably won't want to take their costume off!
🦇 Hey Duggee - You'll find a sweet little Hey Duggee outfit in yellow and brown complete with a doggy face hood.
🦇 Ninjago - Based on one of the world's most epic toys ever, Lego, this is a comfy choice for an active child and will also keep them warm as they will be covered.
🦇 PJ Masks - Dress your little adventurer up in a jumpsuit and mask (and wings for Owlette).
The easiest DIY costumes for Halloween
Animal outfits are by far the easiest costumes to whip up in no time. A bit of face paint, usually one-coloured outfits, some ears, and you're out the door.
🦇 Bat - If you have an old black umbrella lying around or it's upturned one too many times then this is the costume for you. Dress your kid up in black from head to toe and cut your umbrella fabric and attach it to their arms. Fashion some black pointy ears and you're good to go.
Halloween dress up ideas for teens
A trickier crowd to please usually and they may well consult with their friends first, but here are some ideas:
💀 Fortnite - You'll find plenty of convincing and reasonably priced outfits based on the hit game Fortnite, which lend themselves to Halloween.
💀 Morphsuit - These come in every colour imaginable and there are many printed versions for Halloween such as creepy monsters, killer clowns, and other suitably scary themes.
💀 Mad Hatter - These quirky and eccentric outfits come in so many different patterns, colours, and fun accessories like giant hats and canes and can be scary or cutesy.
The easiest DIY costumes for Halloween
Your teen is going to be a little fussier than the young ones and may resist the idea of a DIY costume. Hands down the easiest and most convincing costumes you can come up with are around zombies.
💀 Zombies - These work with any outfit! Just tear some old clothes up, chuck some fake blood on the clothes and your teen's face and get creative with black eyeliner or face paint.
What are good websites for Halloween costumes?
There are plenty of great websites for Halloween costumes. Amazon or HalloweenCostumes.co.uk have an excellent selection of Halloween costumes for children, plus party accessories and decorations if you need them too. 🎉
We hope you have a fantastic and fun Halloween and get more treats than tricks. Don't forget to dress yourself up too. 🤗