Contents
The future is digital. Everything and everyone is switching to the digital medium. In this age of rapid digitalisation, it can be difficult to keep up with the technology. With new computer technologies like AI and Natural Language Processing (NLP) surfacing everyday, the very definition of 'relevant' IT skills keeps changing.
What are some of the most necessary IT skills? Which IT course can help you acquire and become proficient in digital skills?
But first let's ask, what exactly is Information Technology? How is it different from traditional Computer Science and what makes it so useful? Let's find out.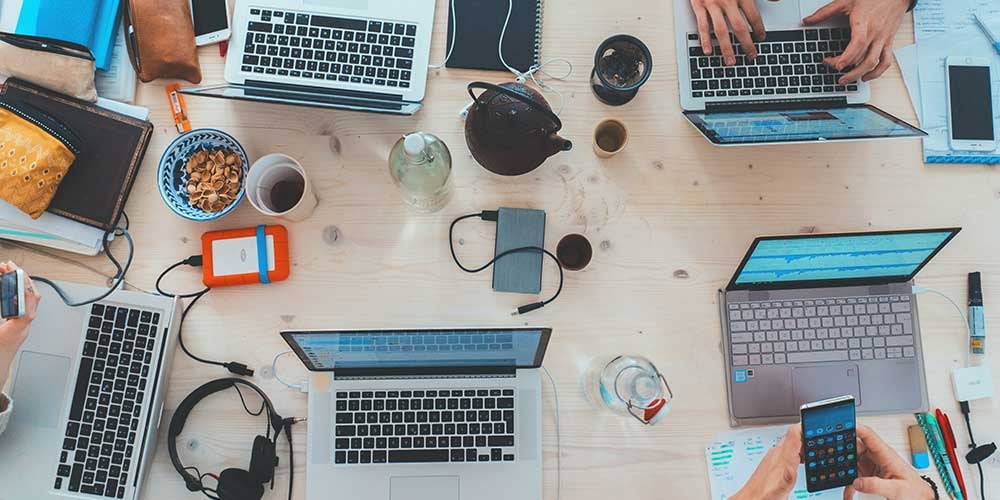 What we learn in Information Technology (IT)
Information technology is the study of the use of computers and technology to manage electronic data and information. Both small and large-scale businesses use IT services to maintain an efficient workflow. Many companies even require employees to undertake an IT course before joining. 💻
The field of information technology is diverse, so you might mistake it for other areas like computer science. Here is a good outline of what you'll learn in an information technology course:
IT is a service-based field. Unlike computer science, where you learn how to develop software, in IT, you learn how to use both hardware and software to make sure client's computers work well. ⌨️
IT is specifically designed to manage and solve problems regarding information of businesses and services in the smoothest way possible. This information can then be stored and processed for use in numerous state-of-the-art applications like

interactive video games

, AI/ML softwares, etc.
IT concerns itself with client-focused aspects of technology like user design, user experience, utility and the need for a proposed system on the market.
Businesses and governments require IT professionals to keep themselves safe and IT further contributes towards the larger goal of internet literacy.
Popular IT courses
Wondering which are the best computer courses to take? Information technology is a diverse field with many specific sectors dedicated to different aspects of computer systems.
Some popular courses that can help you gain employable IT skills are:
Cybersecurity, Digital Forensics, and System Security🔐
This kind of IT course is about using technology to keep systems safe. Cybersecurity uses tools like ethical hacking, disaster recovery, information security, etc., in order to ensure complete network security while digital forensics are centred around the proper, ethical investigation of a cybercrime in a way that ensures no data is endangered in the process.
By taking a course in cyber security you'll be able to navigate the online world safely and securely. Check out our GoStudent article on the best ways to stay safe online right here.
IT professionals utilise data to find problems in systems. They then use their knowledge of mathematics and computer systems to solve them.
Data analytics employs complex algorithms to crunch numbers and come up with actionable insights that can help individuals/organisations function efficiently. This data can then also be used to forecast and study market trends, monitor productivity in an organisation and keep a close track of all sales-related activity.
At GoStudent, we have tutors that specialise in IT and data analytics. If you're interested in diving into the world of algorithms and market trends, book your free trial session today.
As the name suggests, web design courses teach you how to design websites and make them responsive, interactive, efficient and user-friendly using front-end and back end technologies like Python, React, Javascript, HTML5, PHP and Bootstrap.
If getting creative is more your thing, there are many ways you can utilise digital technology to express yourself through design. Find out how right here.
The internet knows no limits. As a result, IT Internet and Networking is one of the fastest growing sectors globally. Internet networking consists of various modules like scripting, backend development, internet database development and monitoring, etc.
The discipline concerns itself with designing, building, and maintaining local and remote computer networks according to the standards set by regulatory bodies.
Networking also plays a huge role in things like cryptocurrency. If you're interested in learning more about this phenomenon, then book a lesson with one of our expert tutors today.
Highest paid IT careers in the UK in 2021
An IT course covers a variety of career options. Both the biggest and smallest businesses, organisations, and individuals need IT services. Therefore, there's no doubt that IT professionals earn sizable paychecks. Here's a list of some of the highest-paying IT careers:
Dev Ops Engineer
Median Salary: £67,500
Software Engineer
Median Salary: £65,000
Python Developer
Median Salary: £70,000
Data Scientist
Median Salary: £70,000
Software Developer
Median Salary: £60,000
CyberSecurity Specialist
Median Salary: £62,500
Information technology is a vast discipline that's necessary in almost every business on the planet today; therefore, taking an IT course is a great career decision.
IT courses like cybersecurity, network design, and web design find immense utility in almost every sector. As enterprises continue to digitise their operations at a rapid pace, the need for modern IT systems and IT professionals is on the rise. With the right IT course, you can gain useful skills that make you highly employable and give you a better chance of landing a well-paid job.
GoStudent's tutors can help you upskill and work towards improving your IT skills. Our interactive courses are tailored to you and your needs. GoStudent makes studying IT a breeze!
With GoStudent, you can join the digital revolution that's taking over every sector and become a highly skilled member of the global workforce. Book your free trial lesson here.