Contents
A Level results day has the potential to make you feel overjoyed or downright miserable, depending on the grades you get. We totally understand how disappointing it is if you don't get the grades you expect or need. Please believe us when we say all is not lost though. In fact, retaking A Levels is a practical and simple solution that can help you land your dream spot at uni.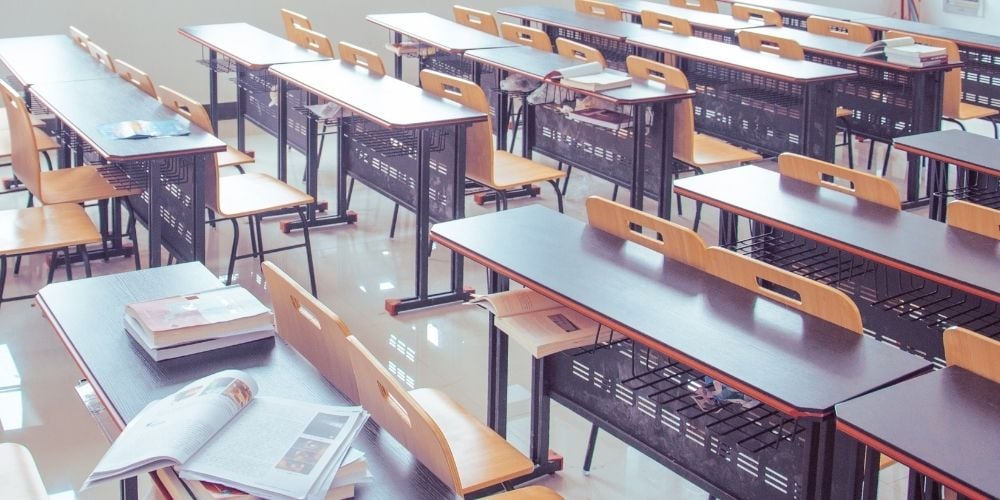 What can I do if I fail my A Level?
If you fail A Levels or don't get the grades you need, we promise it's not the end of the world. A Level resits are surprisingly common and can help you secure the future you're after. You have a number of options when it comes to retaking A Levels too, which we'll run through in a second.
Can I resit my A Levels?
Yes, anyone can resit their A Levels. Depending on your age and school you may not be able to repeat them at your school but there are other ways, including just resitting the exam with other students the next academic year. 👍
Is there an age limit for A Levels?
There is no age limit for studying or retaking A Levels. However, if you decide to go back and study different A Levels you may need to have certain prerequisite GCSEs under your belt.
How to retake A Levels UK?
You have a few options around how to retake A Levels:
At school
At college or sixth-form
Online as a private candidate
Not all of these options may be available to you as some schools don't cater to retaking A Levels. Speak to your teacher to find out if it's possible in the first case. Of course, you may not want to go back to your school and be with the students from the year below and then you can consider college or sixth-form or retaking A Levels online.
College or sixth-form can be a great option if you still want to attend classes with peers as you did at school. This can be an expensive way to complete an A Level, although you'll often enjoy smaller classes and get more support ahead of exams.
Studying online is a cheaper option but you'll be a private candidate and this means you're in charge of your own learning. Since you'll take A Level exams as an external candidate you'll need to book these ahead of time. It's much more flexible though as you won't have a class timetable to follow, although you'll still follow the regular exam schedule when retaking A Levels independently.
Where can I resit A Levels?
You may or may not have options of where to retake A Levels, depending on how/where you have opted to study. You'll have to resit your A Level exam/s with one of the exam boards as you did the last time around. The most popular awarding bodies had the following market share in the 2020/2021 academic year:
| | | |
| --- | --- | --- |
| Ranking | Exam Board | Percentage of Market Share |
| 1 | AQA | 35.0 |
| 2 | Pearson | 21.9 |
| 3 | OCR | 7.0 |
If you're retaking A Levels through a school or college then you'll follow the exam board they use for that subject. If you're a private candidate studying autonomously then you'll need to choose a school or college that accepts private candidates and you'll do your exam there. You can also look on the individual exam boards' websites for details of which schools act as their exam centres.
We recommend booking your exam/s at least six months in advance to ensure you have a place. Prices vary depending on the exam centre and A Level so shop around to get the best price possible. 💷
How many times can you retake A Levels?
Many students want to know can you retake A Levels more than once? The good news is there's no limit to how many times you can do A Level resits.
Are A-level retakes free?
OK, so even if you can keep retaking A Levels you obviously want to know if it will cost you. If you go straight back to school and retake your A Levels there, you often don't have to pay. However, you'll still have to pay the exam fee. If you decide to be a private candidate and study online then at a minimum you'll need to pay the exam fee and probably an admin fee to the exam centre where you sit your exam.
If you choose to go to a college or sixth form you'll have fees to cover your lessons and the exam at the end. Some independent colleges charge thousands per A Level so it's a good idea to do some research before deciding on one.
Do universities accept retakes?
First, let's look at some specific universities (Cambridge and Oxford) where students commonly ask this question.
Does Oxford accept retakes? Yes, you may still apply after retaking A Levels.
Does Cambridge accept retakes? Yes, you may still apply after retaking A Levels.
In terms of other universities, most accept A Level resits and many even see retaking A Levels as a sign of strength and commitment. After all, it shows a certain level of dedication and shows you know it's what you want to pursue.
However, some universities require you to provide an explanation of why you retook A Levels and expect extenuating circumstances. You can always call a university to find out what their guidelines are and there's never any harm in trying even if your criteria don't exactly match the specifications on their website.
Having said all this, some of the extremely competitive degrees (e.g. medicine, veterinary science) expect A Levels to have been completed in two years and don't accept a longer timeframe even if a student gets better marks the second time around. This means retaking A Levels won't help you get into all degrees.
If you're wanting to get into one of these highly competitive degrees, we have expert tutors at hand to help you reach your goals. They'll not only sort out any challenging areas but give you expert exam advice and help with your revision strategy so you nail it the first time.
Is retaking A Levels the best thing for me?
So, are A Levels worth retaking? Retaking A Levels is not only a good idea but also necessary if you have a specific degree you want to get into and missed out on the grades. Don't let one little setback stop you from achieving your dream.
Perhaps you had an interesting year with family or health issues, or you just didn't have enough time or the study know-how. You'll most likely be more motivated the second time around, plus you know what to expect. 💪
Here are some quick questions to ask yourself before jumping in:
Did I try as hard as I possibly could? If not, you know there's room for improvement.
Was it my revision strategy that let me down since I understood the content? If you feel you knew all the material and studied hard then it's possible a tutor can help structure your revision plan for you and help you get better grades.
Am I confident I could get better grades the next time? If you believe in yourself and have the time to put into studying then anything's possible.
If you need a certain A Level but couldn't wrap your head around it that doesn't mean give up on retaking it. There's always one-to-one online tutoring to give you support and make your life a whole lot easier. If you really disliked an A Level and studied as hard as you possibly could then you need to weigh up the pros and cons and how important it is to you.
If you need an A Level to get into your dream spot at uni then it's always worth contemplating but if you don't need it for anything in the future (except maybe your pride), maybe it's not worth stressing yourself out over.
Well, now you know the answer to life's big questions, or at least "how do you retake A Levels?" and "are A Levels worth retaking?" consider how you feel about it. Hopefully, you have much more clarity now and have already decided whether it's right for you and how you'll be retaking A Levels. Best of luck with all of your studies and we hope you land your perfect job one day. The fact that you're even on this page shows you're serious so we know you'll be fine.
If you do decide to resit A Levels, we have friendly and professional tutors ready to help. They can also provide one-on-one teaching when you hit uni so you don't have to worry about studying alone again.