Contents
You might be thinking that you'd like to be a lawyer later on in life and are wondering 'what GCSEs do you need for Law?' Law is a popular study path in the UK for both domestic and international students. Data from UCAS shows that of those studying law in the UK, 79% are UK students and 21% are international students.
Studying Law at university is challenging and a very varied degree that covers all sorts of areas of life, not just the classic crime dramas that we see on TV. Aside from compulsory GCSE subjects, the subjects that are needed for law can be very flexible, depending on your interests. Keep on reading to discover the best GCSE options to choose if you want to study law.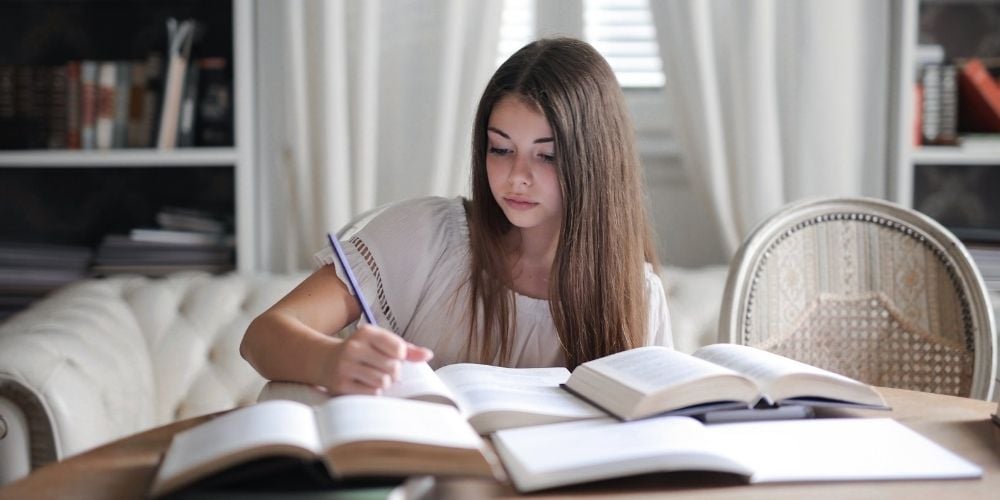 What are GCSEs?
GCSEs are qualifications that you will take at the end of your compulsory education. Year 9, 10 and 11 at school are all building up to those exams at the end. We're sure you already know that you need to show off all your hard work through a mixture of exams and coursework, depending on the subject.
GCSEs are recognised by almost every school, college and university in the UK, so they are thought to be a universal and fair way to show off your academic potential. Your GCSE exams will be marked by strangers as this is the best way to give an unbiased grade based purely on your exam performance.
When it comes to what GCSEs do you need for Law, you've probably heard at least one adult tell you that the journey to becoming a qualified lawyer is a long one. While this is true, and standing up in court might be years away from now, thinking carefully about what GCSEs do you need for Law is an important first step in your legal studies.
What GCSE subjects do you need for Law?
Regarding what GCSEs do you need for Law, there are not any big surprises. Most importantly you need to have the best grades possible for your compulsory GCSEs (the ones that pretty much everyone has to take). These are Maths, English and Science. You should aim for high enough GCSE grades that will allow you to apply to sixth form or college.
Your GCSE options will probably be a mix of languages, humanities, art and technical subjects. There's a common myth that to study Law at university, you must have a GCSE in Latin. This is false! While knowledge of Latin might be helpful at university level when figuring out some old legal jargon, it's not essential. There shouldn't be any Law degree that is off limits to you because you chose one optional GCSE instead of another.
If you find yourself inspired by true crime dramas, you might be particularly interested in Criminal Law and wondering 'what GCSEs do you need for Criminal Law?' Criminal Law is just one aspect of studying Law, the same as Latin is just one language in a long list of languages! The GCSE requirements for studying Criminal Law are the same as the requirements for studying Law. However, if you are only interested in Criminal Law, then studying Criminology might be a more suitable path for you at university.
How many GCSEs do you need for Law?
Aside from thinking about what GCSEs do you need to study Law, you should be aware of how many you need. You usually need a minimum of five GCSEs to give you a chance to go on to study Law. You can check the entry requirements of your local college and sixth form to help you understand exactly what you should be aiming for to continue the next stage of your studies.
Your school might decide that you have the potential to achieve more than five GCSEs. You'll be informed about this when you come to pick your GCSE options.
What GCSE grades do you need for Law?
As you're hoping to continue studying after GCSEs at sixth form or college, and you have the aspiration to go on to study Law at university, you should aim for a minimum of all of your GCSEs to be a grade 4 or above. As you progress through sixth form and university, places will be awarded to those with the highest grades, so the higher the better to give you the most choice about where to study after GCSEs.
If you have a career goal it's always good to keep that in mind when considering your GCSE options, but at this stage, it isn't essential. So while studying Politics at GCSE may have a more obvious link to Law than studying Drama, if you think you'd enjoy Drama more, then choose that option.
If you're keen to pursue a long term career in law, check out this handy outline from the job portal Indeed, which outlines the national average salaries of law graduates.
By thinking about what GCSE do you need to become a lawyer UK, the options that will allow you to get the highest grades and enjoy your studies are what you should choose when planning to study Law. Good luck!