Contents
Here's another part of our important GCSE series in the lead-up to UK Year 11 mock exams. We answer more of your questions about GCSE requirements; namely what age you do GCSEs. Read on as we talk about the GCSE timeline, GCSE retakes for 16 and 18-year-olds and having a go at getting a GCSE at any age.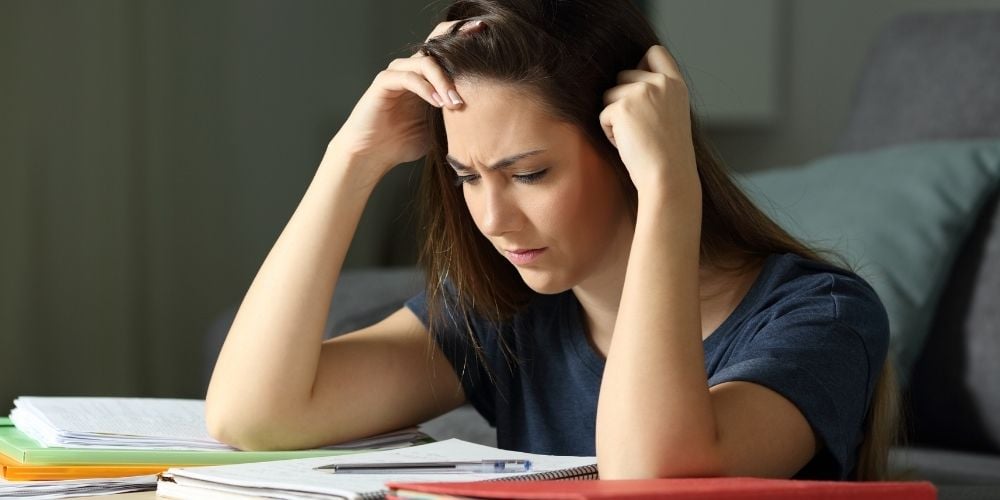 At what age do you do GCSEs?
So, at what age do you do GCSEs? After three years of secondary school in the UK comes the time to start a very important national qualification: your GCSEs. 🌍 Typically, students start Year 10 at age 14, and most will have turned 16 by the summer when they take their final assessments.
But what grade is a 16-year-old in? Well, in the UK we tend to call grades year groups. So whilst you will likely be in Year 11 when you sit your exams, you will have started learning and preparing for the course in all your subjects in Year 10. Having started secondary school in Year 7, this is a lot of build-up and can cause a huge amount of stress and pressure.
Each school approaches GCSEs in a different way depending on the subject. There are even courses for 14-year-olds! Due to the rigour and volume of content, some even choose to start preparing students a year in advance – by covering some of the subject knowledge when students are in Year 9 or age 13 or 14. 📆
This is dependent on teacher capacity, as well as considering whether or not students can cover and retain the information for more than two years. It's a big task!
In exceptional circumstances, for example, if the student is native in a particular language, GCSEs can be taken up to three years early. This allows students to 'bank' a GCSE well in advance of Year 11. This can also shine schools in successful light, being able to prepare young people for a challenging national examination ahead of the rest.
What about GCSE retakes for 16-year-olds?
Failing your GCSEs – not achieving a level 4 or above – or just not achieving the grades you had hoped for, can feel devastating. 😟 This, coupled with the loss of learning over the past couple of years and uncertain circumstances, make the opportunity for retakes more important than ever. You can try again! But, are there any catches?
Sometimes it's not just your choice alone, and you'll actually need to retake a GCSE if you're continuing to study. Many employers beyond school require students to have a passing grade in certain subjects. The type of qualification you'll need depends on what's happening next:
If you got a grade 3 and will be studying full-time (540+ hours) next year, you'll need to resit the GCSE
If you got a grade 3 and will be studying part-time (150-539 hours), you can take a

functional skills qualification

instead of a GCSE
If you got a grade 2 or below, you can take a functional skills qualification instead of a GCSE
If you're going on to an apprenticeship, studying Maths and English will be part of your programme!
Many colleges and some sixth forms offer opportunities for GCSEs to be re-taken in Year 12 – the year after GCSEs – either on their own or alongside other Key Stage 5 courses. English and Maths are the most common retakes because they're needed as a minimum for many jobs. Remember that a level 4 is a pass, so without that, you cannot hold a GCSE in that subject. 📗
And what about GCSE retakes for 18-year-olds? While GCSEs can be retaken at any age, remember that these retake exams must be self-funded beyond the original sitting. In short, if you choose to retake, you have to pay! Some schools can help out with funding for another attempt, but this is dependent on your local authority. The fee is also dependent on the exam centre – this is on average about £100 per exam.
At 18, you are likely to be concentrating on your next set of important exams – either A-Levels, BTECs or equivalent – which will help you to get onto the next stage of your career, for example, university. It might be better to get the retake completed in Year 12, before stress levels overload!
Students can either study for a GCSE resit with school or college, or with an online tutor like GoStudent. We know exactly what needs covering, especially for core subjects like English and Maths. Online tutoring will give you the opportunity to study at your own pace.
Can you do GCSEs at any age?
Yes, GCSEs can be taken at any age! It takes around 12-18 months to start and complete a GCSE course from scratch, depending on how long you'll take to get through the content – and to do lots of preparation exams beforehand. Adult learners could even study part-time, in the evenings and on weekends, but this might take a little longer to complete.
Remember to keep up to date with all things GCSEs with your exam boards, and exam regulator Ofqual due to how quickly things can change. 👍🏼