Chapters
Studying chemistry can be nightmarish for some people. For others, it's an absolute joy. While it may seem complex, chemistry is full of amazing opportunities. ✅
Different branches of chemistry – viz, organic, inorganic, physical – find applications in many sectors across the globe. Popular fields like testing and synthesising polymers, biomolecules, etc., are just a few of the hundreds of disciplines out there that make use of chemistry.
Opting for a good chemistry course can open up a lot of pathways for you. But where should one start with this polarising (pun intended) subject? 🤔
Through this post, we aim to answer a few FAQs about studying chemistry in the U.K. These answers provide a brief look at the different chemistry courses available in the U.K.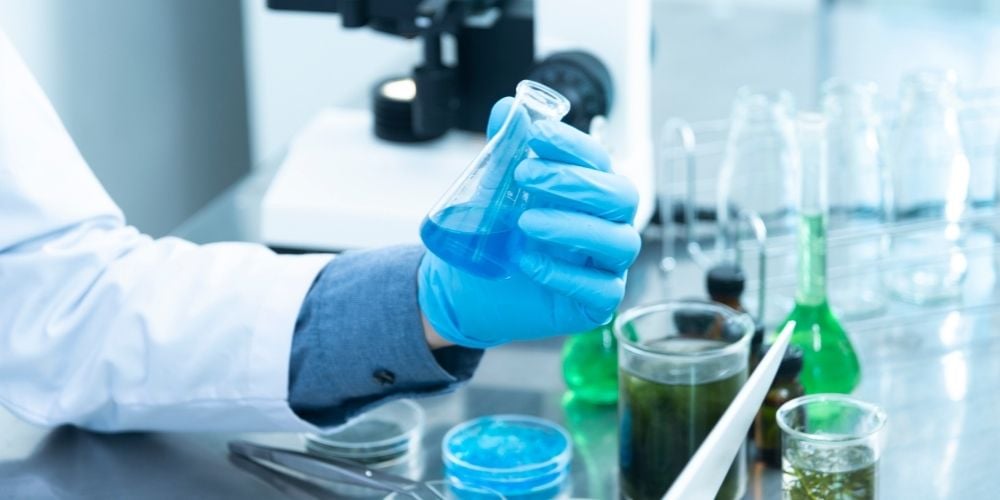 Is chemistry hard?
With subjects, it's always subjective. For example, while some people find it extremely hard to learn a new language, others can master one within a few years of formal or semi-formal training. How difficult or easy a subject depends on things like schooling and how you've learned to process information.
Chemistry is often thought of as an incredibly gruelling subject – TikToks of chemistry students crying before their finals are hardly credible evidence – for a simple reason: it's different from most traditional subjects.
Unlike history or literature, it isn't quite centred around retaining information. It challenges your imagination and critical thinking skills in a very analytical manner. Also, unlike physics and advanced math, it isn't based on the fundamentals that most people are taught in school.
Branches of chemistry like inorganic or organic chemistry require students to learn a new sort of algebra – one that works according to rules that might seem bizarre at first. 😵
The key is to understand the fundamentals. For example, understanding the structure of atoms and how they interact is necessary to get a good grasp of the subject. Once you're familiar with the fundamentals, learning chemistry shouldn't be any different from learning history or economics or anything else for that matter.
Tips for studying chemistry as a subject
Here are a few tips to help you ace chemistry at university:
Take time with the basics
Understanding the basics is crucial to doing well in chemistry. You might feel the need to slow down and spend more time with the first few topics, and that is entirely okay. Going through that extra lecture on something basic isn't the waste of time it might seem to be.
Spending more time learning the fundamentals means you can breeze through the subsequent topics. You might even want to find out which chemistry books to read before university just to make sure that you are fully prepared.
You will have heard this one before – but that's because it is so universally helpful! Chemistry requires students to think critically to understand why things are the way that they are.
To a fresher, some rules of Inorganic chemistry might seem completely outrageous. For example, how is it that even the most stringent rules of chemical bonding have exceptions to them? Why do some similar elements behave so differently? Asking questions like these leads to uncovering new concepts and phenomena that can help in other chapters.
Build up visual imagination
A lot of branches of chemistry are three-dimensional. This means that students are required to picture molecules and interactions in 3D space, a practice that can be challenging. Chemistry students should take time to look at 3D models, animations, etc. while studying. Getting used to thinking in 3D could prove very helpful.
Experiments are important
Lab experiments give a first-hand practical view of all the theoretical knowledge. If you have access to a school or institutional lab, you should attend these sessions regularly.
Seeing compounds react with each other can put a lot of chemistry's madness into perspective. Experiencing something visually is also a much better way of learning and retaining information than merely reading about it.
Where to study chemistry in the U.K?
The following are the top 10 universities to study chemistry in the U.K as ranked by The Guardian. You can also consult other lists like the one put out by the Complete University Guide to make a well-informed decision.
Durham University

University of Lincoln

University of St Andrews

University of Bristol

University of York

Lancaster University

University of Sussex

Loughborough University

University of Surrey
Studying chemistry can certainly be difficult if you haven't been taught to think analytically. Regardless, a little perseverance can help anyone master chemistry.
GoStudent has some of the best tutors teaching chemistry on our platform. They will help you understand and master the basics and then move on to the tricky bits. Why not book a free trial session today?!