Chapters
In secondary school your teen will need solid study skills to foster academic success in both school and beyond. In this article we'll focus on the most important study skills for 11-14-year-olds. Want your child to be an independent and motivated learner? Let us help you and them reach their full potential.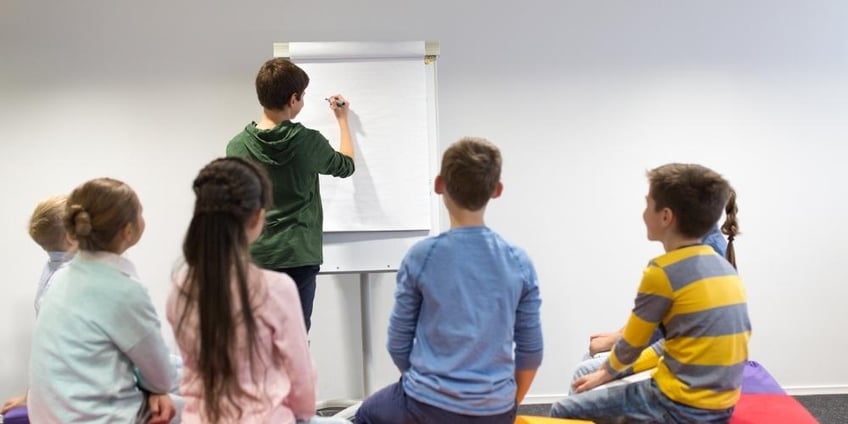 Organisation and time management: fundamental study skills
Study skills are the tools that children need to enable them to study and learn efficiently; they are a vital set of transferable life skills.
First things first, it can be very daunting starting from scratch! So why not support your child to assess their current study habits to see what works and what doesn't? Ask them to think about, verbalise and make notes on the next three reflective questions. 😇
What organisational skills do they already use well?
Do they check their homework diary? Set an alarm? Remember their kit and stationery every day for school? That's great! If not, get them to choose one to start using from tomorrow, and build them up from there every week.
In which subjects is this organisational skill going to help them?
First and foremost it's going to help their mental health and potentially anxious attitude going back to school.
Once they've chosen one or two new skills to try, from completing homework on the day it's been set to handing it in on time, remind them to think about how the skill will help them in their subjects. 💪
Then how about the long term? What makes that skill useful outside of the classroom? Getting their homework done straight away or earlier frees up more time for fun, outdoor activities, and family time.
What are going to be the most positive outcomes for them?
As well as being diligent and successful in school, they should think about how their study skills will improve them as a person. Remember that punctuality and timeliness are one of the highest requested skills by employers!
The purpose of these questions is to start to get your teen to be and stay accountable for their habits and choices. What are you waiting for?
Do you know your child's learning style?
To perfect the superpower of excellent study skills, your child will need to be aware of their preferred learning style so that they can build these into their weekly plan more regularly.

Use our table to support your child in picking the study habits which make them the most excited. Whilst the best tactic is a combination of multiple learning styles, learning needs to stay fun and motivating first! 🚀
| | | | |
| --- | --- | --- | --- |
| Doing | Looking | Listening | Reading and writing |
| Create step-by-step guides | Watch YouTube videos | Listen to a podcast | Write out flashcards |
| Complete a quick online quiz | Highlighting information in colour | Read information on sites like BBC Bitesize and repeat | Read a textbook or guide, then complete a paper |
Encourage them to switch up their preferred method of studying, as this will help facts, ideas and information stay with them for longer.
Homework and revision study skills
We know that school can be incredibly demanding - there's so much to learn and it's normal to feel confused. Not understanding something when your child does their homework doesn't mean they won't get it, it just means that they need to talk to their teacher or tutor about what to do next.
It can be really difficult to plan enough time to complete homework or revise. Even when you've made a plan, sticking to it is even harder! 📒
Here are 5 tips for your child when they do homework or revise:
Make a plan and stick to it, and factor in time with friends and house chores or family time

Do a little bit at a time starting with the most difficult topics and subjects first - they shouldn't work for more than 30 minutes without a short break

Remove the distractions like putting their phone or games in a different room to where they revise

Be ready to change the plan or strategy regularly, especially thinking about the times of the day that they work best

They should ask for help from a trusted adult when they struggle
Communication and participation study skills: speaking and listening
It's not all about your formal homework and revision. To be a productive lifelong learner, they'll need to get into some verbal habits too.
Solid speaking and listening skills are a key part of learning and improving their understanding across lots of different subjects.
This involves a range of strategies, like asking questions in class, speaking out loud in class or an assembly, or taking part in debates. ⚖️
If this all feels a bit daunting for your teen, one of the best things they can do is to verbalise their learning to you or a friend. Plan in one slot during the week where they take 10 or 15 minutes to explain an idea or concept to you from their learning. This will help to reinforce big ideas.
Study skills for teens FAQ
Why are study skills important in secondary school?
Study skills are extremely important because without them, vital learning isn't reinforced. We know from Rosenshine's Principles of Instruction, that 'Students need extensive, successful, independent practice for skills and knowledge to become automatic.'
Secondary school is even more rigorous because of the pressure of national exams like GCSEs, National 5s, and A-Levels. To be able to cope with juggling up to 10 subjects for numerous years and final exams, ensuring your child starts developing their study skills early on is imperative.
You can share any number of our range of resources with them for support, from nailing the 11+, revising for GCSEs or A-Levels, or tackling challenging maths problems. These are tried and tested methods created by experts for success.
What subjects are study skills for? Are they transferable?
Study skills are for all subjects! Education involves a novice being able to readily access new, learned information. This involves much more than just learning it the first time, but ensuring that learning is reviewed and revised regularly in intermittent periods.
In essence, studying and reviewing information regularly can lead to knowing it for life!
What's more, almost all subjects benefit from strong study skills. These are most definitely transferable to other aspects of life. Practice makes perfect in so many aspects of life. The best way to become an expert is through practice. The more practice, the better the performance.
Showing commitment to seeing through till the end, like learning and studying a particular unit of work and taking a test, increases a teen's ability to tackle challenges later in life, like applying for jobs or completing a big race.
Isn't it the school's responsibility to teach study skills?
Whilst lots of invaluable study skills are learned in school, reinforcement of learning outside of the classroom is where parents and guardians can have a big impact.
School can be long and tiring, and children need motivation during the evenings and weekends to complete their homework, even if it's just for 30 minutes or so.
This doesn't mean you need to bribe them! You could factor in 30 minutes of 'no screen time' for the whole family every day, whilst you cook, clean, or read and they study. Ensure they have a quiet space to work, free from distractions.
They'll also need to be realistic about what they can achieve, and some days they might be too tired or need a proper break. It's up to you to recognise when it's time to put away the books and have a good mental health break, by resting or spending time outside.
It's important that children feel that everyone (parents and teachers included) is on their side and supporting them. At GoStudent we support children to build lifelong study habits. Book a free trial lesson to make these habits a priority today.