Chapters
1. Visit!
2. Role-play conversations
3. Practice literacy and numeracy skills
4. Support their independence
5. Communicate with the school
Your first days, weeks and months at school are extremely formative. Remember walking in for the first time? Your slightly-too-big school uniform? Making cards and take-home gifts for your parents and friends? Early school memories last a lifetime and the whole thing can be very nerve wracking. Here are my top five teacher tips to help you to prepare.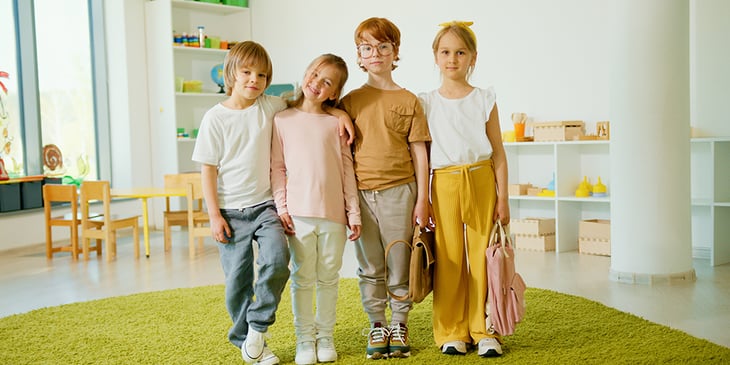 Visit! 🚘
Familiarising children with spaces is the first step to get them feeling comfortable in them. Young children will be nervous about stepping into new environments without you, and without their home comforts.
If you're lucky enough to have an induction morning, it's a great first start to spending some time meeting new teachers and being in their new classroom 🤸🏼‍♀️ Outside of this you could walk, drive or take public transport to the new school and talk to your child about what their routine and space might look like.
Better yet, head out at peak school drop-off and pick-up times and chat about seeing students in their school uniform. Schools are part of communities, so point out other landmarks like zebra crossings and 'slow down!' signs to show them how schools are integral to local areas 🌼 Practicing the school-run is useful for you logistically, but also for them to have some time to share worries or ask questions!
Role-play conversations 😊
Because learning is social, it'll be really important for your child to be able to speak clearly, but also to listen considerately. Teach them how to greet people properly (even eye contact!) and stop and listen when others are talking, as well as share with you and their siblings. They'll be used to you always listening as they chat away! You could practice even further by role-playing in shops and supermarkets, have them greet cashiers and ask for receipts at the checkout. They'll really enjoy this and it'll grow their confidence before their first day 🚀
As a teacher, I notice when children are able to listen and respond rather than just wait their turn to speak, and there's a huge difference! Being aware of themselves as one of many, and part of a team, is hugely important.
Practice literacy and numeracy skills 👍🏼
Support your child in being able to recognise their name in lots of places (even more important if they often share a name with other children), such as on their school bag, their clothes or on a placecard. Placing their personal items back in their place and where they belong means you won't be repurchasing them over and over again!
Introduce them to numbers and counting in situational activities like paying at the supermarket and counting trees or animals in your local area 🌲 Build motor skills, too, by teaching and monitoring use of challenging items like scissors, and positively praise them as they do so. Parents have said time and time again that the basic life skills are the most important and the rest will come: holding a pen, eating with a knife and fork and using the bathroom.
Support their independence 🌏
The more independent your child is, the more they'll feel ready to take on school, and the more you'll feel comfortable with the idea of them being without you. Teachers are more than equipped to help and support your child, but you want them to love and enjoy their new environment as well as just cope. Help to prepare them by having them practice putting on their uniform themself, and make this fun by timing them and offering rewards and treats at the end.
You could have them select a new notebook or journal where they write about the process of heading to school, and record a diary of their first week or month there. They could then share this with their family, friends and teachers 😊
Communicate with the school 🏫
As a teacher, I have experienced that one of the most valuable ways that parents can be involved is to communicate clearly and regularly with us, but also trust us in knowing we'll be able to do the right thing. If you have questions, ask in advance! You can also act as a supportive bridge between your child and the school, building a long-term relationship with them.
Remember not to 'oversell' school to your child, and trust that their own individual experience will be unique 🦄
Starting school is scary and children need lots of support. At GoStudent we have over 1500 tutors, and can work closely with students of all ages and abilities. Book a free tutoring session with GoStudent today and help to support your child at home as well as school.