Contents
We understand that studying for your Leaving Cert exams can be a stressful time. There's a lot riding on your grades but don't let that deter you, and instead, use it to motivate you. With some careful planning and a little dedication, you can get the grades you dream of. We're going to share the best online resources to support you, give you revision tips from our experts, and show you where to find the best Leaving Cert grinds, so let's get started.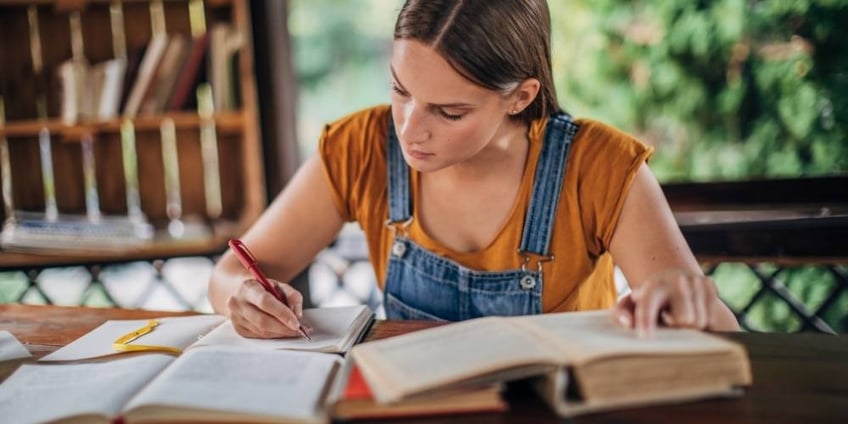 U
seful Leaving Cert revision websites
We know that students are always looking for free Leaving Cert revision courses. While you'll find some good Leaving Cert revision courses online, they don't come cheap. Don't worry though, we've got you covered. Here are the best free online resources to help you get the grades you need, and in the next section, we'll help you plan your own revision. 😃
Leaving Cert revision websites to use
GoConqr is a social learning platform that gives you access to free online tools and resources to help you study more efficiently. You're able to create your own revision material such as mind maps, quizzes, flashcards, and notes. You can also copy any of the Leaving Cert resources that other users have made and even edit them to suit you.
It also lets you create your own Leaving Cert revision timetable. You can allocate the number of hours you need to study for each subject on the digital calendar and this makes it easier for you to stay organised. We love that you can factor in downtime and social events too because a healthy study-life balance will be one of the keys to your success and sanity!
iRevise is another great site that has a wealth of material already prepared. You have the option of a free account or signing up for a premium or platinum plan. The free plan comes with revision notes, sample answers, videos, multiple-choice quizzes, and the ability to create your own exam on any topic.
Leaving Cert YouTube channels
Maths Grinds is a YouTube channel with videos spanning foundation, ordinary, and higher-level maths. Stephen Easley-Walsh is the person behind the videos and he is a tutor, lecturer, teacher, and exam corrector. It's a comprehensive channel with hundreds of videos at your disposal.
The Dublin Academy of Education is a channel with videos on all the most popular subjects including Irish, English, physics, and biology. There are various presenters on the videos who specialise in different subjects and they are state examiners, authors, and curriculum advisors so you can be sure they're experts in their fields.
Leaving Cert revision apps
Apps are available for just about everything these days from games to those with a focus on education. That's good news for you because there are Leaving Cert revision apps to support you in your studies.
Leaving Cert (Terms and Revisions) is available on Google Play and the App Store. It's a series of apps that cover Leaving Cert chemistry, business, geography, economics, biology, physics, and agricultural science.
Easy Revision Leaving Cert Biology (for iOS) contains hundreds of questions that are accompanied by comprehensive explanations and imagery. As the name suggests, this is specifically for Leaving Cert biology and the content was written by Kieran Coleman who has also written Leaving Cert books, DVDs, and educational websites.
Duolingo is a language learning app to give you extra practice in pronunciation, grammar, and constructing sentences. It covers a wide range of topics and is an entertaining way to improve your language skills and pick up new vocabulary and rules along the way.
Leaving Cert revision tips
Your Leaving Cert exams are going to be a big step up from Junior Cycle and you'll need to put more time and effort into your revision. With adequate planning and using the online resources that we outlined above, you'll be well on your way to Leaving Cert victory. 🚀 Here are our top tips for planning out your revision.
Make a Leaving Cert revision timetable
First and foremost, make yourself a revision timetable. You know the subjects that you're strongest in and those you need to work harder at. Allocate time accordingly. It can be tempting to keep revising your favourite subject, so be strict with yourself and spread your time across all of them to help yourself in the long run.
Some students prefer to have a paper calendar that's above their desk so it's in full view at all times while others will make a digital timetable (e.g. from GoConqr). As long as you create one, do whatever suits you best. By visually reminding yourself of what you need to do, it will help you stay on track. Being organised is essential since the Leaving Cert exams are relatively close together and you may even have two on the same day.
Make the most of Leaving Cert past papers
Practising past papers is one of the best ways to prepare yourself for your Leaving Cert exams. By working through the questions you'll gain an understanding of what's expected of you and identify any problem areas you should focus on. It also means you'll walk into your exams with your head held high and feel more relaxed and confident.
We recommend using the State Examinations Commission site to access past papers. They have a comprehensive list that goes back more than a decade so that's more than enough practice for you. The papers are also free to access and you don't even need to set up an account. Simply choose the subject and year and download the relevant paper.
Make new Leaving Cert revision notes
A common mistake that students make is relying solely on reading their Leaving Cert revision notes and textbooks. This can give them a false sense of confidence that they understand everything. When you read something it triggers your memory but that doesn't always mean you'd be able to recall the information in an exam.
Going over all your notes and textbooks is still important but you should make new notes when you spot any topics you find tricky. Another good way to make additional notes is while you're going over past papers since you'll instantly know which areas you need to focus on.
Create Leaving Cert online revision cards
A similar approach to revision notes is to make revision cards. These are useful because you can take them everywhere with you. You can make handwritten cards that are small enough to pop in your bag or use an app where you can create your own digital cards.
The benefit of using an app is you're probably going to have your phone on you most of the time! Instead of opening Instagram, give yourself a quick quiz using your cards as even an extra five minutes here or there can make a difference.
Revision cards are a great way to make use of spaced repetition too. Going over content frequently (not cramming) will help solidify it in your mind.
Use Leaving Cert grinds to get ahead
The number of students using grinds to boost their grades is on the rise. In fact, 59 per cent of sixth years pay for out-of-school tuition. Finding a private grind will make it easier for you to keep up or get ahead of your peers. One-to-one lessons can also give you the confidence that you're on the right track as well as fill in any knowledge gaps.
Where to find Leaving Cert grinds
At GoStudent, we have grinds who specialise in any Leaving Cert subject you need support with. You can enjoy online lessons that are tailored to you from the comfort of your home. Best of all, you can record the lessons and play these back as many times as you need if you forget something or want a refresher closer to your exam. The first lesson is free so why not book one now and see just how powerful a private grind can be? 👍