Contents
Love it or hate it, homework is a normal part of school life. Sure homework can feel like a bit of a chore, but it's easy to make it more manageable. We've put together a list of nine homework hacks that will help you embrace learning outside of school, with plenty of time leftover to have fun.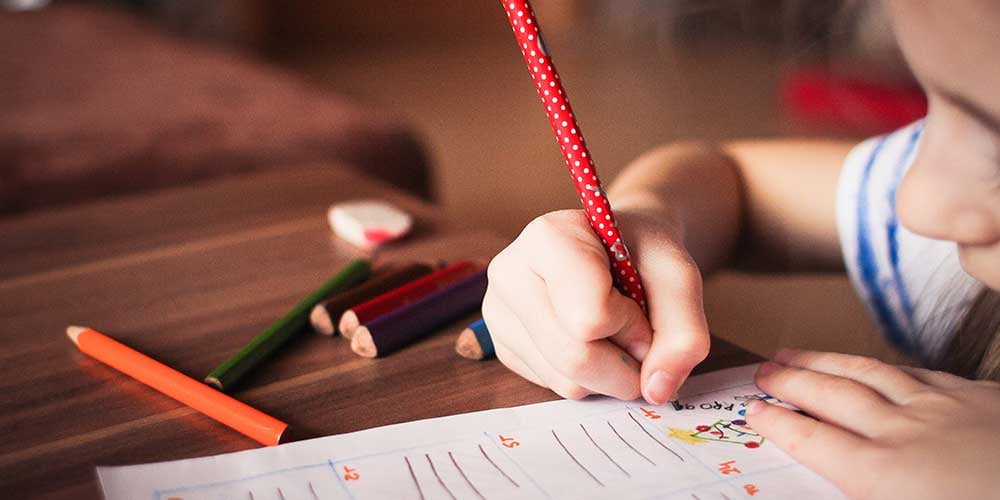 Tip #1: Create a study schedule
Homework from certain subjects, such as Maths, may take longer than others. It's a great idea to plan out a weekly calendar based on your weekly class schedule. You'll need to keep track of the different deadlines and commitments you have, and anticipate the amount of time you need to get different tasks done. ⏰
Not only will creating a schedule help you stay organised and make sure you get everything done in time, having a well-developed routine will also help you develop your time management skills and take responsibility. Your parents can help you with this if you need a little extra support with organising your time while learning at home.
Tip #2: Set up a homework toolkit
It's a great idea to have everything you need ready to go in your at-home study space, including a homework toolkit. You don't want to have to get your school supplies in and out of your backpack constantly, and having a separate set of supplies with everything you need at home would make things more fun and easy. ✍️
Why not put together a homework toolbox with stationery and other fun things that you may need for projects and assignments throughout the year? That way, you'll be ready to get started as soon as it's time for homework.
Tip #3: Have a dedicated study space
It's a great idea to find a distraction-free space to study at home. It doesn't have to be fancy – you can use a desk or a table and chair to create a zone dedicated to homework. Make sure it's in a quiet spot with no distractions such as TV nearby while you're working. 💻
It's a good idea for you to create a few rules that should be followed in the study area to make sure you stay on track. For example, 'no digital devices are allowed in the zone', and 'the homework zone must be left tidy after the day's homework is complete'. You can determine these rules for yourself or work it out with the help of your parents.
Tip #4: Have your parents help you
Your parents are a great resource you can take advantage of if you need help as you're doing your homework. If you encounter anything that makes you feel confused or need something explained more thoroughly, ask your parent or caretaker to help you.
However, keep in mind that you're the one who should be doing your homework – not your parents. Independent learning will allow you to learn from your mistakes and gain an understanding of where you need a little extra help. Your parents should be helping you when you need it, but they shouldn't be doing your work for you. Homework and revision are crucial elements of learning, so it's important that you do your own work and understand it. ✔️
Tip #5: Get a tutor
Even with the help of your parents, schoolwork can be difficult. If you find yourself struggling to grasp certain concepts or just think you could benefit from some extra one-on-one support from an experienced tutor, why not try online tutoring?
Your parents may realise that much of today's school curriculum is different to what they were taught during their schooldays. It's totally okay to admit that there are some subjects you may need some extra help with – which is where tutors come in. 👩🏽‍🏫
Tip #6: Eat brain food and stay hydrated
Nutrition and hydration is super important when it comes to concentration, focus and energy. After a long day at school, you probably need a snack or a light meal to keep you going until dinnertime – trying to do your homework on an empty stomach isn't a good idea. 🥗
Check out our best tips for energy foods and brain foods that'll help you get that homework done, and don't forget to keep sipping water! Making sure that you're drinking enough water to stay properly hydrated is important as it'll help you stay focused on the work at hand.
Tip #7: Remember to take breaks
While you're doing your homework, it's important that you take enough breaks. Breaks are important for your concentration, especially on days when the schedule contains more than three tasks. ☝️
You should try to maintain good posture as you're studying, and make sure to keep moving. It's recommended that you get up to use the restroom, get a glass of water or just have a little stretching session once per hour. If you're committed to your study session, a quick five minute break to regroup will help you maintain focus for longer and retain more of the information you're taking in!
Tip #8: Study at the same time every day
Creating good habits is important in order to be successful over time. It's a good idea for you to build a routine that works for you, and having a designated time to study every day is very beneficial. ⌛
When you decide to study is entirely up to you – some people may prefer to sit down with their homework right after getting home from school so they can have the rest of the day to themselves. Others may want to have a snack or some time to relax before starting. It all depends on what works best for you, so pick the study time you're happy with.
Tip #9: Don't be afraid to ask for help
Homework is here to stay, and at some point every kid is going to need a little help. That's where we come in! GoStudent tutors are equipped to help with all subjects and all learning styles. Get in touch today to book your free trial session and try it for yourself! 🚀