In our GoStudent expert talks we speak to experts in the field of education! Find out more on real-life insights from leaders in the ed-industry.

🚀
In many ways online learning has caused a digital overwhelm for students, while leaving parents burnt out from homeschooling. Students have missed out on face-to-face social interactions with peers and teachers, making many of them feel lonely.
Yet, even as students go back to school from remote learning, the benefits of blended v/s hybrid learning are still being encouraged and implemented in the education system.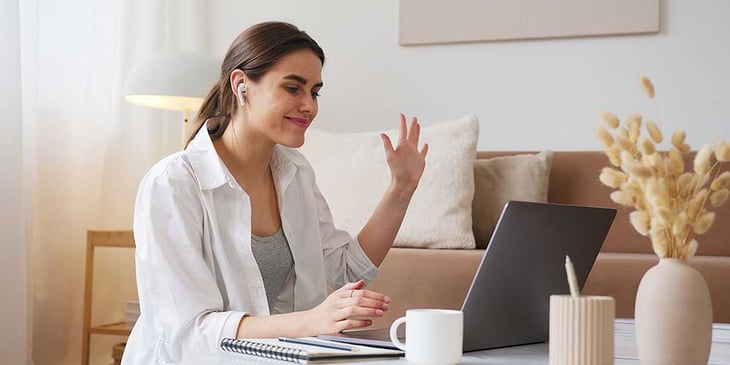 Why is blended learning important?

🤔
Blended learning is a form of education that includes in-person, hands-on learning in combination with digital learning.
While many parents might feel that only in-person classrooms let students emotionally connect while learning, that isn't entirely true.
One of the lesser known benefits of blended learning is that it can also help students foster deeper connections with their family and communities. ❤️

How does blended learning strengthen relationships?

🤔



👉 Prepares Students For The Future Of Work
The future of work is becoming increasingly remote. The pandemic has shown us that for young people to have successful professional relationships, they must know how to be resilient workers in dynamically changing work environments.
🔥 Expert Tip : "Parents are worried that today's students are going to be the world's lost generation," says Rachel Smith, a foreign language teacher for secondary students in the Isle Of Man and former digital educator of the year. "Instead I feel these circumstances [pandemic] are going to make them more resilient. Students will become entrepreneurs, who will forge their own path."
Smith feels this way because blended learning allows learning to continue beyond the classroom. It has given students a "flexibility, agility and sharpness" to learning. As they are able to learn anywhere, anytime and on any device through the blended learning model! ✊



👉 Increases Parent Engagement
Gary Spracklen, head teacher at The Prince of Wales School in Dorchester, and a member of the UK government's Department for Education's 'ETAG' (Educational Technology Action Group), feels that blended learning enables far greater engagement from parents with regards to student learning.
As unlike classrooms, parents can now access all the learning material online. They are able to keep in-touch with students' lessons even when students are at times reluctant or exhausted to share their school day with parents.
When parents remain involved with student's learning – whether by chatting with them about what they did in class or supporting them with assignments at home, it strengthens their relationship with parents.
Spracklen also noticed how digital access to lessons for parents helped avoid learning gaps for quite a few students during the lockdowns.
As many parents were easily able to revise lessons and concepts with students at home! 👊



👉 Strengthens Community Bonds
A big hit at Spracklen's school are the virtual assemblies. Here the school invites professionals from a rhinoceros keeper (yes the rhino was there too!) to a harpist, to virtually interact with the students. The professionals also give students insights into their work and daily lives.
🔥 Expert Tip :"It [virtual assemblies] led to all sorts of weird and wonderful learning opportunities for students," says Spracklen. "Particularly when we were in our deepest darkest lockdown and we didn't know when it was going to end."
Such activities also add that element of fun and play, which is so essential for student's learning.
Similarly when students at Spracklen's school were learning about the World Wars, they were able to have their grandparents virtually contribute their personal experiences of the war to the class. 🗣
Spracklen admits that for logistical reasons, such frequent in-person interactions for students with the larger community are not always possible. But virtually, blended learning has allowed students to strengthen their bonds with the community!
Our Advice : When implemented in innovative ways blended learning brings students closer to their community and society. 👪
At GoStudent we understand the value of in-person learning, and agree that online learning can't replace it.
That is why blended learning – a best of both worlds – is a great learning choice for students. There are many ways even parents can support blended learning at home.
Or you can leave the blended learning support to GoStudent! Our expert tutors make sure to personalise education for each student, in a way that ensures their progress. You can book a trial lesson with one of our tutors here!