Contents
The Scottish Education system isn't the same as in the rest of the UK. It has a completely different system based on the Curriculum for Excellence covering the ages from three to eighteen.
It's natural, then, that many parents who are moving to Scotland or who are considering sending their child to be educated there should have a number of questions about the types of schools in Scotland. We'll tell you exactly what you need to know about Grammar schools in scotland. 👍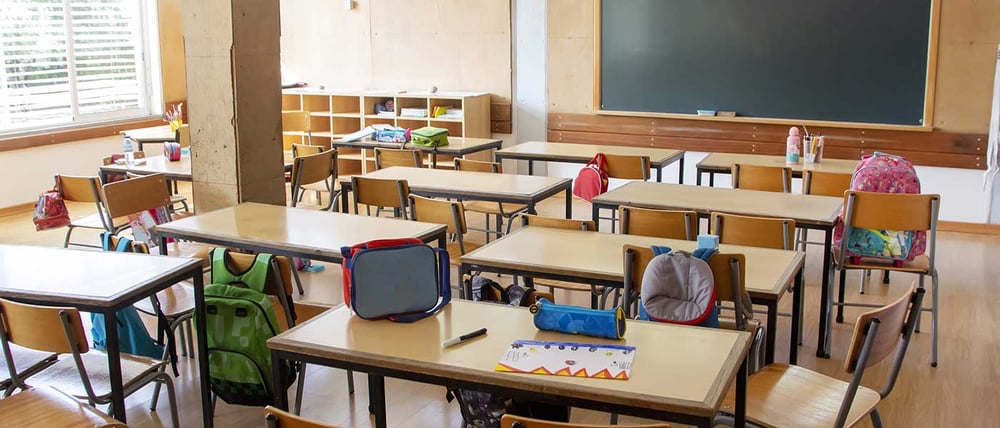 Does Scotland have grammar schools?
In short, yes! Scotland has many schools which are called 'grammar schools' but act more like independent schools because all Scottish grammar schools have fees.
This is not the same as grammar schools in England and Northern Ireland which are state grammars. In England there are 164 state grammar schools and 66 in Northern Ireland.
Since there are no state Grammar schools in Scotland, the term Scotland grammar school and Scotland independent school can be used interchangeably here.
Scottish independent schools have their own entrance tests so there are differences that we will explain between the 11 plus exam Scotland and England, but they are often similar to the 11 + exam in England with the following subjects included:
As verbal reasoning and non-verbal reasoning aren't usually taught in primary schools, even if your child is a high-performing student, many parents employ tutors to help kids prepare for the exams. GoStudent tutors work 1:1 with your child and create a personalised learning plan to suit their needs and learning style. There are several advantages to working with a GoStudent tutor:
You may also choose to have extra lessons for your child in maths and English if your child finds either of these subjects a challenge. In particular you might be worried about the Scotland grammar school 11 plus vocabulary required in the English and Verbal Reasoning papers. Our tutors will go through vocabulary lists that your child should know before taking their entrance exam. We provide a list of 11 plus vocabulary free here too.
Entrance to Scottish grammar schools (also can be referred to as independent schools) can be made during any school year if spaces in the classroom permit but the most common years for students to move school is Year 7 and Year 12/ S1 and S5.
If you're moving from the English education system to the Scottish education system then the following may be useful for you:
What is Year 6 in the Scotland?
Year 6 in Scotland is called P7, and this is the year that your child will need to sit their entrance exam to a Scottish grammar school (independent school) should you wish them to apply.
What is Year 7 in Scotland?
Year 7 in Scotland is called S1 and this is the year that your child may join a senior school in Scotland.
What is Year 11 in Scotland?
Year 11 in the Scottish education system is referred to as S4. If you wish your child to apply to a Scottish grammar school (independent school) for their Advanced Highers (similar to A levels) then your child will need to sit an entrance exam for the school this year.
What is Year 12 in Scotland?
Year 12 in the Scottish education system is referred to as S5 and is optional. S6 is the final year of school in Scotland.
Why are they called grammar schools Scotland?
A little bit of history will hopefully clarify things.
If you were wondering when did the 11 plus start in England, Scotland and Wales, it was 1944. 1944's Education Act stated that every child was required to sit the 11+ exam in their final year of primary education. This is a selective exam designed to take only the most academic pupils.
In Scotland this meant your life could go in two directions at the age of 11. The senior secondary, which could lead to doing Highers and then potentially university, or the junior secondary which was geared towards learning a trade or doing an unskilled job. Many people thought this was an unfair system and Grammar schools in Scotland were phased out in the 1960s.
So why are they called grammar schools? Some of the schools which had been grammar schools in Scotland in the traditional sense, retained their name. Are there grammar schools in Scotland? It's not easy to answer how many grammar schools there are in Scotland, but there are 91 independent schools in Scotland according to latest figures. Usually an Independent/ Grammar school in Scotland is selective, but some are non-selective. They are fee-paying but all 11 plus independent schools offer financial assistance by means-tested awards. Financial assistance can range from 100% of fees paid by the school to awards which typically cover 20% of the cost. See here for more information.
Please note that this is different to the education system in NI as there are both traditional grammar schools and paid for independent schools Northern Ireland.
Which are the best independent schools in Scotland?
Take a look at this league table to see the top independent grammar schools in Scotland.
Keep in mind that there are more to schools than measurable targets of excellence. The best grammar school in Scotland for your child may not be the best school in the Scotland school league table 2021.
This league table is based on public exam results from 2019 as the latest grades awarded by exam results (not by teachers) took place in 2019.
| | | |
| --- | --- | --- |
| School | National 5 (GCSE equivalent) A*/A % | Annual Day Fees |
| Fettes College | 71 | £29,925 |
| Merchiston Castle School | 56.7 | £16,980 |
| Glenalmond College | 50.8 | £24,000 |
| St George's School for Girls (Edinburgh) | 50.6 | £14,700 |
| Loretto School | 45.4 | £17,700 |
| St Leonard's School and Sixth Form College | 45 | £12,741 |
| Strathallan School | 33.3 | £23,532 |
| The Glasgow Academy | 30 | £11,970 |
| Edinburgh Academy | 17.4 | £14,823 |
Some parents may find, especially since the pandemic that school isn't the best place for their child to prepare for their exams. If you think that might describe your child, we'd encourage you to consider that there is a growing community of parents homeschooling Scotland exams in order to get the best out of their child academically.
Registered grammar schools in Scotland/ Independent schools in Scotland as of April 2022 are as follows:
Al Khalil College

Albyn School

Al-Qalam Academy

Ardfern Learning Centre- Johnstone

Ardvreck School

Radio City School [Formerly: Aspire Education Kilbirnie]

Bachlaw Learning Centre

Basil Paterson School & Tutorial College

Belhaven Hill School

Belmont House School

Camphill Rudolf Steiner School

Cargilfield School

Cedars School of Excellence

Clifton Hall School, Edinburgh

Closeburn House

Common Thread School (Dumfries and Kilmarnock)

Compass School, The

Craigclowan Preparatory School

Dollar Academy

Drumduan School

Dunedin School

Edinburgh Academy, The

Edinburgh Montessori Arts School

Edinburgh Steiner School

Erskine Waterfront Campus (formerly Ballikinrain)

Fairview International School

Falkland House School

Fernhill School

Fettes College

George Heriot's School

George Watson's College

Glasgow Academy, The

Glenalmond College

Good Shepherd Secure/Close Support Unit

Gordonstoun School

Hamilton College

High School of Dundee, The

High School of Glasgow, The

Hillside school

Hutchesons' Grammar

International School Aberdeen, The

Kelvinside Academy

Kibble Education and Care Centre

Kilgraston School

Lathallan School

Linn Moor Residential School

Lomond School

Loretto School

Maben House

Mannafields Christian School

Mary Erskine School

Mary Erskine/Stewart's Melville Junior School

Melville-Knox Christian School

Merchiston Castle School

Mirren Park School

Moore House Academy Bathgate (including Moore House Primary)

Moore House Academy Butterstone

Morrison's Academy

Netherlea School (Formerly ACAD Education)

New Struan School

Northview House School

Ochil Tower School

Olivewood Primary School

OneSchool Global

Pebbles Academy, Dunfermline (formerly Eden Park Academy, Dunfermline)

Pebbles Academy, Muirkirk (formerly Eden Park Academy, Ayrshire)

Providence Christian School (formerly Lewis Independent Christian School)

Queen Victoria School

Regius School

Robert Gordon's College

Rossie Secure Accommodation Services

Seamab House School

Spark of Genius (Caledonian School)

Spark of Genius (Skypoint School)

St Aloysius' College

St Columba's School

St George's School, Edinburgh

St Leonards School

St Margaret's School for Girls

St Mary's Kenmure

St Mary's Music School

St Mary's School, Melrose

St Philip's School

Starley Hall School

Stewart's Melville College

Strathallan School

Total French School

Troup House School

Wellington School
We think the best thing you can do for your child is choose the school in which they're going to thrive. If they pass an independent school entrance test, that's great! They deserve a gift for their achievement and hard work. If they don't, well you'll save yourself a few quid and they may well be happier somewhere else anyway! At least, if you're reading this, you're looking at all the options and that's great parenting! 🏆