Contents
Doing well on an exam is a wonderful achievement. Whether it is a GCSE final or a simple class test, a good score reflects your child's academic attitude. It's a great idea to reward your children for doing well on their exams and a great way to do this is through gifts for good exam results.
Exam results gifts add to their sense of achievement and motivate them to keep up the good work. But what are good gifts for passing exams? The GCSE gifts you'd get your children for doing well on a GCSE exam will naturally be different from the exam results present you'd get them for a class text. So how do you decide on what exam congratulations gifts you can give your kids? Let's find out.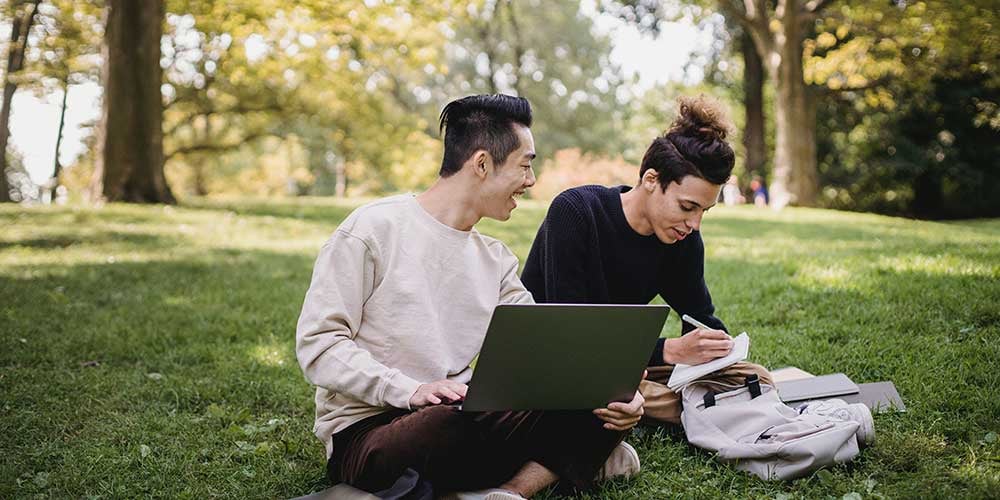 What are some good uni student presents?
Unlike other children, university students are usually better off with well done presents that are a little less snazzy but incredibly useful. Any gifts for passing exams that make a university student's life easier will be highly appreciated.
Comfortable earphones/headphones
University students are often in need of a set of comfortable headphones. From tuning in to video lectures and important online meetings to setting up a calm and peaceful study environment, a pair of sturdy noise cancelling headphones can be used for a number of college activities. Be sure to check the brand warranty and product specifications while shopping for these. Anything with a year long warranty and 'dolby' sound is the ideal option here.

It's always good to stick with the basics! An easy to carry tote/backpack is an exam results present that every student will need. You can either opt for smaller, sling-design book bags or slightly larger backpacks that can be used to carry laptops. Some backpacks are specially designed for this. These backpacks come with in-built padding and utility pockets that are perfect for carrying around laptops and other supplementary accessories like charging cables. Smart watches like the

Apple watch

are another incredibly handy device that can prove to be a great present for a uni student. These watches can be synced to other important devices like smartphones, tablets and in some cases, even personal computers. This allows students to have instant access to their files, pictures, mails, etc at the tip of their fingers. While smartphones can help with this too, smart watches have the advantage of being small. This makes them easy to wear and manage while travelling, exercising,

practicing a sport

, etc. If you've ever been a uni student, you know nothing keeps students going like some great coffee! Having a good coffee maker helps students have easy access to their favourite beverage. A good cup of coffee can make both late-night study sessions and early classes bearable. While most people prefer automatic espresso machines, a good French press isn't such a bad option either.
The single most pressing concern parents have about their college going kids is their

changing food

habits. College work can get extremely hectic at times. This means that your children will look for the quickest and easiest meals to make, which would not necessarily be the healthiest. College cookbooks can help uni students make hot, healthy and sumptuous meals using little to no ingredients.


It can get difficult to learn and practice a hobby in college. It is however, extremely important for a student's all round growth and mental well being. Gifting a uni student a comprehensive online tutoring course related to their hobbies/ interests is a great well done you passed your exams gift. It's a thoughtful exam gift they will appreciate during their time in college. If you do decide to gift your child an online lesson, why not try GoStudent? We offer a free trial lesson, allowing your child to ensure that our teaching style meets their expectations.
What are some good GCSE results gifts?
Getting a good GCSE result is a great achievement. Important exams like GCSEs and A levels test a student's overall knowledge and analysis skills. In many cases, they end up deciding what university the students get into. What gift can you get your children for doing well on such an important exam?
It is a good idea to choose exam gifts that are substantial enough to fit the occasion and help the kids start their journey into the real world (at uni) on the right foot. A few GCSE gifts you can give your children for doing well in GCSE exams are:
A laptop/personal computer
The one thing your child is going to need the most after a GCSE exam is a new, updated laptop. Filling out college applications, browsing through the various available options, sending out email inquiries, general research, etc all require a fast enough laptop.
Getting your child a good laptop that you believe will get them through at least a couple years of college is a great idea. You can customize this exam gift with different keyboard skins, stickers and other custom accessories available on the market.
Note: If your child already has a laptop, make sure it isn't more than three-five years old. Laptops can start to slow down/ lose compatibility with different programs when new versions come out.
An Amazon Kindle is a special tablet device optimised for reading. While almost all portable electronic devices can hold millions of books these days, special reading tablets come with unique features that make them very useful. These tablets have automated light settings which instruct them to adapt to the ambient light. This ensures that there is no strain on the readers' eyes even if they read for a long stretch of time.
Reading tablets also offer easy navigation, user friendly data storage and management interfaces and in-app floating notes. This emulates the pleasure and practicality of reading and making notes in a physical book while being able to access dozens of them at the same time.
A wireless charging station
Keeping all of your important electronic devices fully charged can be a hassle. Once your kids are in college, they are not going to have the time or energy to keep charging all of their devices constantly after using them for the better part of the day. Wireless charging stations act as portable chargers that can help them charge their phones, smart watches, earphones, etc on the go. Good charging stations allow you to charge three or more devices at the same time!
Often, the simplest gifts for passing exams are the best. A great pair of shoes is both an appropriate and useful gift that your children will appreciate. Choosing a trendy yet sturdy pair of shoes that they can take to university is a great idea.
How do you celebrate exam success?
Celebrating your kids' exam success is very important. It is a simple yet elaborate pat on the back that lets them know you're proud of them and encourages them to do well in the future. While you can choose to celebrate good exam results any way you like, it is a good idea to keep a few tips in mind :
While the temptation to host a grand celebration is understandable, your kids will appreciate a warmer, more personal event much more. Close events like family gatherings and small get-togethers allow the children to interact with their loved ones up-close in person. Hearing friends and family appreciate and congratulate their efforts will mean more to your kids than any big gifts for passing exams or events.
Your kids' friends are more likely to have a fair idea of what kind of celebration they would prefer than anyone else. You can work with them in order to decide when and where the party will be held and who will be invited.
Make or order their favourite food!
What ultimately ties an event together is the food. It is a great idea to have your kid's favourite home cooked meal ready for the celebration event. You can even order from their favourite place (which you can ask their friends or siblings about) to save yourself the trouble. Events with great food win people over in no time and are usually a big hit with both the honoree and the guests.
Picking out the right gifts for a student can get difficult. Exam results presents should be appropriate for the occasion, personal and useful all at the same time. Gifting durable everyday items or devices is generally a safe option. These are exam results presents that your children will use almost every day during their time at university.
As for celebration events, it is advised to keep them personal and tight-knit. The purpose of these events is not to make a statement but you show your kids that you truly appreciate their efforts.

GoStudent's interactive and engaging teachers from around the world can help your kids score better and hopefully win well done gifts you are thinking about buying. With our classes, your kids can aim for the exam score they always wanted (and higher!). Book a free trial now.