Contents
The last couple of years have been tough for everyone: for your parents, your teachers, but most of all, you! The various challenges the pandemic has brought about have been tough enough without having to prepare for GCSEs and A Levels on top of everything else! We applaud you for getting this far! 👏
As 2022 will be the first year that you take your exams in the traditional sense, the government and Ofqual have been clear in their aim, especially following last year's A levels algorithm debacle:
According to Ofqual:
Ofqual has statutory objectives to maintain standards and promote public confidence in exams and qualifications. We also have a duty to have regard to the interests of learners, which we interpret as fairness. We want to get back quickly to the pre-pandemic standard, but in the interests of fairness, and balancing these objectives, we won't do so in one jump. Instead, 2022 will be a transition year to reflect that we are in a pandemic recovery period and students' education has been disrupted. In 2022 we will aim, therefore, to reflect a midway point between 2021 and 2019.
A public consultation took into consideration 6,000 responses, almost a quarter of which were from pupils: it showed that 90% of pupils and parents were in favour of handing out advanced information and 80% or more thought that offering topics was a good way of doing this. Find out more about the 2022 consultation outcomes here.
Read on to find out exactly what this means for you. 👇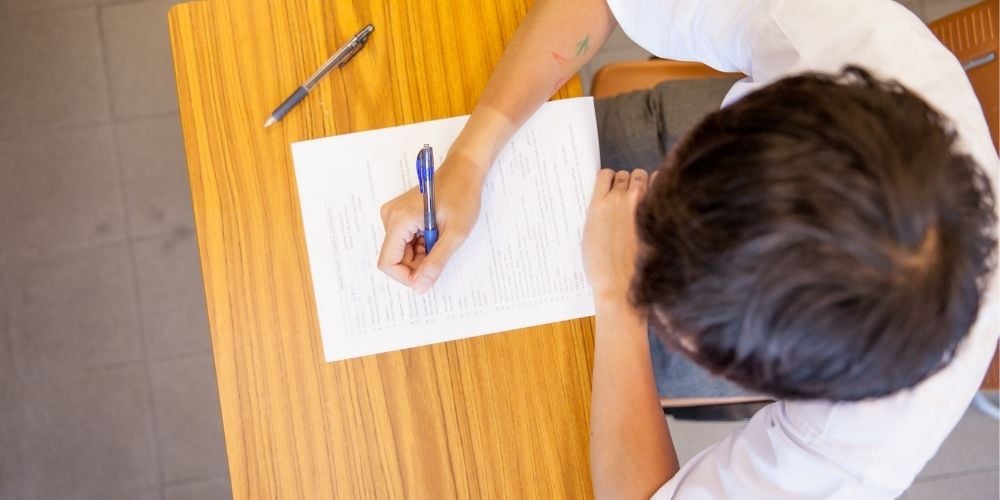 Advanced information
Your best chance of achieving the GCSE and A-Level results you want is to keep up with the latest news. Knowledge is power after all and here at GoStudent, we want you to do well in spite of recent challenges!
Having said that, GCSEs and A-Levels will still be assessed under exam conditions. In other words, you won't know the questions beforehand, you have to work independently and you won't have access to books or notes. 📕
Generally speaking, exam boards will give information on certain texts, themes and topics to help pupils focus their revision.
Specific subjects
| | |
| --- | --- |
| Subject | Advanced information |
| English language and other text-based subjects | You will be given the period or genre of unseen exam texts. |
| English literature, geography and history | There won't be advanced information but you will study and be tested on a reduced number of topics and have a bigger choice of questions in your exam. |
| GCSE maths, physics and combined science | There will be equation sheets to limit the number of formulae you need to remember. |
| Art and design | There is no advanced information as there will be 100% coursework. |
Other subjects
Subjects that require you to cover the whole syllabus will have no advanced information. This is due to the fact that exam boards thought you could be at a disadvantage if you limit your revision to focus on only a few select areas. These subjects are specifically designed to test your broader knowledge of the subject.
Vocational BTEC qualifications will give you fewer assessments.👍
Regional differences
Wales, Scotland and Northern Ireland have different guidance.
When the information will be available
This information is available now! You're probably aware of which exam board is responsible for each of your exams. If not, check with your teacher. Then look at the table to find out information about each exam. The JCQ (Joint Council for Qualifications) represents exam boards and has advised that pupils only look at the specific exam board website for information about their subject to minimise any misinformation. JCQ has also issued a FAQ document for students you might want to look at.
| | |
| --- | --- |
| Exam board | Where to find |
| | Click on the link. Then search by subject and level. |
| | Click on the link. Scroll down to the table of subjects and related documents.. |
| | Click on the link. Scroll down to advance information for OCR qualifications. Then download the PDF |
How you can manage your exams
Of course, no one can pass exams with advanced information alone. Good preparation is key. Check out the following links to help you with everything exam-related:
How the exams will be graded
Luckily for you, there's a good chance that grading boundaries will be lower this year. This will mean you should, in theory, be able to secure those entry requirements for sixth form or university more easily. 😊 In essence, they'll be roughly set between 2019 (pre-pandemic) and 2021 (teacher-assessed) boundaries.
Trust us, it will all be over before you know it! And, once you've taken your exams, it's time to chill and put your feet up! All you can do is wait! You've done your best and that's all anyone can ask for. Good luck on results day! We'll be thinking of you! 🍀