Contents
Working towards GCSEs starts from the very day you start your courses. In that sense, revision should be easy, right? But we know it's not. Feel like you've left some of it a little too late? Read our handy guide to creating a GCSE revision timetable that works. Support yourself with your revision so you're feeling prepared a little more in advance. No more night-before-exams woes!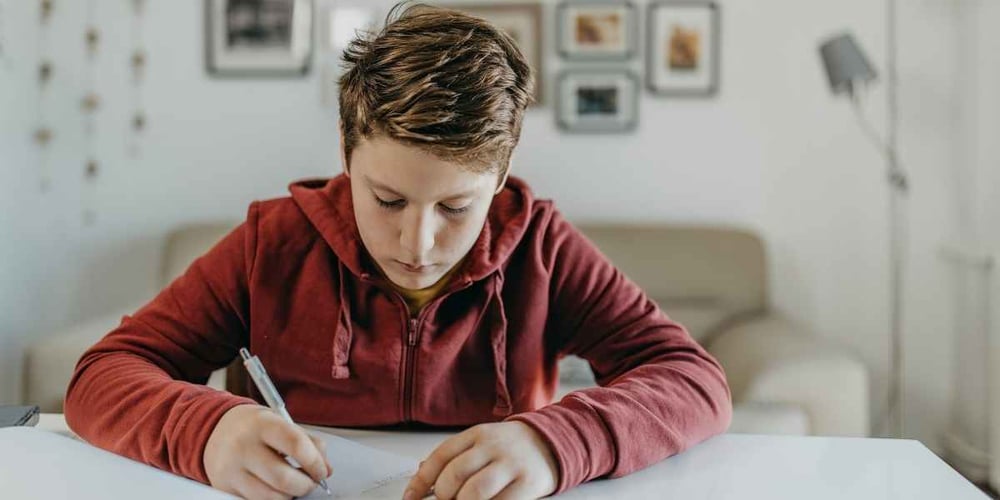 Why should I revise for GCSEs?
After months and almost two years of working on one of the most rigorous set of national exams in the world, you'll need to set aside clear time to create a GCSE revision timetable to properly consolidate your learning from the two-year course.
But why should you be focusing so much on a GCSE revision timetable? Well, revision allows you to:
Recap and recall your prior knowledge and learning so that it stays with you stronger, and for longer
Fill-in any knowledge gaps for areas you might have missed the first time around as you

prepare for exams

Deepen your knowledge and understanding, and allow you to think more critically (and improve your grades!)
So how many months before GCSEs should you revise? Well remember that for lots of subjects, you won't even finish the course till not long before your first exam! It's for that reason that you're better off starting sooner rather than later.
It's most beneficial to consolidate your learning after every unit you've learnt before a 'big revision' before your assessments, and this will ultimately make this time a lot easier as well. With a few months to go, think about these three options as you begin to plan your time:
Option 1: 2 months ahead
6-8 weeks ahead of all of your exams is the ideal time to start revising using your books, quizzes, apps and notes. This could factor in the Easter holidays ahead of the end of May start date, as well as any study periods you might have, or a combination of the two!
Splitting up your subjects into papers, units and topics, and allocating something for every subject every day is imperative to train your brain to learn it for longer. Imagine you're training for a marathon; you wouldn't run the full distance the day before your race. You'd build up to it, starting with a mile run up to 6 months before the big day.
Ultimately, however you want to split up your day, remember not to revise one subject all at once before moving onto the next. By the time you get to the last subject on your GCSE revision timetable, you'll have forgotten the first!
With a couple of months to go, you have time to make proper revision notes on each unit and topic before testing yourself.
Option 2: 1 month ahead
With a month to go, you'll have a little less time to revise expertly. You're going to have to RAG rate your units within your subjects and prioritise. Already scoring highly in your recent Human Geography unit? Know your 19c Literature text really well? Leave these out till a quick recap a few days before the exam and prioritise the subjects you're most worried about.
With less time to spare, you'll need to be ruthless!
You can also increase how smart you're revising to save yourself some time. With a month to go, you'll need to focus on bitesize revision videos, practice questions (and have them marked!) and verbal recall rather than spending hours making flashcards.
Option 3: A few weeks ahead
So, you've left your GCSE revision timetable till late? You'll definitely need to prioritise your most underdeveloped topics and units, as well as your highest-gain questions and answers.
Already achieving well in your English Language Q2 and 3? But not so strong on Q4? Focus on practising the latter, and get feedback from your teacher or tutor, then do another!
At this stage, quick recall tasks like quizzes and timed writing are going to be heaps more effective than making notes and flashcards (which are not going to stay in your head for a few more weeks to come!).
How do you do a revision timetable for GCSEs?
We've done the hard work for you! Remember to download our GCSE revision timetable template. Then, write down and lay out all of your subjects (and their specific units) in front of you in a list (for example instead of just 'History', split this up into the Russian Revolution and the History of Medicine).
Take some time to tick each of them off your GCSE revision timetable, focusing on prioritising your hardest topics and subjects first.
Remember, for the topics you're finding the trickiest, pop them back in your GCSE revision timetable at intermittent periods so that you train your brain to recall and remember it right up to your exam. It's not enough to revise it once!
Remember these key rules as you start to use and apply your GCSE revision timetable:
Focus the majority of your effort on topics most likely to come up in the exam and carry the most marks (don't forget to factor in any

changes

that your exam board made because of Covid-19)
Measure progress based on topic coverage and quiz results rather than time studied for - time spent does not = improvement!
Your timetable isn't fixed. Adapt your timetable to accommodate for the rate at which you are able to understand and memorise information.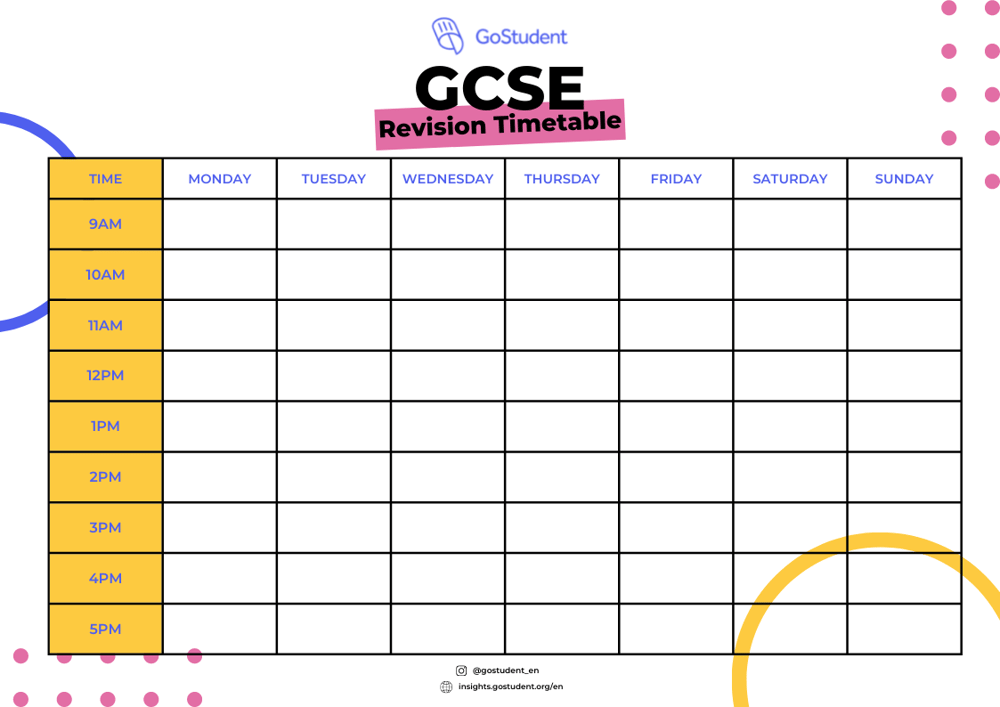 How many hours a day should I revise for GCSEs?
It can be hard to decide how much time to spend on revision per day. Especially as everybody does it differently. These exams are important for the rest of your life, and whilst it can be tempting to give up now, you'll have a wonderful two months off for summer very soon. So keep the momentum up!
A good rule of thumb is to spend about 7 hours a day on your revision during the holidays, factoring in plenty of time for breaks. Work better from 9-4 or 11-5? Factor this into your timetable, with added time for rest breaks and healthy food. Can't manage 7? Even just 5 will help.
With an hour allocated to each subject, that means if you study 10, that you can cover something for everything over a two-day period. You'll gain a huge feeling of success!
What about while you're still at school? Giving yourself solid time in the evening, after a break and before dinner and bedtime, to recall your learning from the day means you'll have less to relearn and revise when it comes to your GCSE revision timetable. Be sure to make these a few short, sharp 25 minute slots per day as you'll already be plenty tired from school.
From us at GoStudent, best of luck with your GCSE revision timetable and GCSEs this summer! Be sure to pause and relax afterwards, and don't worry about your results until the day itself.